Women have been breaking barriers and changing the rules of society through literature for centuries. From the notable female poet of the 6th century to the revolutionary feminist voices of the 18th century, these amazing women have continually transformed the landscape of literature, and in turn, the culture and history of our world.
In today's world, women continue to change the history of literature through their work. Women work in all fields, from professional writing of science fiction to comic books. Now it is easier for women to develop in this direction, but let's think about those who gave women the opportunity to write and create freely these days.
Jane Austen (1775-1817)
Jane Austen's literary context and techniques have a lasting impact on English literature to this day. She is often credited as one of the first female authors to achieve fame and success while creating a strong presence for women in her novels. Jane Austen's most famous works include Sense and Sensibility, Pride and Prejudice, and Mansfield Park.
Mary Shelley (1797-1851)
It's no secret that Mary Shelley is best known for Frankenstein — the most influential Gothic novel and one of the most valuable books in modern horror fiction. But her literary resume goes far beyond this one work. In addition to Frankenstein, she wrote other novels, short stories, biographies, travel journals, and did editorial work.
Emily Dickinson (1830-1886)
Emily Dickinson is a famous American poet known for her unconventional poems and lyricism. She wrote 1,800 poems in her lifetime, but only 10 were published in her lifetime. Her writing helped shape the poetic tradition of America and made a large impact on the direction it would go in afterward.
Ayn Rand (1905-1982)
Alisa Rosenbaum, also known as Ayn Rand, was born in Russia and immigrated to the States, where she became a political philosopher. Her views were predominantly represented in her two most famous books: The Fountainhead and Atlas Shrugged. She vehemently opposed collectivism, instead of believing in individualism and capitalism, and Objectivism is what she would call her philosophy.
Agatha Christie (1890-1976)
The author of more than 60 novels and numerous short stories, plays, poems, and other works, Agatha Christie is mainly known for her murder mysteries. Christie became one of the most influential authors of murder mysteries and crime fiction, helping to cement the tropes, imagery, and conventions of these genres. Her influence remains obvious even now, as many murder mystery books follow her conventions.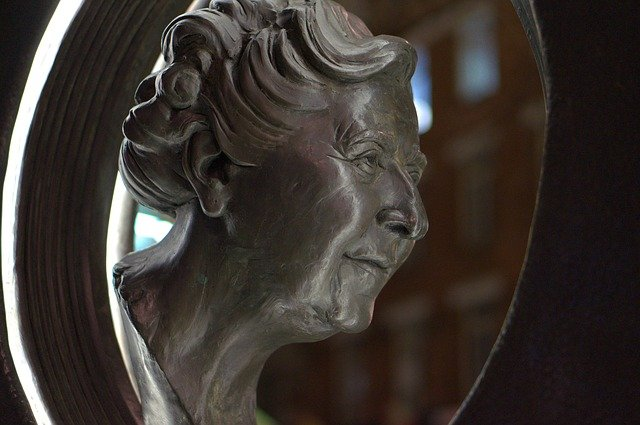 Ursula Le Guin (1922-2018)
Ursula Le Guin is one of the most important writers of speculative fiction. She wrote for both children and adults, touching on topics like religion, gender, and social and environmental issues. By doing this, she had the same impact as some pretty heavy hitters in the genre, like Tolkien, Herbert, and Heinlein.
The impact of Ursula K. Le Guin cannot be overstated. A Wizard of Earthsea and The Left Hand of Darkness are two examples of her most famous books. But she was not only an author; she was a strong feminist who deeply influenced the fantasy genre, and she helped develop science fiction for decades after.
Virginia Woolf (1882-1941)
Virginia Woolf is a British writer who became one of the most iconic writers of the twentieth century. Using a narrative technique called stream of consciousness, she was able to explore what it means to be a woman in a world where they were not given the same opportunities as her male peers. A few of her most famous works are Mrs. Dalloway and A Room of One's Own.
J. K. Rowling (1965 – )
J. K. Rowling, also known as Joanne Rowling, is a British author, philanthropist, film producer, and screenwriter. Her first major bestseller was Harry Potter and the Philosopher's Stone, which has won multiple awards and has sold more than 500 million copies to date. She writes crime fiction under the pseudonym Robert Galbraith.
Chimamanda Ngozi Adichie (1977 – )
Nigerian writer Chimamanda Ngozi Adichie born on the 15th of September 1977 is known for her novels, short stories, and essays. Her literary contributions are featured prominently in Western literature. Adichie is a feminist with works including Purple Hibiscus (2003), Half of a Yellow Sun (2006), and Americanah (2013). She published her first short story collection in 2009 entitled The Thing Around Your Neck which features fourteen short stories.
It's impossible to name all the female writers who impacted and continue to impact literature and intellectual life. Leave your favorite names in the comments section!