By Tim Lambert
His Early Life
William Shakespeare was baptized on 26 April 1564. We don't know the exact date of his birth but in the 16th century, it was normal for babies to be baptised within a few days of their birth (because so many died). Shakespeare was born the same year as Christopher Marlowe.
William Shakespeare's father John was a glover (maker of gloves) and he seems to have been a leading citizen of Stratford Upon Avon. We don't know if John Shakespeare was a native of Stratford but he was living in the town by 1552 because in that year he was fined for leaving a dunghill in Henley Street. At that time Stratford was a small town with a population of between 1,500 and 2,000.
In 1557 John Shakespeare married a woman from nearby Wilmcote called Mary Arden. The Shakespeares had 8 children. In 1558 the Shakespeare's had a daughter called Joan (she died in 1563). However, in 1563 they had another daughter called Margaret but she too died in childhood. After William in 1563, they had a son called Gilbert in 1566. (He died in 1612). They also had another daughter called Joan (like her dead sister) in 1569 and a daughter called Anne in 1571. In 1574 they had a son called Richard (he died in 1613). In 1580 they had a son called Edmund (he died in 1607).
When he was 18 William Shakespeare married a woman named Anne Hathaway. They married in November 1582 and their daughter Susanna was baptized in May 1583.
On 2 February 1585 the Shakespeare's next children, a twin boy and girl, Hamnet and Judith were baptized. However, Hamnet died when he was 11.
William Shakespeare probably went to Stratford Grammar School. However, we do not know what he did for a living when he was a young man but in about 1587 he went to London. He became an actor and a playwright.
The Great Playwright
By 1592 William Shakespeare was making a name for himself. In that year a man named Robert Greene wrote about 'an upstart crow' who 'is in his own conceit the only Shake-scene in a country. He didn't actually name William Shakespeare but it is clear who he meant.
The theatres in London were closed from 1592 to 1594 because of the plague but Shakespeare wrote two poems during that time, Venus and Adonis 1593 and Lucerce in 1594. William Shakespeare prospered and in 1597 he bought a house and gardens in Stratford.
William Shakespeare made his will on 25 March 1616 shortly before his death. He died on 23 April 1616 and was buried in the parish church. Anne Shakespeare died in 1623. Susanna died in 1649 and Judith, the surviving twin died in 1662.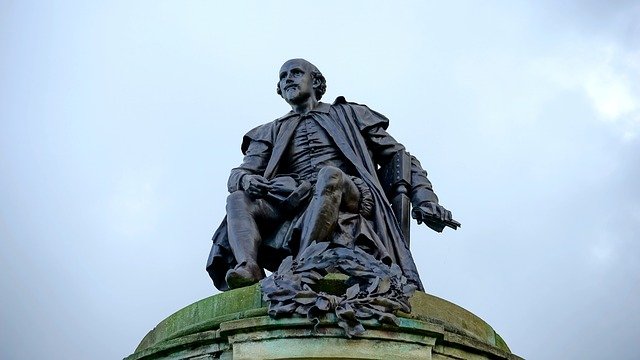 In the 19th century as Stratford upon Avon became famous as the birthplace of William Shakespeare. The house where he was born was purchased in 1847 and turned into a monument. Anne Hathaway's cottage was purchased in 1892. The Royal Shakespeare Theatre was built in 1932 and the Shakespeare Centre opened in 1964. Today William Shakespeare is remembered as one of the greatest English playwrights.