By Tim Lambert
His Early Life
Winston Churchill was a 20th-century British prime minister. He was born on 30 November 1874 in Blenheim Palace in Oxfordshire, England. His father was Lord Randolph Churchill and his mother, Jeanette was an American woman. Winston had a brother called John, born in 1880. When he was a child Churchill was sent to boarding schools at Ascot, Brighton. Then in 1888, he was sent to Harrow. His father wanted him to have a military career but he twice failed the entrance examination for Sandhurst Military Academy. He succeeded at the third attempt and entered in 1893. Churchill excelled at Sandhurst. Sadly his father died at the age of 45 in January 1895.
The same year, in 1895 Winston joined the cavalry. He was given a couple of months' leave to report the Cuban War of Independence from Spain for a London newspaper. Then in 1896, he was sent with his regiment to India, where he was a war correspondent as well as a soldier. Churchill expanded his reports into his first book The Story of the Malakand Field Force, which was published in 1898. That year, 1898 he was sent to Sudan again as a soldier and war correspondent. This time he expanded his reports into a book called The River War. It was published in 1899. Churchill also wrote a novel called Savrola, which was published in 1900.
In 1899 Churchill resigned from the army but he remained a war correspondent. That year he went to South Africa to report on the Boer War. However, he was captured in November 1899 and interned. However, Churchill made a daring escape to Portuguese East Africa (modern Mozambique). Subsequently, Churchill became a hero and he wrote about his experience in a book called London to Ladysmith published in 1900.
Churchill the Politician
Meanwhile, Winston became interested in politics. In 1900 he was elected Conservative MP for Oldham. He made his maiden speech in the House of Commons on 18 February 1901.
However, Churchill came to disagree with Conservative policies and in 1904 he joined the Liberals. In 1906 Churchill was elected Liberal MP for Northwest Manchester and he was made under-secretary of state for the colonies. He toured East Africa and in 1908 he published a book called My African Journey. In 1908 he became MP for Dundee. The same year, 1908 he was made the president of the Board of Trade.
Winston married his wife, Clementine on 12 September 1908. Mr. and Mrs. Churchill had five children. His daughter Diana was born in 1909. His son Randolph was born in 1911. Another daughter, Sarah followed in 1914. He had another daughter, called Marigold in 1918. Sadly she died in 1921. Finally, another daughter, Mary was born in 1922.
Meanwhile, Winston Churchill was responsible for some reforms including the Trade Boards Act of 1909, which set minimum wages for workers in certain trades. He also introduced labour exchanges. In 1910 Churchill became the home secretary. That year there were riots in Tonypandy in Wales. The chief constable of Glamorganshire requested troops be sent. At first, Churchill ordered that troops should be held back in Cardiff and Swindon but he did agree to send policemen from the Metropolitan Police Force in London. However, Churchill later authorized the deployment of troops.
In January 1911 he was present at the Siege of Sidney Street when two Latvian anarchists in a house fought a gun battle with police. In 1911 Churchill was made First Lord of the Admiralty.
On 2 August 1914 Britain declared war on Germany. Churchill was blamed for the failure of the Dardanelles campaign. Turkey was an ally of Germany. Most of Turkey is in Asia but a small part is in Europe. European Turkey is separated from Asian Turkey by water. The Turks protected it with mines and forts. But Churchill believed it could be forced open. Turkey would then leave the war and the British could send supplies to Russia (Britain's ally) by sea. But the campaign turned into a disaster. Naval operations began on 18 March 1915. On 25 April 1915 soldiers landed. But they were unable to defeat the Turks. The campaign dragged on for months. Churchill continued to enthusiastically support the campaign but the rest of the cabinet decided it must end. Churchill was left with no alternative but to resign from the government.
The failure of the Dardanelles campaign was a severe blow to Churchill but he took up a new hobby – painting. In any case, Churchill was soon back. In July 1917 he was made the minister of munitions, in charge of their production. The war ended in November 1918 and the Liberals won an election in December. In January 1919 Churchill was made secretary of state for war. In 1921 he was made secretary of state for the colonies.
However, 1921 was a difficult year for Churchill. He lost his mother and his daughter, Marigold. In November 1922 Churchill lost his seat, Dundee. He returned to parliament in 1924 when he became MP for Epping. He rejoined the Conservatives. In 1924 he was made chancellor of the exchequer.
In 1925 Churchill returned to the gold standard (a system in which the value of paper money is directly related to the value of gold) at the pre-war parity of $4.86 to the pound. Churchill later regarded this decision as a serious mistake as it meant the pound was overvalued, which harmed Britain's exports.
In 1926 came the general strike. Churchill was determined to break the strike and he edited a government newspaper called The British Gazette. But the strike ended after only nine days.
Churchill also wrote a history of the First World War called The World Crisis. It was published in six volumes between 1923 and 1931. His book My Early Life was published in 1930.
Churchill also wrote about his ancestor the Duke of Marlborough(a great general in the early 18th century). His book Marlborough; his Life and Times was published in four volumes between 1933 and 1938.
In 1929 the Conservatives lost their majority in the House of Commons and a minority Labour government took office. In 1931 a national government made up of men of all parties was formed to deal with the worsening economic crisis. But Churchill was not asked to join the cabinet.
In the 1920s and 1930s Churchill was strongly opposed to independence for India. From the 1930s Churchill argued strongly for rearmament. He strongly opposed the appeasement policy of Neville Chamberlain, which for a time made him unpopular. But he was proved right when Germany occupied the whole of Czechoslovakia in March 1939. When the Second World War began Churchill was made First Lord of the Admiralty.
Churchill as Prime Minister
For a time Chamberlain remained prime minister. However, in May 1940, he was strongly criticized for his handling of the campaign in Norway and he resigned. Winston Churchill became prime minister of Britain on 10 May 1940. The same day German forces invaded The Netherlands and Belgium.
The situation quickly deteriorated. On 13 May 1940, Churchill gave a speech to the House of Commons in which he said the famous words: 'I have nothing to offer but blood, toil, tears, and sweat'. Churchill proved to be an excellent wartime prime minister. His optimism and resilience proved to be invaluable qualities especially in the face of early defeats.
France surrendered on 21 May but the Germans lost the Battle of Britain which was fought between July and September 1940.
Nevertheless, the Germans had further successes. In April 1941 they conquered Yugoslavia and Greece. In May 1941 they captured Crete. The situation began to change in June 1941 when Hitler foolishly invaded Russia. Churchill detested communism but he promised to do everything he could to help the Russians. On 7 December 1941, the Japanese attacked the USA at Pearl Harbor. On 11 December Hitler stupidly declared war on the USA, the most powerful nation in the world.
In November 1942 the British won a decisive victory at El Alamein in Egypt and in January-February 1943 the Russians won a great victory at Stalingrad. Gradually things got worse for the Germans. The Allies invaded Sicily in July 1943 than Italy in September. Meanwhile, the Russians won another victory at Kursk in July 1943. Afterward, they steadily advanced. The allies invaded France in June 1944 and Germany surrendered in May 1945.
However, in July 1945 Labour won the election by a landslide. Winston Churchill became the leader of the opposition. In March 1946, with the onset of the Cold War Churchill gave a speech in which he said the famous words 'From Stettin in the Baltic to Trieste in the Adriatic, an iron curtain has descended across the continent'.
The Conservatives won an election in 1951 and Churchill became prime minister again, at the age of 76. He stayed in office till 1955 when he resigned aged 80. However, he remained an MP until 1964.
Meanwhile, his book The Second World War was published in six volumes between 1948 and 1954. His work, History of the English-Speaking Peoples was published in 4 volumes in 1956 and 1957. But by the early 1960s, Winston Churchill was fading. He celebrated his 90th birthday on 30 November 1964. However, he died on 24 January 1965.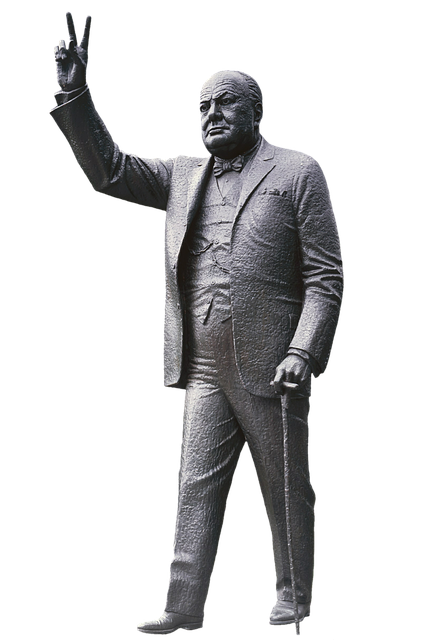 Winston Churchill was given a state funeral in St Paul's Cathedral on 30 January 1965. His body was then taken to Bladon, Oxfordshire and he was buried in St Martin's churchyard. In September 1965 the queen unveiled a memorial stone on the floor of Westminster Abbey. Clementine died in 1977.