By Tim Lambert
Ayr in the Middle Ages
In 1197 a castle was built by the River Ayr. Shortly afterward, in 1205, King William the Lion created a burgh at Ayr. He laid out streets and set aside plots of land for building houses. William also started a market at Ayr. (In those days there were few shops so if you wished to buy or sell anything you had to go to a market). Once the market at Ayr was up and running people would come to live in the new town.
William also granted the people of the new town of Ayr a charter (a document granting the townspeople certain rights and privileges). From 1261 Ayr also had an annual fair. (In the Middle Ages fairs were like markets but they were held only once a year and they attracted buyers and sellers from a wide area).
The little town of Ayr flourished, although it would seem tiny to us with a population of (at most) 1,500. In Medieval Ayr, there were the same craftsmen you would find in any Scottish town such as skinners and fleshers. There was also a wool industry in Ayr with weavers and dyers. There were also fishermen in Ayr and there was a shipbuilding industry.
Ayr was a busy little port. Skins, hides and wool were exported from Ayr while wine (the drink of the upper class and salt were imported. n In the 13th century friars came to Ayr. Friars were like monks but instead of withdrawing from the world, they went out to preach. In 1230 Dominican friars arrived in Ayr. They were called blackfriars because of the colour of their costumes.
However, not all was peaceful in Ayr. According to legend at the end of the 13th century, the English invited some prominent Scots to a meeting at Ayr but they then captured and hanged them. In revenge, William Wallace set fire to some barns where English soldiers were staying and burned them to death. Nevertheless from 1301 to 1312, Ayr was in English hands.
However, in 1315 a Scottish parliament met in the Church of St John the Baptist in Ayr to decide who would succeed Robert the Bruce.
During the 14th century Ayr flourished. A new settlement grew up across the River Ayr at Newton.
In the 13th century the houses in Ayr were made of wood but in the 15th century some richer citizens began rebuilding their houses in stone. The Tolbooth was built in the early 15th century and in the late 15th century the Auld Brig was rebuilt.
Ayr 1500-1800
In the 16th century, Ayr remained a busy port. Wool, fish, and hides were exported from Ayr while wine and salt were still imported. The population of Ayr continued to grow.
This was despite outbreaks of plague. Like all Scottish towns Ayr suffered from epidemics in the 16th and 17th centuries. The plague struck in 1545, 1585, 1587, 1597, 1601, 1606 and 1647. Fortunately the 1647 outbreak was the last.
By the middle of the 17th century, the population of Ayr was probably more than 2,000 and it continued to grow. By the middle of the 18th century, it was probably around 4,000. Then in 1760, Sir Thomas Wallace created a new settlement which he called Wallacetown.
During the late 17th and 18th centuries, the textile industry in Ayr flourished. Both wool and linen were made in Ayr. Meanwhile, a shoemaking industry in Ayr also prospered.
Some of the buildings in Ayr date from this era. The oldest house in Ayr, Loudon Hall was first mentioned in 1534 when it belonged to the Sheriff of Ayrshire.
Then in 1652, Oliver Cromwell's men built a fort in Ayr, which incorporated the Church of St John, the Baptist. In 1654 Cromwell gave money to build another Kirk, the Auld Kirk, to replace it.
New Bridge was built in 1788. (It was rebuilt in 1878). Meanwhile, Scotland's greatest poet, Robert Burns, was born in Alloway, 3 miles from Ayr in 1759. Meanwhile, the great road builder John McAdam was born in Ayr in 1756. Finally, Ayr Academy was founded in 1796.
Modern Ayr
In the 19th century, much of Scotland was transformed by the industrial revolution. However, Ayr did not become a manufacturing centre. It remained a county town although its industries quietly prospered. There were iron foundries in Ayr and the port continued to flourish. Large amounts of coal were exported from Ayr. There was also a shipbuilding industry in Ayr.
Despite its failure to industrialise Ayr grew rapidly. In 1801 the population of Ayr parish was almost 5,500. Over the river, Newton had a population of a little over 1,700. By the standards of the time, Ayr was a fair-sized town and it soon grew much larger.
By 1851 the population of Ayr was 21,000. By the end of the 19th century, it was 31,000. n There were a number of improvements to Ayr in the 19th century. From 1826 the streets were lit by gas. After 1842 Ayr had a water supply and in the late 19th century sewers were dug. Meanwhile, the Burns monument was erected in 1823. The Town Buildings were erected in 1830. Wallace Tower was rebuilt in 1834. Then in 1893, the Carnegie Library was built.
Meanwhile, in the 19th century, Ayr developed as a holiday town. It was helped by the railway to Glasgow, which opened in 1840 and which made it easier for tourists to reach Ayr.
In the 20th century, Ayr continued to slowly grow. By 1951 its population was 44,000. In the 1920s and 1930s, the first council houses were built in Ayr. Many more were built after 1945.
Ayr remained a holiday and market town rather than a manufacturing centre. However, Ayr remains a busy port.
From 1901 electric trams ran in the streets of Ayr, but they stopped in 1931. Furthermore, in 1910, the Auld Brig was repaired and in 1911 a Pavilion was built.
McAdam's Monument was built in 1936. Craigie College was founded in 1965 and Ayr By-pass was built in 1971. Kyle Shopping Centre opened in 1988 and Ayr Central Shopping Centre opened in 2005.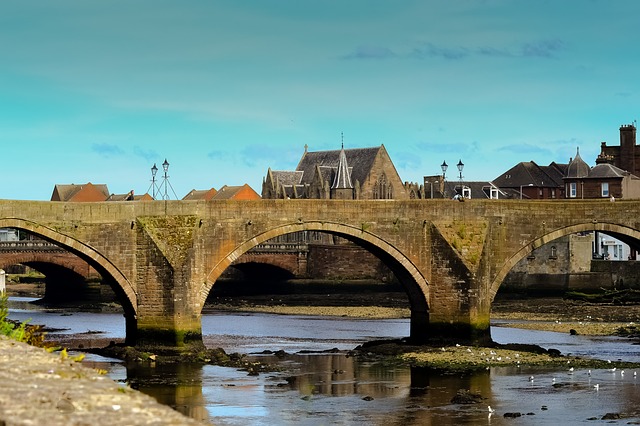 Today Ayr is a flourishing town. In 2022 the population of Ayr was 46,000.
Timeline of Ayr
1197 A castle is built by the River Ayr
1205 King William the Lion creates a burgh at Ayr. The little town has weekly markets.
1230 Dominican Friars (Black Friars) come to Ayr
1261 Ayr is granted an annual fair. Ayr is a busy little port with a population of about 1,500.
1301-1312 Ayr is in English hands
1315 A Scottish parliament meets in Ayr
1534 Loudon Hall is first mentioned
1545 Plague strikes Ayr but the little port soon recovers
1647 Plague strikes Ayr again but it soon recovers. The little town has a population of over 2,000.
1652 Oliver Cromwell's men build a fort at Ayr
1760 Sir Thomas Wallace creates Wallacetown. Wool and linen are made in Ayr.
1788 New Bridge is built
1796 Ayr Academy is founded
1801 Ayr parish has a population of almost 5,500. Newton has a population of 1,700.
1823 The Burns Monument is erected
1826 The streets of Ayr are lit by gas
1830 The Town Buildings are erected
1840 The railway reaches Ayr
1842 Ayr gains a water supply
1893 The Carnegie Library is built
1901 Ayr has a population of 31,000. Electric trams begin to run in the streets of Ayr.
1911 A pavilion is built
1931 The trams stop
1936 McAdam's Monument is built
1951 The population of Ayr is 44,000
1965 Craigie College is founded
1971 Ayr bypass is built