By Tim Lambert
Early Bakewell
The Derbyshire town of Bakewell started as a Saxon settlement. It was called Beadeca's wella, which meant Beadeca's springs. Baedeca must have been a Saxon who settled by the warm springs which rise at Bakewell where limestone meets shale. Bakewell was mentioned in the Anglo-Saxon Chronicle, a kind of national diary in 924. At that time King Edward the Elder ordered that a fort should be built at Bakewell.
The parish church at Bakewell also dates from the 10th century (although most of the building is Medieval and was restored in 1841). Curiously at the time of the Domesday Book in 1086 Bakewell had two priests.
In the 13th century, the people of Bakewell were allowed to hold weekly markets. (In those days there were very few shops and if you wished to buy or sell anything you had to go to a market).
Bakewell soon became a flourishing little market town. Bakewell was also allowed annual fairs. In those days fairs were like markets but they were held only once a year and they attracted buyers and sellers from a wide area. About 1300 a stone bridge was built over the River Wye to facilitate traffic.
Old House Museum is located in the oldest house in Bakewell, which is believed to date from 1534. Holme packhorse bridge was built in 1664.
In 1697 The Duke of Rutland built the Bath House, which was fed by warm springs. Bakewell Old Town Hall was built in 1709. Also in 1709 almshouses called St John's Hospital were built in the town. n Modern Bakewell
In 1778 Sir Richard Arkwright built Lumford Mill as a cotton-spinning mill. It was damaged by fire in 1868 but it was restored.
In 1779 Bakewell was the scene of a riot. At that time men were being chosen by lot to serve in the militia. Names were written on ballot papers and then chosen at random. However, rumors began that the Bakewell area was being asked to give more than its fair share of men. Men, including many lead miners with picks and shovels, gathered from the surrounding villages and they marched into a meeting of magistrates. They burned the ballot papers on a bonfire. However, the demonstrators then began looting and the magistrates called in soldiers to quell the riot. Afterward, 6 men were imprisoned and the material damage to Bakewell was considerable.
Modern Bakewell
The Rutland Arms was built in 1804. It is claimed that Jane Austen stayed there in 1811 and she based Lambton in Pride and Prejudice on Bakewell.
Bakewell tart was, supposedly, invented by accident about 1860. Recently a recipe for Bakewell tart dated 1837 was found completely discrediting the 'accident' story.
In 1863 a railway was opened between Bakewell and Buxton but it closed in 1968.
Today Bakewell is a flourishing little town and it is the only town in the Peak District National Park. Bakewell is known for its many 17th and 18th century houses.
A local custom in Bakewell is well dressing. The custom of decorating wells with flowers may date from pagan times when people believed nymphs lived in wells and offered them flowers.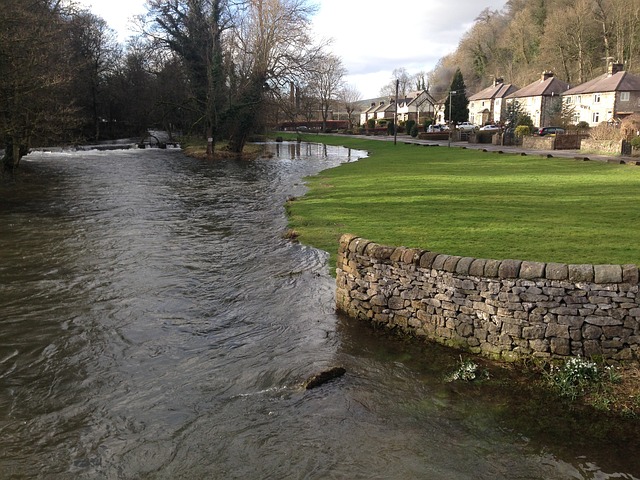 In 2021 the population of Bakewell was about 3,700.