By Tim Lambert
Early Bishops Waltham
Bishops Waltham began as a Saxon village. The name Bishops Waltham is derived from the words Wald meaning wooded area and ham meaning settlement. It became known as Bishops Waltham after 904 when the king gave the manor to the Bishop of Winchester. A church was built in Bishops Waltham around 640 AD.
In the year 1001 Danes descended on Bishops Waltham and burned it but it was soon rebuilt. At the time of the Domesday Book (1086), Waltham probably had a population of about 450. By the standards of the time, it was a large village. Most only had a population of 100-150.
Bishops Waltham had 3 watermills, which ground grain into flour to make bread for the inhabitants. By the late 13th century a weekly market was held in Bishops Waltham. However, it was still a large village rather than a town. It was an agricultural settlement rather than a manufacturing centre.
However, there was a small wool industry in Bishops Waltham. By the 15th century, there was a fulling mill. After the wool was woven it was pounded in a mixture of water and clay to clean and thicken it. Wooden hammers worked by a watermill pounded the wool. This process was called fulling.
About 1138 the Bishop built a palace at Bishops Waltham. In 1182 it was used as a meeting place when Henry II met his barons. In 1194 Richard the Lionheart stayed there. William of Wykeham the founder of Winchester College died there in 1404.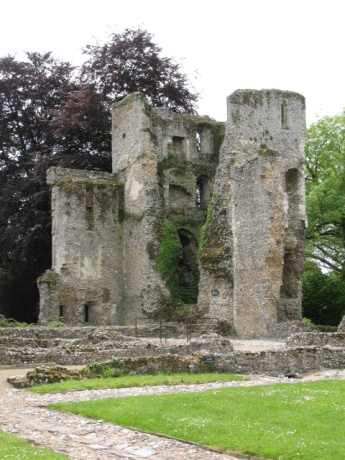 Bishops Waltham Palace
The Crown Inn in Bishops Waltham dates from the 16th century. In 1602 Queen Elizabeth granted the right to hold two annual fairs in Bishops Waltham. In those days fairs were like markets but they were held only once a year. Buyers and sellers would come from all over Hampshire to attend the Bishops Waltham fairs. By the end of the 18th century, the number of fairs had increased to 4 but they all died out by the late 19th century.
In the 1540s a writer described Bishops Waltham as 'a pretty town' It had 'good pasture, wood, and corn. Here the Bishop of Winchester has a right ample and good manor'.
In April 1644 during the English civil war 200 royalists were besieged in the Bishops Palace for 3 days. They were then forced to surrender. Afterward, in 1645 Cromwell ordered the 'slighting' or destruction of the palace.
In 1679 a grammar school was founded in Bishops Waltham. Vernon Hill House dates from the late 17th or early 18th century (the exact date is not known). It takes its name from Admiral Edward Vernon (1684-1757). During the 18th century Bishops Waltham continued to be a small but prosperous settlement.
Modern Bishops Waltham
By 1801, the time of the first census Bishops Waltham had a population of 1,773. By the standards of the time, it was a large village or a very small town. Most villages in Hampshire were much smaller. By 1851 Bishops Waltham had a population of 2,265. By 1901 it had risen to 3,028.
In 1805 after the battle of Trafalgar a French admiral named Villeneuve was captured. He and 200 French sailors were billeted in Bishops Waltham. In 1997 a blue plaque was attached to the Crown Inn to commemorate Admiral Villeneuve's stay.
In 1809 a man named Gunner opened the first bank in Bishops Waltham. It closed in 1953. It gave its name to Bank Street (formerly French Street). Bishops Waltham lost its market in 1841 when it moved to Botley.
However in 1862 a man named Sir Arthur Helps owned Vernon Hill estate. He began digging clay there and formed Bishops Waltham Clay Company. For a short time this company made pottery.
However, this business venture was not a success and in 1867 the company went into liquidation. It was taken over by a man named Blanchard who made bricks and tiles. Brick making went on in Bishops Waltham until 1957. Blanchard also built a house named Claylands.
In 1863 a railway line was built to connect Bishops Waltham with Botley. (There was a small branch line to the brickworks.) In 1864 Bishops Waltham gained gaslight. In the late 19th century the village began to grow and in the 1890s and 1900s houses were built in the area called Newtown.
In 1933 the Saxon font of Bishops Waltham church was discovered. It now stands in St Peters Church.
In the 1950s Bishops Waltham was called a 'dying town' but it soon returned to life. Bishops Waltham grew rapidly in the 1960s and 1970s and some historic buildings were demolished to make way for new car parks and housing. In 1960-62 Bishops Waltham gained main drainage.
The railway station in Bishops Waltham closed to passenger traffic in 1932. It closed completely in 1962 and it was demolished in 1965. In 1971 a road was built by-passing the town centre.
In 1976 a granary was turned into an arts and crafts center. Jubilee Hall was built in 1980. The Bishops Waltham Society was formed in 1986. A museum opened in 1987.
Until the 1980s Bishops Waltham Infants School met in a building erected in 1856. In 1988 they moved to a new building.
Today Bishops Waltham is a prosperous and thriving village. Today Bishops Waltham has a population of 6,400.