By Tim Lambert
Early Denmead
Denmead began as a Saxon settlement. Its name was originally denu mead or meadow in a small valley. In Saxon times and for long afterward it was an isolated place that stood in the Forest of Bere, which stretched from the Sussex border to Winchester.
Stoneacre is believed to be the oldest building in Denmead. It dates from the 15th century. However several timber-framed buildings date from the 17th century.
In the early 19th century Denmead was a small and isolated village. However, the village of Denmead slowly grew. In 1819 a windmill was built there (it was demolished in 1922).
In those days Denmead was famous for cockfighting. This cruel sport had been played for centuries but by the early 19th century many people disapproved of it. Sailors from Portsmouth came to the secluded village of Denmead to watch it.
However, in the early 19th century, Denmead was really a cluster of tiny hamlets, Anmore, Anthill, Barn Green, Furzeley Corner, Kidmore, and Worlds End. By 1871 the population of Denmead parish had reached 587. By 1901 it had reached 881.
Modern Denmead
A school was built in Denmead in 1874. Local farmers gave flint to build the school. It originally had three buildings and 70 children. The school moved to a new building in 1973.
Meanwhile, the parish church of All Saints in Denmead was built in 1880 for 2,000 pounds.
Denmead once had a windmill however in 1922 it was demolished and the bricks were used to build a bridge over the railway at Cosham.
Then in 1924 Denmead gained a gas supply. A piped water supply reached Denmead in 1931. The same year it gained an electricity supply. In 1932 Denmead gained a parish council.
Denmead Memorial Hall was built in the 1920s.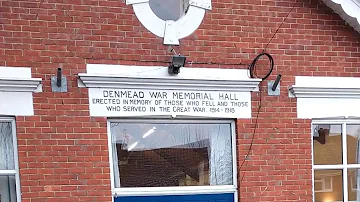 From the 1960s Denmead began to grow rapidly until today it verges on being a town. In the late 1980s Park industrial estate was built at Denmead. Today the population of Denmead is about 6,700.