By Tim Lambert
Falmouth in the 17th Century and 18th Century
Penryn is a much older town than Falmouth. It was a market town since the 13th century. The story of Falmouth really begins in the 17th century. A man named Sir John Killigrew created a busy little town and port at Falmouth in 1613. Falmouth grew steadily in the following decades and it soon outgrew Penryn.
Meanwhile in the years 1540-1545, Henry VIII built 2 forts to guard the entrance to Carrick Roads, Pendennis Castle, and, opposite, St Mawes Castle. During the civil war of 1642-1646, Pendennis Castle was the second to last fort held by Royalists to surrender. Nevertheless, after the Civil War, Falmouth continued to grow.
Then in 1661, King Charles II gave Falmouth a charter (a document granting the townspeople certain rights). In return, a church was built dedicated to his father, King Charles the Martyr. The new church was consecrated in 1665.
From 1688 Falmouth was made the Royal Mail packet station. Ships carried mail all over the world and as a result, Falmouth boomed. It grew into a fairly important town.
In Falmouth fishing was a major industry. Fish Strand Quay was built in 1790. Another important industry in Cornwall in the 18th century and early 19th century was smuggling! The Kings Pipe is a brick chimney, which was used to burn tobacco taken from smugglers.
Modern Falmouth
In 1801 the population of Falmouth was under 5,000 but by the standards of the time, it was a fairly large and important town. By the end of the century, the population of Falmouth had more than doubled to over 10,000.
St Anthony's Lighthouse was built in 1835. The Post Office packet ship stopped leaving Falmouth in 1852. This was a blow to the town but it soon recovered. n Falmouth Docks Company was founded in 1859. Work on the docks began in 1860 and they were soon very busy.
The railway reached Falmouth in 1863. The railway brought new prosperity to Falmouth as it made it easy for tourists to reach the town. Soon Falmouth was a thriving seaside resort as well as being a busy port.
In 1901 Falmouth had a population of about 10,000. By 1951 it had risen to about 17,000. Meanwhile, a new Town Hall was built in Falmouth in 1906.
However, during the Second World War 31 people were killed in Falmouth by German bombing.
Pendennis Shipyard opened in 1989. However, the main industry in Falmouth today is tourism. The National Maritime Museum Cornwall opened in Falmouth in 2003.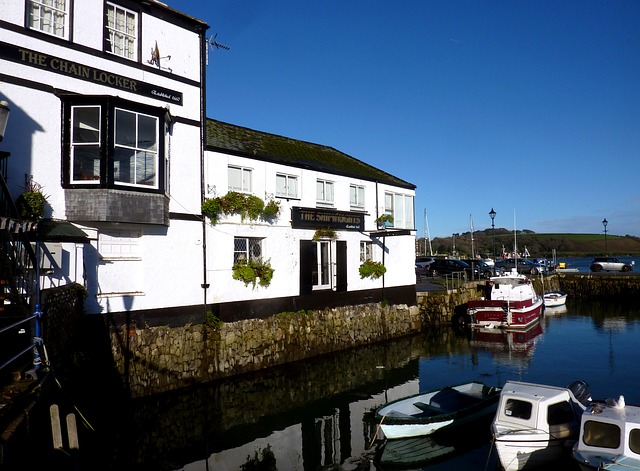 In 2022 the population of Falmouth was 23,000.