By Tim Lambert
Fareham in the Middle Ages
Fareham began as a Saxon village. It was called Ferne Ham. The Saxon word ham meant a village or settlement so it was the village by the ferns. The original settlement was on a hill near where the church of St Peter and St Paul now stands.
Perhaps the Saxons settled at Fareham because a village on a hill was easy to defend. It was also, of course, close to a creek where ships and boats could easily load and unload their cargoes.
The Domesday Book of 1086 says there were two watermills in Fareham where grain was ground into flour for the villagers.
In the 12th century, Fareham grew into a town. By that time Fareham had a weekly market and it was a focal point for the surrounding villages.
Fareham was also a busy little port. Wine (the drink of the upper class) was imported into Fareham. Timber was exported. There were also fishermen operating from Fareham. Furthermore, for centuries there was a small boat building industry in the town.
However, Medieval Fareham was a small town, even by the standards of the time. It only had a population of several hundred. For centuries Fareham really consisted of one long street.
Fareham 1500-1800
In the year 1630 it was said that Fareham Creek was: 'an absolutely good and safe place to moor ships and in all respects as convenient and safe a harbor as Chatham.'
By the late 17th century Fareham was known for its tanning industry. It was close to oak trees (oak bark was used in tanning leather). It was also close to freshwater for tanning. However in the late 17th century Fareham still only had a population of about 700 or 800.
During the 18th century, Fareham grew much larger. By the time of the first census, in 1801, it had a population of just over 3,000. To us, it would seem tiny but by the standards of the time, it was a small market town.
In the 18th century, Fareham was a desirable place for naval officers to live as it was away from the noise, dirt and overcrowding of Portsmouth but was near enough to be within reasonable travelling distance. (Today Fareham is known for its 18th-century buildings). Furthermore, in 1721 a man named William Price died and left money in his will to found a school.
During the 18th century, an inventor named Henry Cort (1740-1800) owned an iron foundry in the village of Funtley near Fareham. Although he was born in Lancaster Cort took over the Funtley works in 1775. In 1783 and 1784 he invented new ways of processing wrought iron which revolutionized the iron industry.
Fareham in the 19th Century
At the beginning of the 19th century Fareham was a little market town with a population of about 3,000. By 1831 the population of Fareham was just over 4,400. By 1870 the population had reached about 6,000. By 1900 the population of Fareham was about 14,000.
In the 1830s a writer said: 'Taking in all its circumstances Fareham is one of the most agreeable towns in the country.'
In the 19th century the writer, William Thackeray, said Fareham was a: 'Dear little old Hampshire town inhabited by the wives, widows, daughters of navy captains, admirals, lieutenants.'
The first bank in Fareham opened in 1834. Holy Trinity Church was built in 1835.
In 1836 a workhouse was built in Fareham. (Life in Victorian workhouses was made as unpleasant as possible to discourage people from seeking help from the state). A lunatic asylum was built in Fareham in 1852. The railway came to Fareham in 1841, connecting it to Southampton and Gosport.
During the 19th century, the industries of brick making and tanning flourished in Fareham. Fareham also continued to be a minor port exporting bricks (Fareham reds were used to build the Albert Hall), chimneypots, pottery, and clay pipes and importing wine, cloth and coal.
The Roman Catholic Church of the Sacred Heart was built in 1878.
Fareham in the 20th Century
In 1894 Fareham became an Urban District Council and between 1906 and 1929 trams ran from Fareham to Gosport. The first cinema in Fareham opened in 1910.
In 1921 a War Memorial was erected in Fareham to commemorate those who fell in the First World War.
In 1932 the boundaries of Fareham were extended to include Titchfield and Porchester. In 1932 the population of Fareham was about 22,000. By 1939 it was 37,000. (Part of the rise in population was due to the boundary extension). By 1951 the population of Fareham was about 45,000. It grew rapidly. By the mid-1960s the population of Fareham was about 65,000.
The first public library in Fareham opened in 1951. A new library opened in Fareham in 1973. Meanwhile, Fareham Law Courts were built in 1960. Then in 1974 Fareham was made a borough. Also in 1974 Prices School became a 6th form college (Prices College). Fareham Shopping Centre was built in 2 stages in 1975 and 1981.
Ferneham Hall opened in 1982 and Westbury Manor Museum opened in 1990. A new bus station opened in 1993.
In the early 20th century the creek silted up and the port of Fareham rapidly declined. However, increasingly, leisure craft too over the creek.
During the 20th century, the old industries of brick making and tanning came to an end but new industrial estates were built in Fareham. Fareham Industrial Park was built in 2 stages, in 1979 and 1984. Solent Business Park followed in 1988.
Fareham in the 21st Century
At the beginning of the 21st century, Fareham Council created a sculpture Park in West Street to commemorate Henry Cort. It consists of iron sculptures.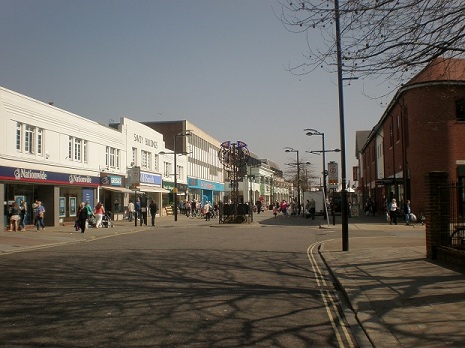 In the 21st century Fareham continued to flourish. In 2020 the population of Fareham was 42,000.