By Tim Lambert
Grimsby in the Middle Ages
Grimsby was founded by the Danes in the 9th century AD. The old Danish word for village was 'by' and this one was probably Grim's by or Grimmr's by (by meant village). By the time of the Domesday Book (1086), Grimsby had a population of over 200. By the standards of the time, it was quite a large village.
The village of Grimsby grew into a port because it stands on a river called the Haven, which flowed into the Humber. As its name suggests it was a haven for shipping when storms approached. So it was a natural place to build a port. Furthermore, there were rich fishing grounds in the North Sea and The Humber was full of fish. Grimsby was bound to become a fishing port.
During the 12th century, Grimsby developed into a busy little port. Ships brought timber from Norway and wine (the drink of the upper class) from France and Spain. Coal was brought by sea along the coast from Newcastle. In the Middle Ages wool was exported from Grimsby.
In 1132 an Augustinian Abbey was founded at Grimsby. In 1184 a nunnery, dedicated to St Leonard was founded. By the 13th century, there was also a leper hostel at Grimsby, run by the church.
Also in the 13th century friars arrived in Grimsby. The friars were like monks but instead of withdrawing from the world, they went out to preach. Franciscan friars (called grey friars because of their grey costumes) arrived in Grimsby in 1240. Austin or white friars arrived in 1293.
In 1201 Grimsby was given a charter by King John (a charter was a document granting the townspeople certain rights). From then on Grimsby had its own court and its own local government. By 1218 Grimsby had a mayor. Medieval Grimsby was a fair-sized town with perhaps 1,500-2,000 inhabitants. It would seem tiny to us but towns were very small in those days.
Medieval Grimsby did not have town walls. It was too small and was protected by the marshy land around it. However, the town did have a ditch. (The street name 'gate' does not mean a gate in a wall. It is a corruption of the Danish word 'gata' meaning street. Deansgate was Danes gata or street).
However, in the 15th century, The Haven began to silt up. As a result, Grimsby entered a long period of decline.
Grimsby 1500-1800
During the 16th century and 17th century Grimsby continued to decline and the population fell. Grimsby dwindled to being little more than a large village with a market.
However, imports of coal grew steadily more important. Grain from the surrounding countryside was exported from Grimsby. In 1556 the wooden bridge over the Haven was replaced with a stone one.
Like all Tudor towns, Grimsby suffered from outbreaks of the plague. There was a severe outbreak in 1590/91.
In 1538 Henry VIII closed the two friaries in Grimsby. The nunnery and priory followed in 1539.
In the late 18th century Grimsby revived a little and a new Town Hall was built in 1780. Then in 1796, an act of parliament formed a body of men who set about building new quays and deepening The Haven.
Grimsby in the 19th Century
In 1801 Grimsby was a tiny place with a population of just 1,524. Grimsby was no bigger and perhaps slightly smaller than it was in the Middle Ages. However, it grew rapidly. By 1831 the population of Grimsby was just over 4,000. By 1851 it had reached 8,860. By the end of the 19th century, the population of Grimsby was 75,000.
Grimsby boomed as a port during the 19th century. Iron, timber, wheat, hemp, and flax were imported. In the late 19th century coal brought from the South Yorkshire coalfield by rail was exported. Many people passed through Grimsby on their way to America.
By 1801 The Haven was deepened. However, in the 2nd half of the 19th century, it was reclaimed and new docks were built. Royal Dock was built in 1852. The Dock Tower was also built in 1852. Alexandra Dock and Union Dock were built in 1879. No 1 Fish Dock was built in 1856 and No 2 Fish Dock followed in 1877. No 3 Fish Dock was built in 1934. During the 19th century, The Grimsby fishing fleet greatly expanded.
Amenities in Grimsby improved in the 19th century. In 1800 some streets were paved and lit by oil lamps. After 1838 gas light was used. Meanwhile, in 1837 the first police force in Grimsby was formed.
In 1854 a water company was formed to provide piped water (to those who could afford it). Also in the 1850s sewers were dug under Grimsby and a new Town Hall was built in 1863.
Grimsby gained its first newspaper in 1871 and Grimsby and District Hospital was built in 1877.
The railway reached Grimsby in 1848. (The railway was largely responsible for the revival of Grimsby since it made it far easier to transport goods to and from the port). After 1881 horse-drawn trams ran in the streets of Grimsby.
Furthermore, Peoples Park opened in 1883. Duke of York Gardens followed in 1894.
Despite these improvements, Grimsby was, like all towns, unhealthy and unsanitary. There was an outbreak of smallpox in 1830. In 1832 cholera killed 246 people in Grimsby. Smallpox struck again in 1871. There was also an outbreak of typhoid in Grimsby in 1887.
Grimsby in the 20th Century
The population of Grimsby was 75,000 in 1901. It grew to 92,000 by 1931. The population then levelled off and hardly grew at all in the 20th century. n The first public library in Grimsby opened in 1900. Then in 1901, Grimsby gained electric street lights and the horse-drawn trams were replaced with electric ones. They in turn were replaced by buses in 1937.
The Fishermen's Chapel was built in 1904 and the Corporation Bridge was opened in 1928.
During the Second World War, there were many air raids on Grimsby, and 197 people were killed.
During the 20th century industries in Grimsby included fishing and food processing. (An ice factory was built in 1900). However, fishing in Grimsby has declined sharply since its heyday in the early 20th century.
However, some new industries came to Grimsby in the late 20th century such as light engineering, chemicals, and plastics.
New shopping centres were built in Grimsby in the 20th century. Freshney Place Shopping Centre opened in 1968 as the Riverhead Centre. Abbeygate Shopping Centre opened in 1985 and Grimsby Fishing Heritage Centre opened in 1991.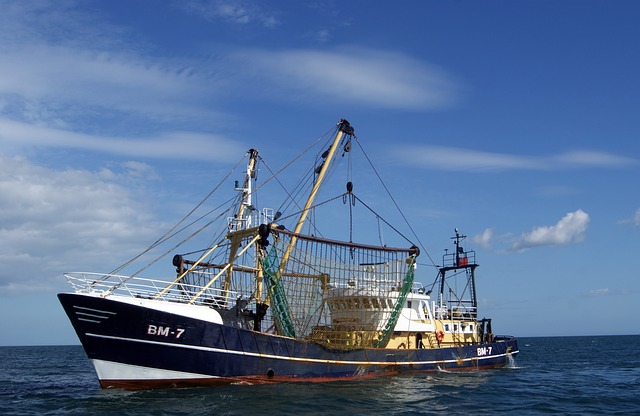 Grimsby in the 21st Century
Today Grimsby remains an important shopping centre for the local area. In 2022 the population of Grimsby was 86,000.