By Tim Lambert
Lostwithiel in the Middle Ages
Although it is a small community today the market town of Lostwithiel was once a busy and important port. The story begins at about 1100 when a Lord called Baldwin Fitz Turstin built nearby Restormel Castle. Later in the 12th century, the Lord of the Manor created a new town at Lostwithiel. Cornish tin could be exported from the new town.
In 1189 Lostwithiel was given a charter. (A charter was a document granting the townspeople certain rights). Medieval Lostwithiel had a weekly market. It also had an annual fair. (Fairs were like markets but they were held only once a year and they attracted buyers and sellers from a wide area).
Lostwithiel was also a flourishing little port. (Goods were taken down the river to the sea). Lostwithiel was also a stannary town. Tin was brought to Lostwithiel to be weighed. The tin was then stamped and taxed. Then it was exported by water. The word stannary comes from the Latin word for tin, stannum.
From the Middle Ages to the 19th century there was also a leather tanning industry in Lostwithiel. The Church of St Bartholomew is dedicated to the patron saint of tanners. Furthermore, wool was exported from Lostwithiel.
Medieval Lostwithiel was also an important crossing place on the River Fowey. At first, it had a wooden bridge but later a stone one was built. Today Lostwithiel is noted for its Tudor Bridge, which dates from the 16th century.
In the 13th century, the Earl of Cornwall built a Great Hall (now known as the Duchy Palace). Later it was used as a stannary office.
Medieval Lostwithiel was quite an important place though to us it would seem very small. It probably only had a population of a few hundred. Nevertheless, from 1305 Lostwithiel sent 2 MPs to parliament.
Lostwithiel 1500-1800
However, mining upriver caused the River Fowey to become silted up. By the late 16th century ships could no longer reach Lostwithiel. However, in 1609 Lostwithiel was incorporated (given a mayor and corporation).
Two battles were fought in or near Lostwithiel during the English Civil War of 1642-1646. During the war, Cornwall strongly supported the king. However, in January 1643 a parliamentary army entered Cornwall. They fought a battle at Braddock Down on 19 January 1643. The parliamentarians were badly defeated and forced to abandon any hope of taking Cornwall.
In the late Summer of 1644, they tried again. The Earl of Essex, Robert Devereux led a parliamentary army into Cornwall. They occupied Lostwithiel. It is said they desecrated the Church of St Bartholomew by leading a horse to the font and christening him Charles.
However, they did not celebrate for long. The king led an army from the East. The royalists attacked the parliamentary soldiers from the North, West, and East. On 31 August the parliamentary cavalry managed to escape.
However, the infantry was not so lucky. They fell back to Castle Dore (an iron age hill fort of which only the earthwork defences remain). The parliamentary infantry surrendered on 2 September.
King Charles allowed them to march Eastwards, leaving their artillery and other equipment for the royalists. However, most of the parliamentary soldiers did not make it home. Most of them died of starvation, disease, and exposure on the long march. Afterward, Lostwithiel slowly recovered from the fighting.
In the 18th century, Lostwithiel was a flourishing little market town. Lord Edgcumbe built the Guildhall in 1740. The ground floor was once used as a corn market. Today the Guildhall is used by Lostwithiel Museum.
Modern Lostwithiel
In 1801 Lostwithiel was a small settlement with a population of 743. However, during the 19th century, it almost doubled in size, and in 1901 it had over 1,300 inhabitants.
Lostwithiel was connected to Plymouth by railway in 1859. That made it easier for tourists to reach the town. Furthermore, railway workshops were built in Lostwithiel. In 1869 a branch railway opened to Fowey (It closed in the 1960s). On the other hand, the old industry of leather tanning ended in the late 19th century.
In 1901 Lostwithiel was still a small community with a population of less than 1,400. The population grew rapidly in the early 20th century and it was over 2,000 by 1951. In the later 20th century the population of Lostwithiel grew more slowly.
Coulson Park opened in 1907. It is named after Nathaniel Coulson who gave money for it to be created. (Although he was born in Penzance Nathaniel Coulson grew up in Lostwithiel. He made his fortune in the USA).
During the 20th century, Lostwithiel had a creamery that opened in 1932. However, it closed in 1991. Lostwithiel also had a cattle market that opened in 1906 but closed in 1976. However, today Lostwithiel has Restormel Industrial Estate. Furthermore Lostwithiel Community Centre opened in 1983.
Today Lostwithiel is a popular tourist destination. It is also a good base from which to explore the rest of Cornwall. Lostwithiel is known for its antique shops.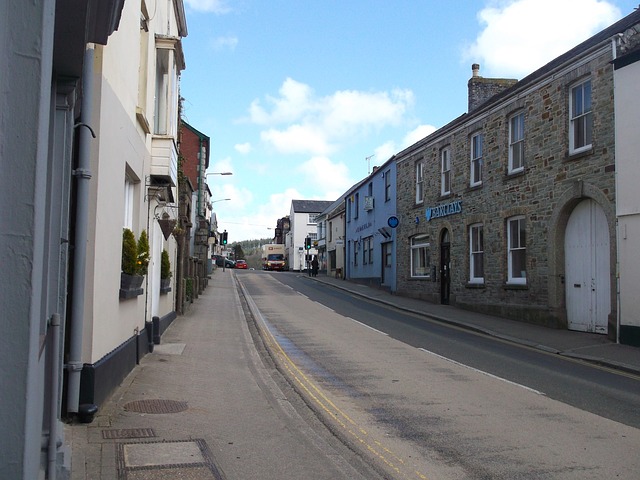 Today the population of Lostwithiel is a little over 2,900.