By Tim Lambert
The Foundation of Ottawa
Samuel de Champlain visited the area where Ottawa now stands in 1613. Afterwards, the Ottawa River was a major transport artery. However permanent settlement did not begin until Philemon Wright founded a small town he called Wrightstown. (It is now known as Hull). Then in 1826, the Rideau Canal linked the site of present-day Ottawa to the Lawrence River. John By gave his name to a new settlement built there. It was called Bytown and it prospered on the lumber trade. In 1854 the railway reached Bytown.
Then in 1855 Bytown changed its name to Ottawa when it was incorporated as a city. In 1857 Queen Victoria made Ottawa the capital of Canada.
Meanwhile, the city developed rapidly. The College of Bytown was founded in 1848. In 1861 it was renamed The College of Ottawa. In 1866 it became Ottawa University. A historic building Laurier House was built in 1878. Meanwhile, the Canadian Museum of Nature dates from 1856 and The National Gallery of Canada was founded in 1880. The Canadian War Museum also dates from 1880. From 1893 electric streetcars ran in the streets of Ottawa. Bytown Museum opened in 1917.
Meanwhile, in April 1900 Hull and Ottawa suffered a severe fire that destroyed many houses. Parliament Buildings in Ottawa were built between 1859 and 1866. However, they were destroyed by fire in February 1916. They were rebuilt and parliament met in the new buildings for the first time in 1920. Peace Tower was built in 1927 as a tribute to the Canadians who died in the First World War. n Modern Ottawa
Meanwhile, the Mint opened in Ottawa in 1908. It became the Royal Canadian Mint in 1931.
Modern Ottawa
During the 20th century, the government became the major employer in Ottawa. In the late 20th century hi-tech industries became important in Ottawa. Tourism is also important in Ottawa. The Canada Science and Technology Museum opened in 1967. The Museum of Civilization moved to a new building in 1989.
Ottawa is also an important shopping centre. Billings Bridge Shopping Centre opened in 1954 and Carlingwood Mall opened in 1956. The St Laurent Centre opened in 1967 and Bayshore Shopping Centre opened in 1973. The Rideau Centre opened in 1983. Then in 2001, the O train began running in Ottawa. Today Ottawa is a flourishing city.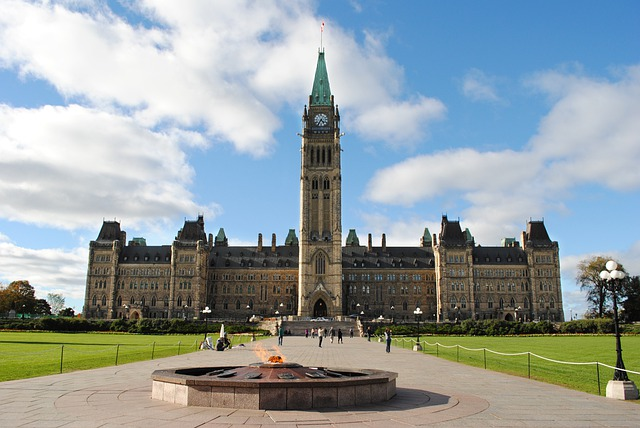 In 2016 the population of Ottawa was 964,000 .