By Tim Lambert
Dedicated to Lee Norris
Early Paulsgrove
There is a story that St Paul once came to England and he landed at the north of Portsmouth Harbour by a grove of trees. Afterward, the grove was called Paul's grove. In reality, it was named after a Saxon named Palla. It was Palla's grove.
Wymering was once called Wygmaer ingas, which means the people of Wygmaer in Saxon. The name slowly changed to Wymering.
Cosham was another village. Originally it was called Cossa's ham (ham means village). The little village of Cosham stood on the east of High Street. The village of Wymering clustered around the church.
The hamlet of Paulsgrove stood roughly where the motorway crosses Southampton Road.
Overlooking the three of them was Portsdown Hill. Originally it was called Portus dun. The word portus means harbour and dun means hill. So it was the hill by the harbour. In time people forgot the meaning of the word dun and they began calling it Portus dun Hill. In time it changed to Portsdown Hill.
At the time of the Domesday Book, in 1086, Wymering was a small village with a population of perhaps 120. Paulsgrove was even smaller. Even in the 19th century, it had only about 50 inhabitants. They lived by farming.
A manor house was built at Wymering in the 16th century. Another large house was built at Paulsgrove in 1665.
By the 19th century, chalk was quarried from the chalk pit at Paulsgrove. A jetty was built at Western Road to transport it by water.
In the 20th century, there was a famous racecourse at Paulsgrove where the shops are today. It opened in 1928 but closed in 1939. Racecourse Lane is named after it. A railway halt was opened at Paulsgrove partly because of the racecourse.
Wymering Council Estate
A new council estate was begun at Wymering in the 1920s. At that time Cosham was only on the eastern side of the Road. On the western side was farmland. Queen Alexandra Military Hospital (built in 1908) looked down on the scene.
Then in 1920 Cosham and Wymering were made part of Portsmouth (previously they were outside the boundaries). In 1920 they decided to build a little estate at Wymering. It was planned to build 300 houses there. The first 100 were built in 1922-24 and the new streets were named First, Second, and Third Avenues and were called Wymering Garden Village.
They were desperately needed as the council had started demolishing dreadful slums in Portsea. Another 200 houses were built at Wymering in 1927-29. In the 1930s many more slums were pulled down and council houses were needed to replace them.
In 1931 the council decided to build 410 new houses at Wymering. Many were built north of Southampton Road. In 1931-33 the roads between Sevenoaks Road and Wymering Lane and as far north as Maidstone Crescent were built.
In the years 1935-39 more houses were built between Wymering Lane and Washbrook Road. Houses were also built in Cheltenham Road and the closes leading off it.
Also in the 1930s, the Isle Of Wight estate was built (where the streets are named after places on the Island).
During the 1930s ribbon development began along Southampton Road. Private houses were built there where Tesco is today. In 1942 tunnels were dug under the chalk in Portsdown Hill at the top of Wymering Lane to make a bomb shelter for thousands of people.
Paulsgrove Housing Estate
During World War II Portsmouth council realised they would have to build large numbers of council houses to replace all those destroyed by German bombing. They purchased land at Paulsgrove and began building in 1945.
Most of the new houses were 'prefabs' or prefabricated houses. They were made in sections in factories and they could just be fitted together on site. Prefabs could be erected in as little as 4 days. Some had steel frames to which concrete or metal panels were added.
Most of the new streets in Paulsgrove were named after places but a few were named after people. Allaway Avenue was named after the mayor of Portsmouth. In 1950 the British Legion asked for a new street to be named Artillery Close.
At first, there were no shops in Paulsgrove and people had to rely on mobile shops. Temporary shops opened in Nissan (army) huts in 1949. There were no permanent shops until 1953. The first public library in Paulsgrove opened in 1954. (It moved to the present building in 1985).
St Michael's and All Angels was built in 1948. The Baptist Church was built in Woofferton Rd in 1954. St Paul's Catholic Church was built in 1970.
Later some private houses were built at Paulsgrove. Some were built at Rochford Road in 1962. Lime Grove was built in stages after 1966. In 1981 the council gave the go-ahead for 60 more houses to be built there. They were built by 1986. In 1999 a housing association built 60 houses off Butterfly Drive.
Paulsgrove primary schools (originally there were 2 of them) opened in 1952. Paulsgrove Secondary Modern schools also opened in 1952. They became King Richards school in 1975.
The Beehive pub (now replaced by Beehive Terrace) and the Crossed Keys both opened in 1957. Wymering Manor House was made a youth hostel in 1962 but it closed in 2006.
In 1946 the council set aside land north of Southampton Road for an industrial estate. Smiths Crisps came to Paulsgrove in 1953. (They closed in 1994). Johnson and Johnson came in 1951. Wymering Industrial estate was built at the southern end of Cow Lane in 1958.
In 1971 the council began reclaiming land south of Western Road. IBM headquarters was built on reclaimed land in 1976 and a stretch of motorway was built between 1971 and 1976. At that time a conveyor belt carried land from the chalk pit to the site.
In 1980 a hotel was built south of Southampton Road. A marina and housing estate were built at Port Solent in the years 1986-1992. The actual marina opened in 1988. In the 1990s the little industrial estate north of Western Road was closed and sold for redevelopment.
Paulsgrove in the 21st Century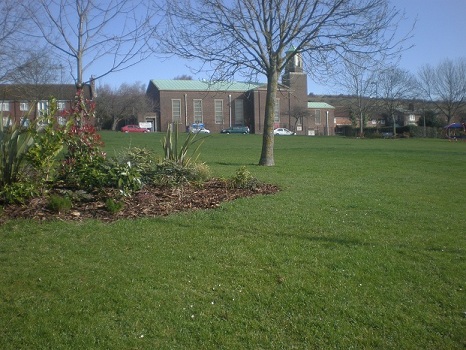 Harbourgate Business Park was built in 2003/2004 on the site of the former Johnson and Johnson factory.
Paulsgrove and Wymering Healthy Living Centre opened in 2005.
Today the population of Paulsgrove is 15,000.
A Timeline of Paulsgrove
1086 Wymering is a small village with a population of about 120 or less
1665 A large house is built by the hamlet of Paulsgrove
1870 Paulsgrove is a small hamlet with a population of around 50. It has a chalk pit.
1920 Wymering and Paulsgrove are made part of Portsmouth
1922 Work begins on building a new council estate at Wymering
1928 A racecourse opens at Paulsgrove
1931-33 The roads between Sevenoaks Road and Wymering Lane are built
1935-39 The roads between Wymering Lane and Washbrook Road are built
1939 The racecourse closes
1945 Work begins on building a new council estate at Paulsgrove
1948 St Michael's and All Angels Church is built
1952 Paulsgrove Primary School opens
1953 The first permanent shops open in Paulsgrove. Smiths Crisps factory opens.
1954 The first public library opens in Paulsgrove. The Baptist Church is built.
1957 Two pubs, the Beehive and The Crossed Keys open
1958 Wymering Industrial Estate is built
1970 St Paul's Catholic Church is built
1985 A new library opens
1994 Smiths Crisps closes
2004 Harbourgate Business Park is built
2005 Paulsgrove and Wymering Healthy Living Centre opens
My Youtube video about the history of Paulsgrove