By Tim Lambert
Plymouth in the Middle Ages
Plymouth began as a fishing village. It belonged to the Prior of Plympton. (A prior was the head of a priory or small abbey). In the early 13th century the prior turned the village into a town by starting a market there. In those days there were very few shops so if you wanted to buy or sell goods you had to go to a market. Once a market was up and running in Plymouth merchants and craftsmen would come to live and work there and it would grow into a town.
In 1254 Plymouth was given a charter. (A charter was a document granting the townspeople certain rights).
In the 13th-century friars arrived in Plymouth. Friars were like monks but instead of withdrawing from the world they went out to preach and to help the poor. The Dominicans were called Black friars because of the color of their costumes. There were also Carmelites in Plymouth, known as White Friars, who lived in a building by Friars station and Franciscans, or Grey Friars, who lived in Woolster Street.
Wine from France and Spain was imported into Medieval Plymouth. The town also benefited from a law of 1390, which said that pilgrims who traveled abroad must leave from either Plymouth or Dover.
Medieval Plymouth also played a role in the many wars between England and France. Because of this, the town was attacked by French soldiers several times. The worst attack came one day in August 1403. The French sailed across the Channel and landed north of the town. The French marched into Plymouth and occupied the area around Exeter Street. The English fought back but were unable to dislodge the French, who stayed overnight.
The next day the French sailed away but only after burning much of the town. (This was easily done as most of the buildings were of wood with thatched roofs). Afterward, part of the town was called Breton Side. After this disaster, Plymouth was soon rebuilt and began to flourish once more.
Plymouth in the 16th century
In 1497 John Cabot discovered Newfoundland with its rich stocks of fish. From then on fishermen from Plymouth fished off the coast of Newfoundland. Fishing was the most important industry in Tudor Plymouth. However many other goods were imported such as wine, fruit, sugar, and paper from France and Spain. Hemp for rope making was imported from the Baltic. Hops were imported from Holland. Wool and tin were exported from Plymouth.
There was also a coastal trade. Ships brought goods from other parts of England to Tudor Plymouth. Coal was brought by ship from Newcastle and grain from Eastern England. However, in 1641 a writer said that Plymouth was 'chiefly dependent on the fish trade'.
In the early 16th century Plymouth probably had a population of about 3,500. By the time of the Spanish Armada (1588), the population had risen to about 5,000. By the time of the civil war in 1642, its population probably surpassed 7,000. By the standards of the time, Plymouth was quite a large town.
In 1590 Drake built a conduit to bring water into Plymouth. However, like all towns at that time, it suffered from outbreaks of plague, which killed a large part of the population each time it struck. There was a particularly severe outbreak in 1627. However, the population always recovered.
Plymouth in the 17th century
In 1615 an orphanage was built in Catherine Street. Almshouses were built in Basket Street in 1628. Then in 1642 civil war began between the king and parliament. The citizens of Plymouth supported parliament but most of the rest of Southwest England supported the king. Realizing they would soon be attacked the citizens of Plymouth dug a ditch outside the town walls. They made an earth rampart with a wooden palisade on top. Forts built at intervals strengthened it. Parliament poured in reinforcements. Eventually, there were 9,000 soldiers stationed there. The royalists laid siege to Plymouth in August 1643. They failed to take Plymouth and attempts to starve it out failed because the citizens could fish. Finally in January 1646, as the civil war drew to a close, the royalists withdrew.
In 1653 a yarn market was built where yarn was bought and sold. In 1658 a new meat market was built with a leather hall above it, where leather was bought and sold. (Leather was an important industry in Plymouth). Also in 1658, a new grammar school was built in Plymouth and Charles Church was built in 1664.
In the 17th-century trade developed with the colonies in the West Indies and North America. Sugar and tobacco were imported and wool and manufactured goods were exported. There still a coastal trade. Coal from other parts of Britain was brought to Plymouth by sea. In 1669 a foreign writer said that Plymouth was 'Among the best cities of England.'
In 1689 it was decided to build a dockyard at Devonport. A dry dock was built there in 1693. The Admiralty also built a storehouse, quarters for officers, and in 1698, a rope house where ropes were made.
In the late 17th century the travel writer Celia Fiennes described Plymouth: 'The streets are good and clean. There are a great many though some are but narrow. They are mostly inhabited by seamen and those which have affairs of the sea'. She also wrote: 'The mouth of the river is a very good harbor for ships, the dockyards are about 2 miles from the town. It's one of the best in England, a great many good ships are built there'.
Plymouth in the 18th century
In the 1720s Daniel Defoe wrote: 'Plymouth is a town of consideration and of great importance to the public. It is situated between 2 very large inlets of the sea and at the bottom of a large bay, which is very remarkable'.
The dockyard workers, who walked to work every day, wanted to live close to the dock. In the 18th century, new houses were built near the dock and a new town grew up. At first, it was called Plymouth Dock. By the mid 18th century it had a population of about 4,000. The dockyard itself continued to grow. A new dock was built in 1727, followed by a third in 1762 and a fourth in 1793.
The dockyard dominated industry in 18th century Plymouth but there was also considerable wool weaving industry and a leather industry. There was also a brewing industry and fishing remained important. The building trades were also kept busy as many new buildings were erected. Plymouth continued to be a major port. Merchants continued to trade with the West Indies and the American colonies and also traded with the Mediterranean. There was also a considerable coastal trade. Grain and coal were brought by sea from other parts of Britain into Plymouth and tin was taken away.
In the 18th century, the town gates were demolished as they impeded traffic coming in and out of the town. Stonehouse Bridge was built in 1773 and a ferry to Torpoint began operating in 1791. Meanwhile, a theatre in Plymouth was built in 1762 and the first bank in the town opened in 1772. Marine barracks were built in Stonehouse in 1782.
A naval hospital was built in 1762 and in 1797 a military hospital was built by Stonehouse Creek. In 1798 a dispensary opened where poor people could obtain free medicines.
Plymouth in the 19th century
In 1801, at the time of the first census, Plymouth old town had a population of 19,000. Devonport had 23,000 and had outgrown the original town. Stonehouse had a population of 3,407. By 1851 Plymouth had almost 53,000 people. Devonport had 38,000. Stonehouse had almost 12,000.
The end of the war with France in 1815 was catastrophic as many men were laid off from the dockyard. However, Plymouth eventually recovered. From the mid-19th century, a new suburb grew up outside of Devonport called Morice Town. Meanwhile, villages like St Budeaux and Compton grew into small towns. By the end of the 19th century, they had populations exceeding 6,000. In 1896 the boundaries of Plymouth were extended to include Compton.
Despite this new building there was a serious shortage of housing in Plymouth and overcrowding was a severe problem. In 1850 the average number of people living in each house in Britain was 5 but in Plymouth, it was 10. There were also epidemics in the 19th century. In 1832 cholera killed 1,031 people. Cholera returned in 1849 when it killed 1,894 people. There was also a smallpox epidemic in 1872 which killed 448 people.
However conditions in Plymouth slowly improved. In the late 19th century a proper system of drains and sewers was built. Amenities in 19th century Plymouth slowly improved. An eye hospital opened at Millbay in 1821. After 1832 the streets were lit by gas. South Devon and East Cornwall hospital opened in 1840. The Royal Albert Hospital at Devonport opened in 1862.
There were also improvements in transport. In 1832 horse-drawn buses began running in Plymouth. After 1872 there were horse-drawn trams. The first electric trams appeared in 1899. The railway reached Plymouth in 1848. The Royal Albert Bridge was built in 1859.
Life in 19th century Plymouth gradually improved. The first public library opened in Plymouth in 1876 and the first telephone exchange opened in 1881.
The council also built parks in Plymouth. The first was Devonport Park in 1858. It was followed by Hoe Park in 1888. Victoria Park and Beaumont Park were laid out in 1891. The Aquarium was built in 1885 and a museum opened in Plymouth in 1897. Furthermore, the first council houses in Plymouth were built in Laira Bridge Road estate in 1896.
In the 19th century, the dockyard still dominated industry in Plymouth. Other industries included brewing, civilian shipbuilding, soap making, glass making, printing, and fishing. A new fish market was built in 1896.
The Royal William Victualling Yard at Stonehouse was built in 1835. Raglan barracks was built in 1858. Then in 1860-70, a line of forts was built around Plymouth to guard against the possibility of a French attack. Plymouth dockyard was extended in 1844-54 when the Keyham steam yard was built for building steamships. A naval engineering college was built in 1881.
The commercial docks in Plymouth also continued to improve. The Great Western Docks were built in 1844-50. (They were designed by the great engineer Isambard Kingdom Brunel). Plymouth continued to be an important commercial port. In the second half of the 19th-century liners traveling to North America, South Africa, Australia, and New Zealand began calling in at Plymouth. The town became a departure point for emigrants.
Plymouth in the 20th century
In 1901 Plymouth had a population of 107,000, while Devonport had almost 64,000. Stonehouse had a population of 15,000. In 1914 the two towns of Devonport and Stonehouse were joined with Plymouth.
After World War I a slum clearance program began. Slum housing was demolished and was replaced by council housing in New Prospect and Swilly. By 1928, 802 new council houses had been built. Slum clearance continued in the 1930s. By 1939 there were some 5,000 council flats and houses in Plymouth.
Furthermore, the boundaries of the city were extended in 1938. In 1920 the first motor buses began running in Plymouth. They gradually replaced the trams. In 1928 Plymouth was made a city and in 1935 it was given a Lord Mayor. Central Park opened in 1931.
During the Second World War Plymouth was a prime target for bombing because of the dockyard. There were 59 bombing raids. The city center was devastated and 1,174 civilians were killed. Furthermore, 3,754 houses were destroyed and more than 8,000 were seriously damaged. After the war, the city faced a severe shortage of housing. Added to this was the need to demolish slums and replace them with better houses or flats.
In 1943 a plan for Plymouth was drawn up. The whole of the city center would have to be rebuilt and a great effort was needed to build council houses. In 1945-46, temporary prefabricated housing was erected. These houses were made in sections in factories and could be pieced together like Meccano kits. They took as little as 4 days to erect. In the late 1940s and 1950s new council house estates were built at Efford Ham, Honicknowle, Kings Tamerton, Ernesettle, and Whitleigh. In the 1960s more council houses were built at South Way and Egg Buckland. In the later 20th century many private houses were built in Plympton and Plymstock.
In 1951 the boundaries of Plymouth were extended to include Roborough and Tamerton. In 1967 they were extended again to include Plympton and Plymstock. Parts of the shopping center were rebuilt in 1951-56. In 1971 Drakes Circus was rebuilt and pedestrianized.
The Civic Centre was built in 1962. New Law Courts were built in 1963. A new Central Library was built in 1978. New Magistrates Courts were built in 1979. Plymouth General Hospital opened in 1981. The Armada Center was built in 1988. Plymouth Dome opened in 1989. Plymouth Pavilions opened in 1991. Barbican Glass Works opened in 1997.
After 1945 the council tried to attract new industries to Plymouth. The city was still heavily dependent on the dockyard to provide jobs so the council tried to diversify industries. In the 1950s a shoemaking company, a mattress-making firm, and a machine tool maker came to Plymouth. In 1970 Wrigley's chewing gum came. By the mid-1970s many new industries had come to Plymouth but unemployment was still higher than the national average. Ship making at Plymouth dockyard ended in 1968 but in 1978 a new fleet maintenance base was opened. In 1980 a new submarine refit complex was opened. In 1956 HMS Cambridge gunnery school opened.
In 1973 ferries began running between Plymouth and France. From 1978 they ran to Spain. The fish quay was rebuilt in 1967. Fishing remained an important industry in Plymouth. A marina was opened in 1973 at Ocean Quay. Tamar Bridge opened in 1961. Meanwhile Plymouth Polytechnic opened in 1965. It was made a university in 1992.
Plymouth in the 21st century
In the 21st century, Plymouth is still flourishing. Drakes Circus Shopping Centre was rebuilt in 2006.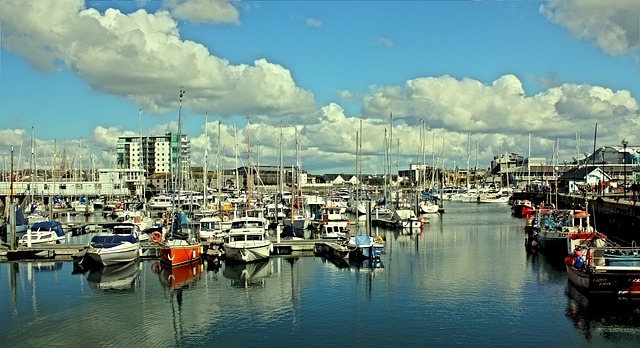 In 2022 the population of Plymouth was 264,000.