By Tim Lambert
Dedicated to Audrey Benton
The Foundation of Portland
The city of Portland was founded in 1843 on the banks of the Willamette River. Portland was incorporated in 1851 and it soon became a major port. Amenities in Portland gradually improved. Portland gained gas supply in 1857 and Washington Park was created in 1871. (In the early 20th century it was remodeled by John Olmsted).
In 1873 Portland suffered a severe fire that destroyed many buildings but the town soon recovered and it continued to grow. Pioneer Court House was built in 1875. The Old Church was built in 1883. Portland Art Museum was founded in 1892. By 1900 Portland was a bustling city with a population of 90,000.
Meanwhile, the Skidmore Fountain was built in 1888. From 1871 horse-drawn trams ran in the streets of Portland. (Later they were converted to electricity). The first bridge to be built over the River Willamette River was the Morrison Bridge in 1887. The same year, in 1887 Portland Zoo was founded. Portland Art Museum opened in 1895. The bronze elk was given to the city in 1900.
20th Century Portland
In 1905 the Lewis and Clark Exposition was held in Portland. As a result, the city boomed. The population of Portland soared. By 1910 it was 207,000.
Many new buildings were erected in Portland in the early 20th century. Sentinel Hotel was built in 1909. Jackson Tower was built in 1912. Central Library was built in 1913 The American Bank Building was also built in 1913. Also in 1914 Pittock Mansion was built.
Meanwhile, Reed College was established in 1908. Meanwhile, new bridges were built in Portland in the early 20th century. Hawthorne Bridge was built in 1910 and Steel Bridge was built in 1912. Broadway Bridge was built in 1913. St Johns Bridge was built in 1931.
Portland continued to grow steadily in the late 20th century. The Keller Memorial Fountain was built in 1970. (It was originally called the Forecourt Fountain but was renamed in 1978 for Ira C. Keller). The World Forestry Discovery Museum opened in 1971. Tom McCall Waterfront Park opened in 1978. Oregon Maritime Museum was established in 1980. Meanwhile, new bridges were built in Portland. Marquam Bridge opened in 1966 and Fremont Bridge opened in 1973.
Portland Building was built in 1982 and the KOIN Center was built in 1984. Then, in 1990 the Oregon Convention Center opened. The Oregon Museum of Science and Industry moved to its present site in 1992. Mark O. Hatfield Courthouse was built in 1997. Lan Su Chinese Garden opened in 2000.
21st Century Portland
At the turn of the 21st century Pearl District, formerly an industrial district was redeveloped and is now known for art galleries, shops, and restaurants. Portland Puppet Museum was founded in 2012. Today Portland is a rapidly growing city.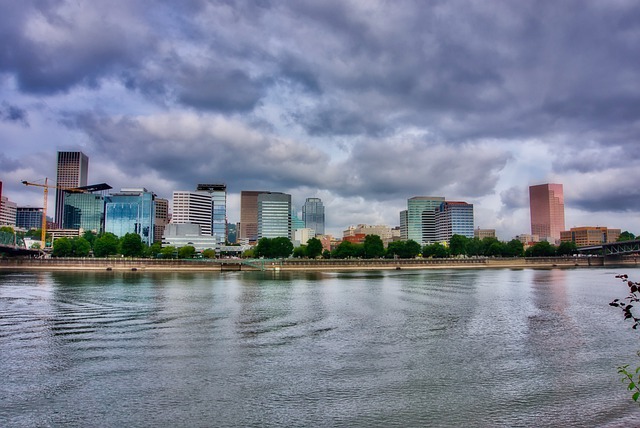 In 2019 the population of Portland was 653,000.
Last revised 2022