By Tim Lambert
Dedicated to Sharon Court
Early Somerstown
Somerstown was founded in the early 19th century. Until 1809 Portsmouth consisted of Old Portsmouth and Portsea. Then in 1809 the 'mineral' streets (Copper Street, Stone Street, etc.) were built outside the city walls. Jubilee Terrace was built in 1810 and Southsea grew into a middle-class suburb.
Meanwhile, another suburb was growing, this one working class. About 1820 some houses were built west of Green Road on land belonging to a Mr Somers. The new suburb was named Somerstown.
Another little area near Rivers Street was built and it was called Allenstown after a Mr. Allen but the name did not survive and Allenstown was absorbed into Somerstown.
St Peters Church opened in 1883.
In the 1950s Somerstown was like a village with its own shops and pubs. Along Somers Road, there was a whole range of shops where you could do your weekly shopping and there was no need to go to Commercial Road. Somers Road School opened in November 1954.
Modern Somerstown
However in the 1960s, Somerstown was redeveloped and unfortunately, the village atmosphere was lost. From the mid-1950s to the early 1970s whole areas of Portsmouth were demolished and rebuilt including much of Somerstown. In 1964 much of Somerstown consisted of tiny houses (the Victorian called them 'houses for artisans').
Between 1964 and 1969 houses on the western side of Somers Road and its hinterland were torn down. The council planned to replace them with 'high rise, medium-rise flats and a modicum of two storey houses'. By 1969 1,245 new dwellings had been built inside an area of 33 acres.
The council also planned to build a new east-west main road through Somerstown. It would have a 2 1/2 acre concrete 'deck' on top for pedestrians to walk across. When it was built in the early 1970s Winston Churchill Avenue cut Somerstown in two.
Traditionally the railway separated Landport from Somerstown but the new road severed the latter area. In 1986 a Community Garden was created in Somerstown.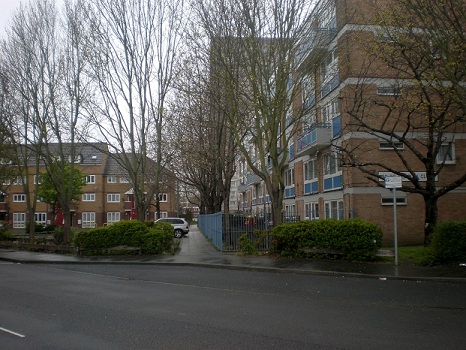 Somerstown Adventure Playground opened in 2010. Somerstown Hub was completed in 2014. Today Somerstown has a population of 11,000.