By Tim Lambert
Early Southsea
Henry VIII built a castle, east of the town of Portsmouth, overlooking the sea. Southsea Castle, as it is called, was ready in 1544. However, during the Civil War in 1642, the military governor of Portsmouth declared for the king. Parliament sent men to besiege Portsmouth and Southsea castle was taken after only token resistance. The guns of Southsea castle were then used to fire at the town of Portsmouth!
Until the beginning of the 19th century Portsmouth consisted of Old Portsmouth and Portsea. However, in 1809 a new suburb began to grow. At first, it was called Croxton Town after a Mr. Croxton but later it became known as Southsea after the castle. The first houses were built for skilled workers in the 'mineral' streets (Silver Street, Nickel Street, etc).
Slightly later middle-class houses were built in Kings Terrace and Hampshire Terrace. But the new suburb remained small until 1835. Then it surged eastwards. By the 1860s the suburb of Southsea had grown along Clarendon Road as far as Granada Road.
In 1857 Southsea gained its own Improvement Commissioners responsible for paving, cleaning, and lighting the streets.
Meanwhile, another suburb was growing, this one working class. About 1820 some houses were built west of Green Road on land belonging to a Mr Somers. The new suburb was named Somerstown. By the late 1880s growth had spread to Fawcett Road and Lawrence Road.
Meanwhile further south in the 1860s and 1870s growth spread along Albert Road. The roads around Festing Road were built in the 1880s.
Meanwhile, St Jude's Church was built in 1851 by Thomas Ellis Owen. St Simons Church in Southsea was consecrated in 1868.
South of Southsea were two marshes. One, the Little Morass stood near Old Portsmouth. It was drained in 1820-23. Another larger marsh, the Great Morass, existed south of Albert Road. It was not drained till the late 19th century.
Clarence Esplanade was built by convict labour in 1848. Clarence Pier opened in 1861. Both are named after Lord FitzClarence who was once military governor of Portsmouth. South Parade Pier was built in 1879. It burned down twice, in 1904 and 1974.
The Crimean War obelisk was erected in 1857.
Lumps Fort was built at Southsea in 1869. However, it was demolished at the end of World War One and is now the site of a model village.
For a time in the 1870s, a boy named Rudyard Kipling lived in Campbell Road. Then in 1882, a doctor called Arthur Conan Doyle came to Southsea. He lived in Elm Grove and he wrote his first Sherlock Holmes story in Southsea.
The comedian Peter Sellers was born in Southsea in 1925.
In 1885 a railway opened from Fratton to East Southsea. East Southsea Railway Station was in Granada Road. However, it closed to passengers in 1914.
Meanwhile from about 1888 growth spread to East Southsea (roads like Bramble Road east of Fawcett Road). Fawcett Road was originally called Lazy Lane and a Jewish burial ground was opened there in 1749. A school opened in Bramble Road in 1888.
Modern Southsea
Kings Theatre opened in 1907. The Royal Naval War Memorial was built in 1920-24 by Sir Robert Lorimer.
In 1928, Cumberland House, Eastney was opened as a museum and art gallery. In 1922 the council purchased Southsea Common, a stretch of land by the sea, and laid it out with gardens, bowling greens, and tennis courts.
Before World War II King's Road was a shopping area but the German bombing in 1941 destroyed it. Palmerston Road was also severely damaged but was rebuilt and after the war Southsea continued to flourish as a seaside resort.
In the early 1950s, the Kings Road area was rebuilt with council flats.
Southsea Castle opened as a museum in 1967. Southsea Skate Park opened in 1978.
The D-Day Story opened in 1984. Sea Life Centre opened in 1986. The Pyramids Centre opened in 1988 and Southsea Town Council was formed in 1999.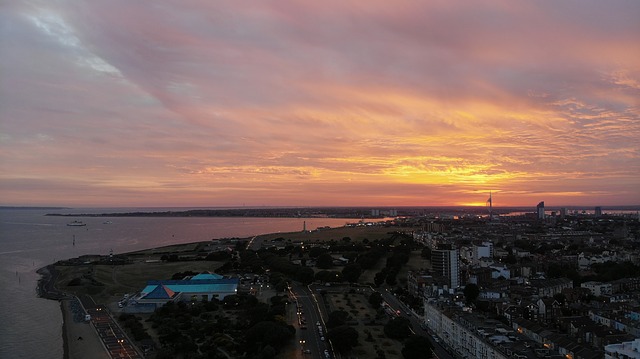 In 2011 a library opened in Southsea.
My Youtube video about the history of Southsea