By Tim Lambert
Modern St Andrews
St Andrews is named after Scotland's patron saint. According to legend in the 8th century, a Greek monk called St Rule or St Regulus brought some of the bones of St Andrew to Scotland. In the Middle Ages, people flocked to visit his remains. In those days people believed they could gain favor with God by going on long journeys called Pilgrimages. The pilgrims spent money in the town of St Andrews and boosted its growth enormously. Of course, the relics may not have been real but people believed they were.
Furthermore By the 10th century St Andrews was the headquarters of the Scottish church. St Rules Church was built overlooking a cliff in the early 12th century. Today only a tower remains. However, in about 1160 work was begun on erecting a cathedral. St Andrews Cathedral was not finally consecrated until 1318. The Cathedral was severely damaged by fire in the late 14th century. It was also damaged by a storm in 1409.
In the Middle Ages there was a priory (a small abbey) by St Andrews Cathedral. Most of the wall that surrounded the two of them still stands. Two arches from the gatehouse, known as the Pends also survive. Holy Trinity Church was built in 1410 and in 1472 St Andrews was made an archbishopric.
In the 13th century the friars arrived in St Andrews. The friars were like monks but instead of withdrawing from the world, they went out to preach. In St Andrews, there were two orders of friars. The Franciscan friars were called grey friars because of the color of their costumes. They live on the street place name Greyfriars Garden. Dominican friars were called Blackfriars. Their chapel still survives.
St Andrews Castle was built about 1200 as residence for the bishop. (In those warlike times the bishop needed a castle to live in). The English king Edward I captured St Andrews castle. The Scots recaptured it in 1314. However, the English captured the castle again in 1330. The Scots recaptured St Andrews castle in 1337. This time they demolished it to prevent it from ever falling into English hands again. However, St Andrews Castle was rebuilt in the late 14th century.
During the 12th century St Andrews became a burgh. During the Middle Ages, it was a flourishing market town. As well as markets St Andrews also had fairs. In the Middle Ages fairs were like markets but they were held only once a year. Buyers and sellers came from a wide area to attend a St Andrews fair. St Andrews was also known for its fishing industry.
St Andrews University was founded in 1413. St Salvator's College was founded in 1450 by Bishop Kennedy. St Leonard's College was founded in 1512 by Archbishop Stewart. However, it closed in 1747 when it merged with St Salvators. St Mary's College was founded in 1537 by Archbishop Beaton. Since 1579 it has been the university's theological college.
As early as 1433 a reformer named Paul Crawer was burned in St Andrews for heresy. Four Protestants were martyred in the 16th century. The first was Patrick Hamilton. He was followed by Henry Forest.
In 1546 Archbishop Beaton had a Protestant called George Wishart burned outside St Andrews castle. However, Wishart's friends took revenge. Disguised as workmen they entered the castle and overcame the guards. They stabbed Beaton to death in his bed-chamber. They then hung his body out of a window before throwing it into a bottle-shaped dungeon.
The Protestants then held St Andrews castle for a year. Finally, after a long siege, a French force arrived by sea and captured the castle. Among the prisoners taken was John Knox. He was forced to work as a galley slave for 19 months but later played a key role in the Scottish Reformation.
The last martyr in St Andrews was Walter Myln in 1558. In 1559 during the Reformation, the townspeople stripped St Andrews Cathedral of its furnishings. By the 17th century, the building itself was in ruins. During the 17th and 18th centuries, its stones were taken and used to repair the harbor and for other buildings. However, the Reformation led to a decline in St Andrews's fortunes. It meant the end of pilgrimages to the town.
In the 16th century, men practiced archery at the Butts in St Andrews. Today this lives on in the street name Butts Wynd. However, men preferred playing golf to archery. So much so that in 1457 the king tried to ban it.
In 1562 Queen Mary stayed in a house in South Street. Today it is part of St Leonard's School but is still called Queen Mary's House.
West Port (port is an old word for a gate) was built in 1589. (It was partly rebuilt in the 19th century).
Then in 1620 St Andrews was made a royal burgh. Nevertheless, during the 17th and 18th centuries, St Andrews went through a long period of decline.
Golf has been popular in Scotland since the 15th century. In 1754 the Royal and Ancient Golf Club was formed by the local gentry for the 'ancient and healthful game of golf'. At that time the modern rules of golf were drawn up.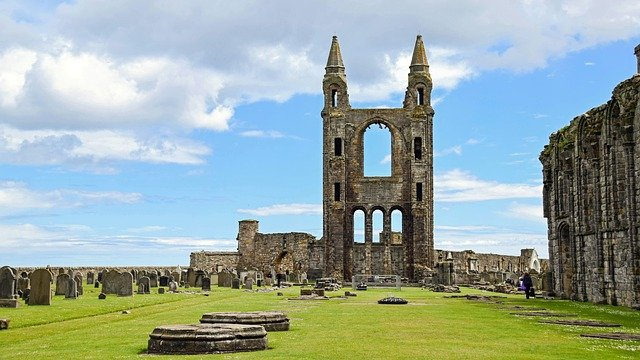 Modern St Andrews
In the 19th century, St Andrews revived. In 1801 St Andrews had a population of over 4,000. To us, it would seem tiny but by the standards of the time, it was a fair-sized market town. St Andrews grew rapidly during the 19th century and by 1901 it had a population of well over 9,000.
Furthermore St Andrews was improved by a man named Hugh Lyon Playfair. He was provost from 1842 to 1861. He erected new public buildings and improved the harbor. He also widened some streets. However, Playfair managed to retain the medieval atmosphere of St Andrews.
Madras College was founded in 1833. St Leonard's School was founded in 1877. Meanwhile the Martyrs Monument to the Protestants who were burned in St Andrews in the 16th century was erected in 1846.
The railway reached St Andrews in 1852 but it closed in 1969. Meanwhile, New Picture House opened in 1931. The Byre Theatre began in a cow byre in the 1930s. It moved into a new building in 2000.
Meanwhile in 1943 in St Andrews many people became ill and two of them died as a result of eating sausages contaminated with arsenic. The mystery of who contaminated them was never solved.
Crawford Arts Centre was created in 1978. St Andrews Aquarium opened in 1989. The British Golf Museum opened in 1990. St Andrews Museum opened in 1991 in Kinburn House. (This house was built in the 1850s and was named after the Battle of Kinburn in the Crimean War).
Today St Andrews is a flourishing town known for its history, golf, and its university.
During the early 20th century the population of St Andrews grew very slowly. By 1951 it had risen only to less than 11,000. However, in the late 20th century it began to rise more rapidly.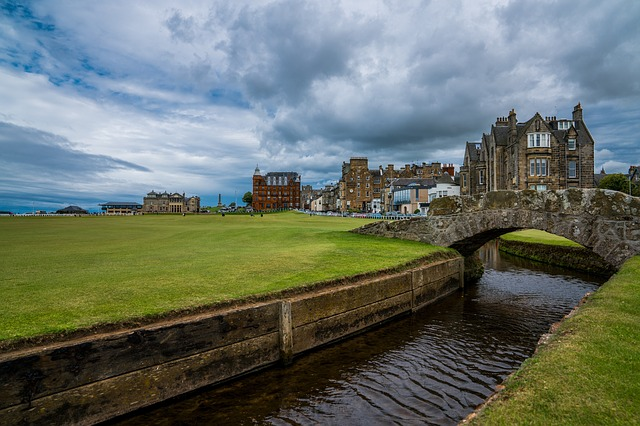 Today the population of St Andrews is 13,000.