By Tim Lambert
Early Stamshaw
In the 6th century, the Saxons landed on Portsea Island and they gave names to the areas of Portsmouth. The name Stamshaw was originally made up of two words, stam meaning post and shaw, which was an old way of spelling shore. Nobody knows why there was a post by the shore but posts were sometimes used to mark the boundary of the land.
There was also an area called Rudmore at the entrance of the motorway. It was reed mere. The Saxon word mere meant pond.
Tipner was Tippanora. Tippa was a Saxon and he owned a stretch of shore, in the Saxon language an ora. Today we add an apostrophe s to a person's name but the Saxons added the letter n. So Tippan ora meant Tippa's ora.
For centuries Stamshaw was farmland although there was a magazine at Tipner in the 19th century where gunpowder was stored. There was also a windmill at Rudmore north of where the Ferry Port is now.
According to legend, in 1784 a bull was sent up in a balloon at Rudmore. The Air Balloon pub was named after it (the present building dates from the beginning of the 20th century). There was also a Flying Bull Lane nearby. (Flying Bull Lane School was the first state school built in Portsmouth, following the 1870 Education Act, it opened in 1873).
Until 1823 people who killed themselves were buried at a crossroads. People believed their ghost might 'walk' but if they were buried at a crossroads the ghost would be confused and wouldn't know which direction to go in! In Portsmouth, suicides were buried where what is now Kingston Crescent met another road, which went north to south.
Modern Stamshaw
Rudmore became built up in the 1860s and Stamshaw was built up in the late 19th century. Newcomen Road is named after an engineer who invented an early steam engine. Winstanley Road is named after the man who built the Eddystone lighthouse. Tywford Road is named after a landowner called Samuel Twyford who owned much of the land Stamshaw is now built on. In 1900 Stamshaw was described as poor but scrupulously clean.
The Mother Shipton pub was built in 1886. It was designed by an architect called A H Bone. The same man designed the Air Balloon, which was built in 1888. The Stamshaw Arms was built in 1903.
Alexandra Park opened in 1907 and St Saviours Church was built in 1914. St Saviours Church was designed by the local architect A E Cogswell. The church was built by Samuel Salter.
A greyhound stadium opened at Tipner in 1931. Then in 1944, a V-1 flying missile hit Newcomen Road killing 15 people. The motorway opened in 1976 and the Mountbatten Centre opened in 1979.
At the beginning of the 21st century, much of Tipner was derelict. A number of plans were put forward to regenerate the area.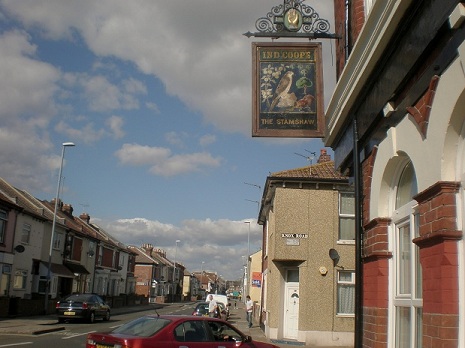 Meanwhile, Stamshaw is a flourishing area of Portsmouth.
My Youtube video about the history of Stamshaw