By Tim Lambert
Early Stockholm
The great city of Stockholm began in the 13th century. At that time trade and commerce were increasing across Europe and many new towns were founded. In 1252 the regent of Sweden, Birger Jarl founded Stockholm. The new town grew rapidly. In 1289 it was described as the largest place in Sweden, although it would seem very small to us. By 1500 Stockholm was a flourishing town of about 6,000 people.
Then in 1520 came the Stockholm Bloodbath. The king of Denmark invaded Sweden in 1519. In 1520 he captured Stockholm and he had more than 80 Swedish nobles executed for heresy. However the Swede Gustav Vasa recaptured Stockholm in 1523.
During the 17th century Sweden was a great power in Europe. Stockholm grew rapidly and by the end of the century it had a population of around 50,000. Riddarhuset, The House of Nobility was built between 1641 and 1674.
However, in 1710-1711, there was an outbreak of plague in Stockholm which killed many people. Yet Stockholm recovered and it flourished during the 18th century. Tullgarn Palace was built about 1720. The Royal Palace opened in 1754. The Obelisk was erected in 1799. Also in 1799, the statue of King Gustav III was sculpted.
Modern Stockholm
In the late 19th century Sweden was transformed from an agricultural society to an industrial one. In 1850 Stockholm had a population of 93,000 and it continued to rise rapidly. By the beginning of the 20th century, it had reached 300,000.
However, in the mid 19th century, Stockholm was an unhealthy place. There were no sewers or piped water supply. But all that changed. Stockholm gained gas light in 1853. In the 1860s a piped water supply was created. The National Museum was built in 1866. Stockholm Central Railway Station was built in 1871. Horse-drawn trams began running in Stockholm in 1877. The first electric trams ran in 1901.
Meanwhile, Stockholm University was founded in 1877. The Swedish Army Museum opened in 1879. Skansen open-air museum opened in 1891. The Biological Museum opened in 1893. Stockholm Music Museum was founded in 1899.
During the 20th century, Stockholm continued to flourish. The Postal Museum opened in 1906 and the Nordic Museum was built in 1907. The Museum of National Antiquities opened in 1943. Meanwhile, Parliament House was built in 1905, and City Hall was built in 1923. Stockholm escaped damage by bombing in the Second World War but in the mid 20th century a program began to modernize the city. Many old homes in Stockholm were demolished and replaced by new ones.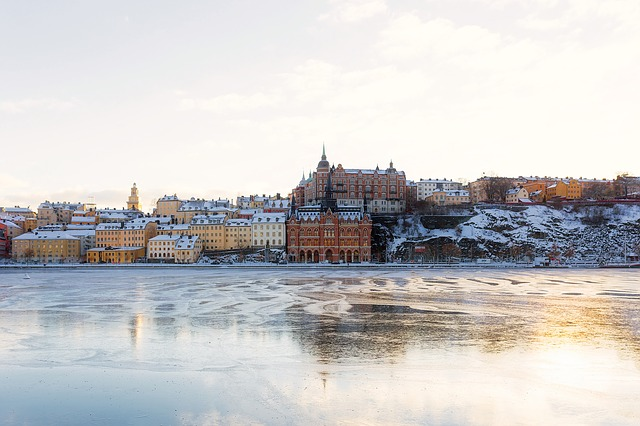 Today tourism is an important industry in Stockholm. The Museum of Dance opened in 1953. The Medieval Museum opened in 1986. A ship called The Vasa sank in 1628 but it was recovered in 1961 and is now on display in a museum. Today the population of Stockholm is 942,000.