By Tim Lambert
Stratford upon Avon was founded by the Saxons when they invaded what is now Warwickshire in the 7th century AD. The name Stratford is made up of Celtic and Saxon words. It was the straet ford that is the ford by the Roman road. Avon is a Celtic word meaning river or water.
At first Stratford Upon Avon was a typical village but in the late 12th century it was transformed into a town. (At that time trade and commerce were growing rapidly and many new towns were founded). In the year 1196, Richard I granted Stratford the right to hold weekly markets. (In the Middle Ages there were few shops so if you wished to buy or sell anything you had to go to a market).
Soon the town of Stratford Upon Avon was up and running and there were many craftsmen there such as blacksmiths, carpenters, shoemakers, brewers, and bakers. Stratford was also known for its malting industry. (Processing barley for brewing).
Medieval Stratford Upon Avon would seem tiny to us. It probably only had a population of between 1,000 and 1,500. However, towns were very small in those days. However, by the 13th century, Stratford had a small grammar school.
Furthermore in the Middle Ages, people formed religious communities called guilds. The Guild of the Holy Cross was formed in Stratford in 1269. The guild had its own chapel which still stands. 16th century Stratford Upon Avon was still a small market town. It probably had a population of about 2,000 in 1564. The town slowly grew despite outbreaks of plague in 1564 and in 1645.
In 1553 King Edward VI re-founded the grammar school. In the same year he incorporated Stratford Upon Avon (formed a corporation to run it).
In 1557 a glover from Stratford Upon Avon named John Shakespeare married Mary Arden, the daughter of a well-to-do farmer from Wilmcote. Their son William Shakespeare was born on or about 23 April 1564 in a house in Henley Street. The son of a middle-class citizen he would have attended the grammar school. In 1582 William married Anne Hathaway, the daughter of a farmer from nearby Snottery.
However, in 1587 William Shakespeare left for London. In 1597 he bought a house named New Place in Stratford Upon Avon. When he died in April 1616 he was buried in Holy Trinity Church. A bust of William Shakespeare was carved by Gerard Johnson in 1623.
William Shakespeare had a daughter called Susanna. She married a man named John Hall and they lived in a house in Stratford called Hall's Croft.
The maternal grandfather of John Harvard (1607-1638) lived in a house in Stratford now known as Harvard House. In 1636 John Harvard founded Harvard University in Massachusetts.
During the 17th and 18th centuries, Stratford Upon Avon remained a quiet market town. n The 19th century saw a number of improvements to Stratford Upon Avon. A canal opened in 1816. It was followed by the railway in 1859 which, of course, made it easier for tourists to visit the town.
Meanwhile in 1834 Stratford gained gaslight and in the 1850s a network of sewers was dug.
Tourism grew in the 19th century as Stratford upon Avon became famous as the birthplace of William Shakespeare. The house where he was born was purchased in 1847 and turned into a monument. Anne Hathaway's cottage was purchased in 1892.
In 1887 George W Childs paid for a clock tower and drinking fountain in Rothermarket and in 1888 the Gower Memorial was erected. n During the 20th century Stratford Upon Avon continued to grow and by 1951 it had a population of almost 15,000.
The Royal Shakespeare Theatre was built in 1932 and the Shakespeare Centre opened in 1964.
Today Stratford Upon Avon thrives on tourism. It is a very popular tourist destination because of its status as the birthplace of William Shakespeare.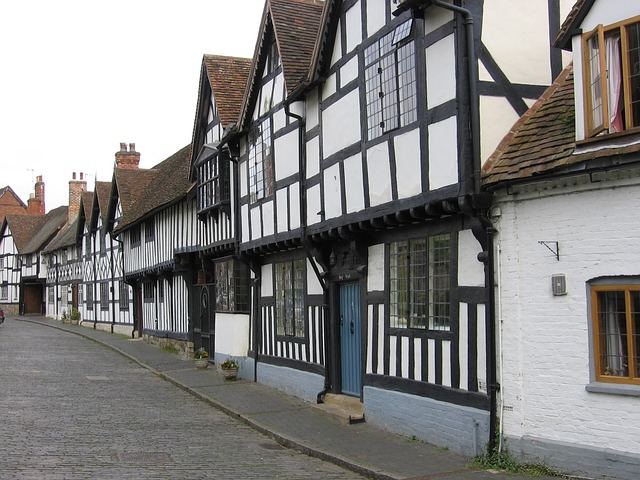 MAD Museum opened in 2012. In 2022 the population of Stratford upon Avon was 30,000.