By Tim Lambert
VIKING AND MEDIEVAL WATERFORD
Waterford is one of Ireland's oldest towns. The Vikings founded it. They founded several towns in Ireland of which Waterford was one. The exact year Waterford was founded is not known. However, according to tradition, it was around 853 but some people believe it was actually founded later in 914.
The Vikings called it weather fjord. Why weather? Perhaps it was a place where ships could shelter from the weather. An earth rampart protected Viking Waterford. The Vikings also built a fort on the site of Reginald's Tower. The present Reginald's Tower was built about 1200. In the 13th century, it was used as a mint.
Then in 1204 King John gave Waterford a charter (a document granting the townspeople certain rights) and it grew into an important town and port.
Then in the 13th century friars arrived in Waterford. The friars were like monks but instead of withdrawing from the world, they went out to preach. Dominican friars were called blackfriars because of their black costumes. There were also Franciscan friars in Waterford. They were known as grey friars.
In 1492 Perkin Warbeck arrived in Ireland. He claimed to be the true king of England and he attempted to overthrow Henry VII. While much of Ireland flocked to his side Waterford stayed loyal to King Henry. In 1493 Warbeck's men besieged Waterford for 12 days but failed to take it. Afterward, Waterford was given the motto n which means Waterford the unconquered city.
WATERFORD IN THE 16th AND 17th CENTURIES
During the 16th and 17th centuries, Waterford remained a busy port. It traded with England and also with Southern Europe (France, Portugal, and Spain).
In 1545 Holy Ghost Hospital was founded as an almshouse for 'decayed' citizens of Waterford. Until the late 19th century it was housed in part of the old Franciscan friary.
In 1649 Waterford became the only Irish town to successfully resist Cromwell. Unfortunately, it was forced to surrender to Ireton in 1650.
Then at the end of the 17th century, French Protestants (Huguenots) came to Waterford fleeing religious persecution. Part of the old Franciscan (Greyfriars) friary was converted to a church for them. It was used until 1819 and is still known as the French Church.
WATERFORD IN THE 18th CENTURY
During the 18th century, Waterford was a prosperous port. (Although there were as always many very poor people). Many fishermen operated from Waterford.
Furthermore in the 18th century exports from Waterford included beef, pork, and butter. Furthermore, during the 18th century, Waterford traded with Newfoundland and a number of people from Waterford settled there.
Several new buildings were erected in Waterford in the 18th century. St Olaf's Church was built in 1734. St Patrick's Church was built in 1764.
Christ Church Cathedral was built in 1773. (It was built on the site of an earlier cathedral demolished in 1771). Christ Church Cathedral was designed by the noted Waterford architect John Roberts (1712-1796). He also designed The Cathedral of the Holy Trinity which was built in 1793 and the Chamber of Commerce Building which was erected in 1795. Meanwhile an infirmary opened in Waterford in 1785.
City Hall was built as assembly rooms in 1788 (where balls and concerts were held). It also had a theater. It became City Hall in 1813.
Meanwhile, a bridge was built across the River Suir in 1794. It was 832 feet long and by 18th century standards, it was a major engineering achievement.
One of the most important dates in Waterford's history is 1783. In that year George and William Penrose founded a glass factory. So began Waterford Crystal for which the town is so famous.
WATERFORD IN THE 19th CENTURY
During the 19th century, Waterford continued to be a prosperous town and port. There was a considerable shipbuilding industry in Waterford at that time. Furthermore, Waterford continued to be an important port.
However, the glass industry was crushed by taxes and came to an end in 1851.
A workhouse was erected in Waterford in 1841. It soon became crowded because of the potato famine. Then the Waterford to Tramore railway opened in 1853.
Several new buildings were erected in Waterford in the 19th century. The Court House was built in 1849. St Saviour's Dominican Church was built in 1874. The Holy Ghost Hospital moved to a new building in 1882.
WATERFORD IN THE 20th CENTURY
During the 20th century, Waterford grew rapidly. By 1951 the population reached 28,000 and it continued to grow.
There were many changes in Waterford in the 19th century. The Waterford Bridge built at the end of the 18th century was nicknamed 'Old Timber toes'. A more modern bridge replaced it in 1913. This new bridge was called Redmond Bridge but it was, in turn, replaced in the 1980s by Rice Bridge.
During the civil war, in 1922, anti-treaty forces occupied Waterford. However, government forces laid siege. They bombarded the anti-treaty forces with artillery. The battle of Waterford lasted 4 days before government forces captured it.
Waterford suffered during the economic war of 1933-1938 when the British imposed import duties on livestock from Ireland, which affected exports. However, in the second half of the 20th century prosperity returned.
In 1947 the Waterford glass industry was revived. Today glass is an important industry in Waterford. The present glass factory was built in 1971. The glass factory is also an important tourist attraction.
In 1967 a new industrial estate opened in Waterford. Furthermore, Waterford remains a busy port and Waterford Airport opened in 1981.
Reginald's Tower first opened as a museum in 1954. Waterford Museum of Treasures opened in 1999.
Meanwhile City Square Shopping Centre opened in 1993 and Waterford Marina opened in 1997.
WATERFORD IN THE 21st CENTURY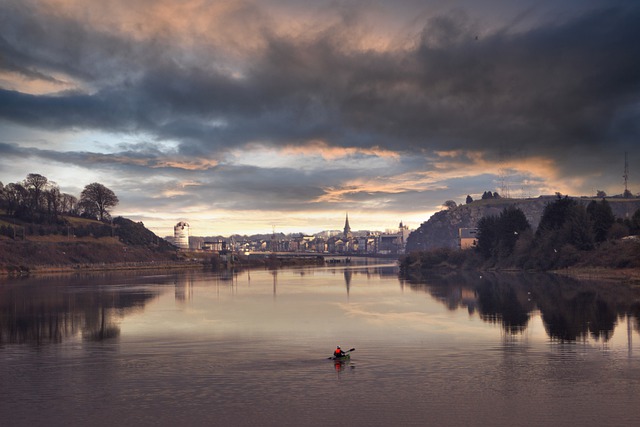 In the 21st century, Waterford is still flourishing. In 2004 a statue of the Irish patriot Thomas Francis Meagher was erected in Waterford. Then in 2010, the House of Waterford Crystal opened. Today the population of Waterford is 53,000.