By Tim Lambert 
Early Westminster
Edward the Confessor (1042-1066) built a royal palace in the countryside outside the walls of London. He also built a church, Westminster Abbey, which was consecrated in December 1065. In December 1066 William the Conqueror was crowned in Westminster Abbey. Since then every English monarch has been crowned there (except for Edward V and Edward VIII).
However, Westminster Abbey was rebuilt by Henry III after 1245. Today it is the final resting place of many monarchs including Edward the Confessor. His shrine is in the Confessor's Chapel.
The Lady Chapel, also known as Henry VII's Chapel was built in 1512. The West Front Towers were designed by Nicholas Hawksmoor and were finished in 1745.
Near Westminster Abbey is the 15th century St Margaret's Church, the church of parliament.
Meanwhile, William Rufus (1087-1100) built Westminster Hall outside Westminster Palace. Several famous trials took place there. King Charles I was put on trial for treason in Westminster Hall and Oliver Cromwell was made Lord Protector there.
Meanwhile, Jewel Tower was built in 1365 to house Edward III's treasure.
Westminster Palace stopped being a royal residence after a fire in 1512. The Lords used to meet in Westminster Palace and after 1547 the Commons met there too. So it became the Houses of Parliament. Westminster School was founded in 1540.
The Street called Whitehall was originally the site of Whitehall Palace. It once belonged to the Archbishop of York but it was taken over by Henry VIII. It was destroyed by a fire in 1698, apart from the Banqueting House, which was built in 1622. Henry VIII also built St James Palace.
In the early 17th century the Earl of Bedford built houses at Covent Garden, on the Strand and at Long Acre. He also obtained permission to hold a fruit and vegetable market at Covent Garden.
In the late 17th century more streets were laid out and grand houses were built further north of the Thames. Pall Mall is named after a game called palle-maille, which was similar to croquet. King Charles II used to play it there.
St James's Park was a marsh till Henry VIII drained it and used it for hunting. Charles II turned it into a park for pedestrians. In the Middle Ages Green Park was a burial ground for lepers. Henry VIII turned it into a park for hunting.
Buckingham Palace was built in 1703 for the Duke of Buckingham. It was altered in the 19th century by John Nash (1752-1835) and the first monarch to live there was Queen Victoria in 1837.
Marlborough House was built in 1711 and 10 Downing Street was given to Robert Walpole by George II in 1732 and it became the official residence of the British Prime Minister.
Meanwhile Blewcoat School was built in 1709. In the 18th century, many charity schools were founded in English towns. They were called blue coat schools because of the color of their uniforms. Westminster Hospital was founded in 1719.
The buildings of Horse Guards Parade were designed by William Kent and finished in 1755. Spencer House was built in 1766. The Royal Academy of Arts was founded in 1768.
Modern Westminster
The National Gallery was founded in 1824. The National Portrait Gallery was founded in 1856.
Lancaster House was built in 1825 and Clarence House was built in 1827. Wellington Barracks were built in 1833.
In 1834 Westminster Palace was destroyed by fire (although Westminster Hall survived). The Houses of Parliament were built to replace it. The new building was designed by Charles Barry and they were not finished until 1868. The vast bell called Big Ben was installed in 1858. It was named after Sir Benjamin Hall who was Chief Commissioner of Works in 1858.
Trafalgar Square was laid out in 1840. Nelson's Column was designed by William Railton and it was erected in 1843. The statue of Nelson was made by Charles Barry. The bronze lions were made by Edwin Landseer in 1868.
Nearby stands St Martin-in-the-Fields. In the 13th century, a church stood in the fields between London and Westminster but the present church was built in 1726 by James Gibbs.
Westminster Bridge was built in the years 1854-1862. Westminster Cathedral was designed by John Francis Bentley and was built in 1895-1903.
Methodist Central Hall was built in 1911. The same year Admiralty Arch was finished. Whitehall Theatre was built in 1930.
The City of Westminster was created in 1965 from Westminster, Paddington and St Marylebone.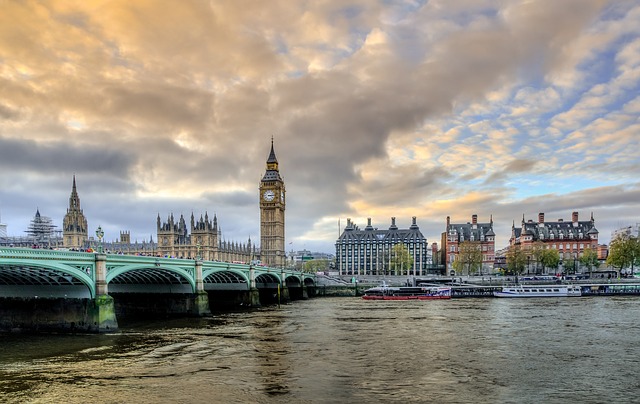 Today Westminster is also known for the Tate Gallery. Other attractions are the Cabinet War Rooms, which opened in 1984, and the Guards Museum. Millbank Millennium Pier opened in 2003.