By Tim Lambert
Early Winnipeg
Winnipeg stands at the confluence of two rivers. Its name comes from native words meaning murky waters. The French built a fur trading post on the site in 1738 called Fort Rouge. However, the fort was later abandoned.
Then in 1810, the North West Company built a new fort called Fort Gibraltar. Slowly the settlement grew and in 1873 Winnipeg was incorporated as a city. However, it was then only a small place with a population of less than 4,000. Nevertheless, the University of Manitoba was founded in 1877.
However, the railway reached Winnipeg in 1881 enabling settlers to move there. Winnipeg boomed in the last years of the 19th century and the early years of the 20th century and its population boomed.
However, the boom ended in 1914 and Winnipeg entered a long period of economic stagnation. Then in 1919, Winnipeg was hit by a general strike. The Winnipeg General Strike began on 15 May 1919 and lasted until 25 June. On 21 June 1919 known as Bloody Saturday, The Northwest Mounted Police charged a crowd killing two men and injuring many others. During the 1930s, like the rest of Canada, Winnipeg suffered mass unemployment but it recovered during the Second World War.
Meanwhile, Winnipeg Art Gallery was founded in 1912 and Manitoba Legislative Building was built in 1920. Then in 1950, Winnipeg suffered a severe flood, the Red River Flood. Almost 100,000 people were evacuated from their homes and the flood did enormous material damage.
Modern Winnipeg
In the late 20th century Winnipeg continued to thrive. In 1967 the University of Winnipeg was established. Then in 1972 Winnipeg and several surrounding communities were united to form a unicity.
Today Winnipeg is a flourishing manufacturing center. Tourism and shopping are also important. Centennial Concert Hall was built in 1967 and Manitoba Museum opened in 1970. Manitoba Children's Museum opened in 1983 and Portage Place Shopping Mall opened in 1987. The Canadian Museum for Human Rights opened in 2014.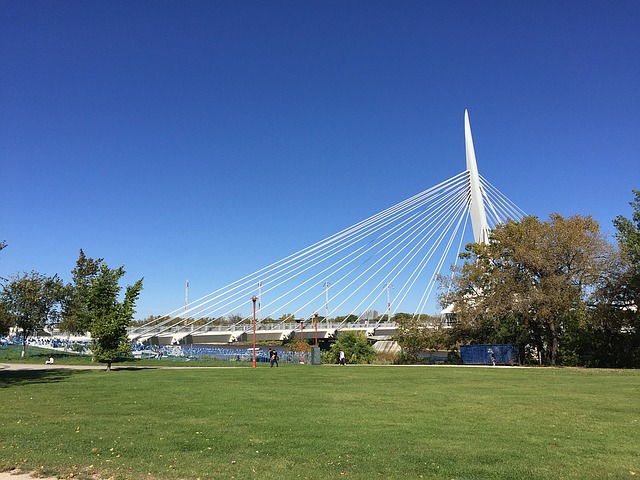 In 2021 the population of Winnipeg was 749,000.