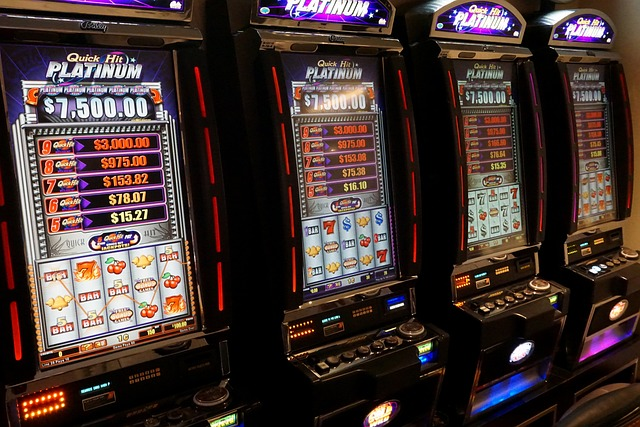 When you walk into a casino or visit one online, you'll probably see a slot machine. They make up a huge percentage of most casinos' game libraries and are easily noticeable thanks to their bright and exciting colors. Some physical casinos have up to 100 multi-themed slots, while the number can go as high as thousands in online casinos.
But their bright color isn't the only reason players love them so much. Slot machines are very popular among gamblers and are responsible for over 80% of an average casino's revenue. However, slot dominance in the casino world didn't just come overnight. The game has undergone multiple stages of evolution and transformation. From the first slot machines over a century ago to being able to play online Vegas slots on sites like VegasSlots.net, so much has changed.
Here, we'll explore the history and evolution of slots and follow the technology's transformation over the years.
The Very Beginning, 1891
Surprisingly, the first slot machine was based on poker and was invented by the Sittman and Pitt company in 1891. The machine was built with five drums that held 50 standard poker card faces. Pulling the machine's lever stopped the drums from spinning. Prizes were given based on the poker hand created after a spin. It only cost a nickel to play and was nicknamed the nickel-in-the-slot machine. Over time, the name was shortened to just slots or slot machines.
Sittman and Pitt's machines were insanely popular then; even people who didn't want to play would gather in hundreds to watch others play. Winnings could not be paid out through the machine, so players had to collect their rewards in the form of drinks, food, or cigars. To increase the odds of getting a royal flush, Sittman and Pitt removed the jack of hearts and ten spades card faces from the machines. This was one of the earliest manipulation of the house edge in slot machine history.
One major flaw of the Sittman and Pitt slot machine was the lack of automatic payout. This was largely due to the extensive number of possible wins. It was basically impossible to invent a machine that could automatically payout for all the likely winning combinations. Due to this flaw, many historians have refused to acknowledge Sittman and Pitt machines as the first slot machines.
Charles Fey and The Liberty Bell Slot Machine, 1895
Widely regarded as the father of slot machines, Charles Fey began work on his 3-reel slot machine when Sittman and Pitt machines were making waves. He set out to create a machine with fewer possible winning combinations and one that could process automatic payouts.
In his legendary San Francisco workshop, he invented a slot machine with three spinning reels and only five symbols: a Liberty Bell, spades, diamonds, horseshoes, and hearts. The machined was called Liberty Bell and was named after the bell symbol.
Liberty Bell was an immediate and massive success. In no time, several bars, restaurants, and entertainment centers around the country were placing orders. Fey's usage of reels instead of drums and symbols instead of cards made automatic payouts far simpler. Players could win as high as ten nickels when they hit three bells in a row; it was truly a massive game changer. So massive that Fey could not keep up with the rapid demand. However, he still rejected multiple offers to sell the technology.
Fruit Symbols, Chewing Gums, and The Slot Machines Ban – 1905
In the next few years, copies of Fey's machine were being mass produced around the country. Some changed the symbols on the reels to fruits, and some offered rewards in the form of chewing gums. This move was also due to the negativity around gambling and slot machines at the time.
With the addition of a chewing gum dispenser and fruit symbols, manufacturers like Herbert Mills argued that their machine, the Bell Fruit Gum, was no longer a slot machine but a vending machine. Allowing them to evade gambling laws.
Money Honey, 1963
Slot machines saw another major breakthrough in 1964 when Bally Manufacturing Co invented Honey Money, the first fully electromechanical slot machine. Bally Manufacturing Co. maintained the use of levers despite being an electrical device as they didn't want players to feel like the Honey Money was an entirely new device. It was like the standard slot machines but more advanced. The machine also paid out as high as 500 coins.
Over time, Bally Manufacturing began to introduce machines with buttons instead of levers. The Honey Money is credited with pioneering the growth of electronic games in iGaming.
Fortune Coin Co., and Video Slots
In 1976, Las Vegas-based iGaming company Fortune Coin Co. launched the first video slot machine in California. The machine was first used in the Las Vegas Hilton Hotel. It used logic boards for the slot functions and a modified Sony Trinitron color receiver for its video display.
After multiple checks and modifications to maintain fairness and reduce cheating, the machine was legalized by the Nevada State Gaming Commission and became a state and nationwide phenomenon.
Megabucks and Progressive Jackpots, 1985
International Game Technology (IGT) has been making major strides in the industry since the invention of video slot machines. In 1977, they acquired Fortune Coin Co, and in 1985, they released the first progressive jackpot slot with the launch of megabucks.
Jackpots had been around since Bell Fruit Gum and were common in most electronic slots. However, the progressive jackpot was a game changer as it offered players the chance to win multiple jackpots at a go. In 1987, history was made when a whopping $4,988,842.17 was paid out as a single progressive jackpot win.
The 90s Era: Online Casinos and Mobile Slots
The invention of the internet completely changed the world, and by the 90s, most industries were already incorporating it into their networks. Slots' earliest partnership with the internet came with the launch of the first online casino in 1994. However, many industry experts have denied this claim. The first official slot game was the product of a Microgaming and Cryptologic partnership. The two major iGaming companies combined to create the world's first major online casino, and Cash Splash became their first slot game.
From there on, lots of improvements have been made, and games with better sound quality, graphics, and features have been released. In 2005, the first Java casino game, Pub Fruity, was released for mobile phones and signaled the beginning of slots on mobile devices. Further modifications were made for smartphones, iPhones, and tablet slot games.
Currently, there are over 25,000 slot games on the internet and over a hundred new releases every month. Major technologies like cryptocurrency, virtual reality, and 5G gaming have rocked the industry, and more are expected over the coming years.
The Bottom Line
Slots have been around for over a century, and within that time, it has undergone several massive developments and changes. Here, we covered the history and evolution of slots and has it has evolved from ancient slot machines to modern online slots.