By Wendy Pyatt
Tudor Christmas Carols
The earliest recorded collection of Christmas carols dates from 1521 published by Wynken de Worde and includes The Boars Head Carol. Carol means to dance with a song and carols flourished throughout Tudor times as a way to celebrate and to spread the message of the nativity.
Other Christmas carols the Tudors would have been familiar with include The Coventry Carol, While Shepherds Watched, The First Nowell, Angels from the Realms of Glory, Ding Dong Merrily on High ( French in origin), In Dulci Jubilo, and We Wish You a Merry Christmas. Wassail carols, of which there are many, were also popular and most areas of the country have their own version.
Tudor Christmas Customs
Christmas was a long festival celebrated by the Tudors. Advent was a time of fasting; Christmas Eve was particularly strictly kept with no meat, cheese, or eggs. Celebrations began on Christmas Day when 3 masses were said and the genealogy of Christ was sung while everyone held lighted tapers. The Monarch was required to attend mass and would be expected to wear new clothes. He would progress from the Privy Chamber to the Chapel Royal dressed in coronation robes of purple and/or scarlet complete with crown.
The whole 12 days of Christmas were celebrated, (25th December – 6th January) but not every day was celebrated equally. All work stopped except looking after animals, spinning was even banned as this was the most common occupation for women, and flowers were placed around the spinning wheels. People would visit friends and it was seen as very much a community celebration. Work re-started on Plough Monday the first Monday after 12th night.
In Tudor Times most of the 12 days of Christmas were saints days the 3 most important were 25th Dec, 1st Jan, and 6th Jan which is when the most sumptuous feasts were held. (In 1532/33 the preparation for the 12th-night feast at Greenwich palace required the building of a temporary boiling and working house). Up to 24 courses would be served, much more than was needed for the guests but it was a status symbol and leftover food would be used to feed the poor.
Tudor Christmas had a definite purpose. Because society was very strictly organized it acted as a pressure release, a time when everything was turned on its head, the world turned inside out and upside down. Certain sections of society were even allowed an unusual degree of freedom.
For example in ecclesiastical communities, the tradition of the boy bishop was practiced. A choir or altar boy would be elected for a short period either on 6th December (St Nicholas Day) or 28th December (Holy Innocents Day) with the idea being that it showed the boys the honor and dignity of holy orders. He would lead the community and carry out all the duties of the Bishop except taking mass, this would include preaching a sermon and going round to visit parishioners to sing to them along with other choristers.
It was banned in 1541 because it was seen as mocking the church authorities and by implication the head of the church who of course was Henry VIII. However, the practice possibly dates back to the 10th century and never completely died out. The tradition is still continued at Hereford, Gloucester, Westminster (RC), and Salisbury cathedrals to this day.
There was a similar tradition in secular circles. They had the Lord of Misrule. He was like a mock king and supervised entertainments or rather unruly events involving drinking, revelry, role reversal, and general chaos. One of the games the Tudors would have been familiar with was Blind Mans Buff! The inspiration for this Lord of Misrule was the earlier 11th-century tradition of The Feast of Fools. This tradition was not confined only to Christmas but was also used during summer festivities. The person would be chosen by the head of the Parish but Monarchs had their own personal one; however, Mary and Elizabeth did not continue this tradition. His rule would end on the Twelfth night.
Another example of role reversal that started in the Tudor period is that of Barring out where pupils would take possession of the school by locking the staff out until certain demands regarding playtimes and homework were met. It was particularly common in Northern counties and was usually around the 6th December which is St Nicholas Day (patron Saint of children).
Another Tudor Christmas tradition was the performing of plays. There are records from the early 16th century that both Oxford and Cambridge colleges employed traveling players in their Christmas entertainments. There are also records of a play being performed for Cardinal Wolsey at Grays Inn during Christmas 1526.
Coventry mystery plays which the Coventry Carol was written for, tell the story of Herod's murder of the innocents. Mystery plays are still performed in Coventry even today.
All sports on Christmas day were banned by Henry VIII in 1541 (except archery of course). In theory gambling, tennis, bowls, and other games were forbidden to all but the very wealthy except at Christmas! Jousting was also a popular sport during the Christmas period.
Edward VI in 1551 passed a law that everyone had to walk to church on Christmas day and it's still in force today.
It was 2 weeks of concerted power politics and networking as the monarch would be surrounded by courtiers, nobility, and other important people.
Tudor Christmas Gifts
The Tudors gave gifts at New Year. Every important person was expected to give the monarch a New Year gift and receive one in return. This was considered so important that a list of all gifts was kept called the Gift Roll. Acceptance or rejection of a gift was vital as they quite often had a hidden meaning! For example in 1532 Henry VIII accepted Anne Boleyn's gift but rejected Katherine of Aragon's. They were married the following year.
The women of Henry's court are listed as giving him embroidered shirts and other craftsmen would show off their skills too, for example, the Hans Holbein painting of Edward was given as a Christmas gift.
Another example of the meaning behind Tudor gift-giving is that of Sir Philip Sidney who enraged Elizabeth I by suggesting she should not marry, for New Year he gave her a jeweled whip to show subjection to her will.
In 1568 Elizabeth I was given a pair of cambric sleeves by Mr. Adams, schoolmaster of Queen's pages. Robert Dudley, Earl of Leicester was a very successful gift giver; he gave silk stockings in the 1st year of Elizabeth's reign and also possibly the world's first wristwatch. Epigrams were often sent as new year gifts and usually contained 1 or 2 verses like a short poem but usually with a sarcastic or satirical thought.
From 1582 Elizabeth began to receive New Year gifts of gold, silver, and rock crystal handled forks.
Tudor Christmas food and feasting
A Tudor Christmas was a time for serious feasting for the royal household and the gentry. The traditional meat was a swan, goose, or woodcock if they could be caught. Turkey first came to England in 1523 and its popularity grew. Turkeys were walked from Norfolk/Suffolk to London.
The Tudors would probably also have eaten venison, peacock (which was skinned and roasted then put back inside the cured skin with the feathers on as a table decoration), and wild boar which was often the centerpiece. There is a long tradition of having a Boars Head for feasts, possibly originating from an Anglo-Saxon tradition of sacrificing the boar for their Yuletide celebrations. It would be carried into the banqueting hall on a gold or silver dish accompanied by trumpets and the songs of minstrels and is still remembered in the well-known carol. It is still known to be practiced at Queens College Oxford and Hurstpierpoint College in West Sussex.
Another common Christmas feast dish was Souse which was pickled pig's feet and ears and then there was the Tudor Christmas Pie. This consisted of a pigeon inside a partridge inside a chicken inside a goose inside a turkey, which was then put in a pastry case called a coffin and served surrounded by hare and other game birds.
The Tudors enjoyed mince pies, but they had far more significance than today in that they had 13 ingredients to represent Jesus and the apostles, they contained fruit (raisins, currants, prunes) and spices (cloves, mace, black pepper, saffron), and also mutton to represent the shepherds. The fashion was for them to be shaped like a crib, but this practice was banned by Oliver Cromwell.
The Tudors also had Christmas pudding but this was shaped like a sausage and contained meat, oatmeal, and spices. 12th Night cake was a fruitcake baked with an item like a coin or dried bean, whoever found it became King or Queen or host for the evening's entertainment. The first record of sprouts being eaten at Christmas is in 1587. The Tudors often had salads in the shape of the family coat of arms.
Wassailing was a common Christmas practice throughout all levels of Tudor society and is remembered in the many versions of The Wassail carols. Wassail derives from an Anglo-Saxon word meaning be whole or be of good health. It also has links to fertility rights and drinking a toast to the fruit trees to produce a good crop. Large wooden bowls holding up to a gallon of punch would be used containing hot ale or cider, sugar, spices, and apples, with a crust of bread at the bottom.
One of these brews was known as Lambswool which was made from roasted apples, beer, nutmeg, ginger, and sugar the name came from the froth on the top. It was offered to the most important person in the household first, who would drink from the bowl and pass it on. This would not seem odd to the Tudors as drinking from a communal bowl was normal practice.
Tudor Christmas Decorations
The Tudors did not have Christmas trees, although they were around in the 16th century. It is a Baltic/northern German tradition and even then it is not recorded until 1520. The first known record of a Christmas Tree was in Riga, Latvia in 1510 which was then part of Germany. The decorations they would have used would have been natural evergreens like holly, ivy, yew, mistletoe, box, and laurel. They would not have decorated their houses until Christmas Eve as it was thought to be unlucky to do it before.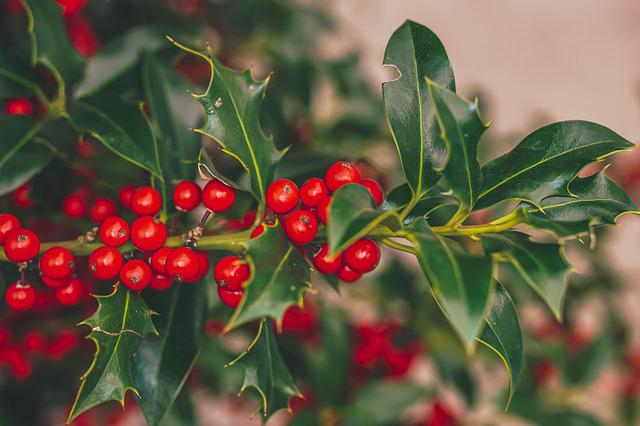 The more modern tradition of fairy lights is said to originate from the 16th-century Legend of Martin Luther. He was walking in the snow-covered woods and seeing stars through the trees was struck by the beauty, he took a tree home and put candles on it, that's why we have fairy lights!