By Tim Lambert
Early Amsterdam
The city of Amsterdam began as a village on the River Amstel. However, in the Middle Ages, it grew rapidly as a center of trade. In 1275 Floris V, Count of Holland gave the people of 'Amstelledamme' to transport their goods by water through his territory. In 1306 the bishop of Utrecht gave Amsterdam certain rights and the little town grew rapidly.
In 1323 Amsterdam was made a port for Hamburg beer. Herring curing was invented in 1385. It meant the fish lasted longer and so the herring trade from Amsterdam boomed.
However, Amsterdam suffered a severe fire in 1421. Another disastrous fire took place in 1452. Fire was a constant hazard when buildings were made of wood but after the second firewood was banned as a building material. The Schreierstoren tower was built in 1480. The Waag gatehouse was built in 1488.
In the 16th century, Amsterdam continued its growth. Meanwhile, the Protestant Reformation swept across the Netherlands despite persecution. In the 17th century, Amsterdam boomed and three great canals were built around the city. Many immigrants came to Amsterdam and its population rose to 200,000.
The rise in the population of Amsterdam happened despite outbreaks of plague, which killed many people. The last outbreak was in 1663. Meanwhile, the Athenaeum Illustre opened in 1632. it became Amsterdam University in 1977.
In the 18th century, Amsterdam continued to be wealthy and it was also known for its tolerance. However, in the early 19th century Amsterdam stagnated although a railway was built to Haarlem in 1839. In the late 19th century Amsterdam began to revive. The Industrial Revolution began to transform the city. At first, industrialization caused many social problems and in 1886 26 people were killed in the Palingoproer Riots.
On the other hand, new public buildings were erected. The Rijksmuseum opened in 1885 and Centraal Station was built in 1889. The Stedelijk Museum opened in 1895. Rembrandt House Museum opened in 1911.
Modern Amsterdam
The Netherlands stayed neutral during the First World War but there were food shortages. As a result, there were riots in Amsterdam in 1917. After the war, new housing developments were built in Amsterdam to replace slums. In 1928 the Olympics were held in Amsterdam. Then in the 1930s work began on creating a park called the Amsterdamse Bos. In 1939 the Dutch remained neutral but Germany invaded anyway in 1940. During the Second World War, most of the Jews in Amsterdam were deported. (Anne Frank House opened to the public in 1960).
After the war, Amsterdam flourished again. Then in the 1960s Amsterdam was a haven for hippies. In the late 20th century and early 21st century, new museums opened in Amsterdam. The Van Gogh Museum opened in 1973. The Joods Historisch Museum opened in 1987.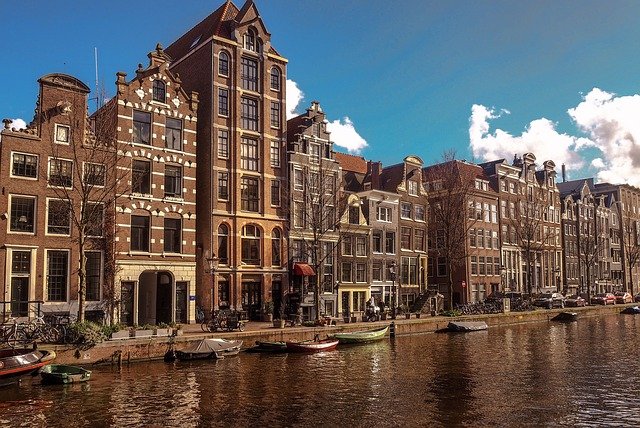 Foam Photography Museum opened in 2001 and the Diamond Museum opened in 2007. Hermitage Amsterdam opened in 2009. In 2016 Amsterdam had a population of 813,000.