By Tim Lambert
Sydney is Founded
Sydney was founded in 1788 when the first fleet arrived in Australia from England. On 13 May 1787, a fleet of 11 ships set sail from Portsmouth, England. Onboard were 759 convicts, most of them men with sailors and marines to guard the prisoners. With them, they took seeds, farm implements, livestock such as cattle, sheep, pigs, goats, horses, and chickens, and 2 years supply of food. The first colonists came ashore at Port Jackson on 26 January 1788. They were commanded by Captain Arthur Phillip (1738-1814).
Sydney was named after Thomas Townshend – Lord Sydney (1733-1800). He became British Secretary of State in 1783 and recommended the British establish a colony in Australia. At first things were difficult for the colonists and food was short although Phillip sent a ship to South Africa for more provisions which returned in May 1789. Food was rationed and the rations were anything but generous.
However, things gradually improved. A second fleet arrived in Australia in 1790 and a third fleet came in 1791. At first, the settlers in Sydney lived in simple wooden huts but later convicts made bricks for houses. The first church in Sydney opened in 1793.
Furthermore, discipline in Australia was savage. Minor offences were punished by flogging. More serious offences were punished by hanging. The first person to be hanged in Australia was Thomas Barrett who was executed on 27 February 1788 for stealing food. The first woman to be hanged in Australia was Ann Davis who was executed on 23 November 1789.
The oldest surviving building in Sydney is Cadman's Cottage, which was built in 1815-16 as a coxswains barracks. It was named after a John Cadman who once lived there. (Today Cadman's Cottage is used as an information center for the National Parks and Wildlife Service).
Captain Phillip left Australia in December 1792. For three years Australia was left without a governor until John Hunter (1737-1821) took over. He was governor from 1795 to 1800 and he was followed by Philip King (1758-1808) who was governor from 1800 to 1806.
Meanwhile, the first Australian newspaper was published in 1803. It was called the Sydney Gazette and New South Wales Advertiser. However soon after the first fleet arrived intermittent conflict with the Indigenous Australians began. With their superior weapons, the Europeans were bound to prevail and dispossess the indigenous people. However, their greatest ally was a disease. The local indigenous population was devastated by smallpox.
Furthermore, in 1806 William Bligh was made governor of Australia. Bligh is famous for provoking the mutiny on The Bounty. After arriving in Australia Bligh managed, typically to alienate the settlers. At that time rum was used as a currency. Bligh tried to stop this but a group of officers overthrew him declaring he was unfit to rule. They imprisoned Bligh and he eventually agreed to leave Australia.
Nevertheless the colony in Australia developed rapidly especially after a pass was found through the Blue Mountains in 1813. Meanwhile, Sydney grew rapidly. The first theater in Sydney was built in 1794 and in 1804 a stone bridge was built over the Tank Stream. It was the first stone bridge in Australia. The first post office in Australia opened on Lower George Street in 1809.
The first governor, Phillip, set aside land for his own use. It became the Domain. Phillip also gave the vicinity of Manly its name when he saw 'manly' Indigenous Australians standing there.
Lachlan Macquarie was governor of New South Wales from 1810-1822. So far Sydney had grown in a haphazard way. Macquarie was determined to bring order. So he built the first paved roads and also erected many public buildings in Sydney. He was helped by the architect Francis Greenway (1777-1824). Some of the earliest settlers were made to work on vegetable gardens. However, the venture was not a success and in 1816 the land was turned into the Botanic Garden.
Hyde Park Barracks was built in Sydney in 1819. Originally it was accommodation for convicts. Today it is a museum. The Australian Museum was founded in 1827. The oldest existing church in Sydney is St James, which was built in 1824.
Meanwhile, the first free settlers arrived in Australia in 1793. One of them was called John Palmer. He was granted some land and he built a house on it called Woolloomooloo. It gave its name to an area of Sydney.
The first bank in Australia, the Bank of New South Wales opened in Sydney in 1817. From 1830 hackney carriages ran in the streets of Sydney and the first Australian gin was distilled in Sydney in 1834 by Robert Cooper. From 1841 the streets of Sydney were lit by gas. Meanwhile, the Sydney Herald began publication in 1831. At first, it was a weekly newspaper but in 1840 it became daily. In 1842 it became the Sydney Morning Herald.
19th Century Sydney
Sydney grew at a phenomenal rate through the 19th century even though transportation to New South Wales ended in 1840. By 1861 the population of Sydney was 56,000 and it was a flourishing town. By 1881 the population of Sydney had grown to an amazing 221,000.
1842 Sydney was incorporated (given a corporation and mayor). Sydney University was founded in 1850. Then in 1855-57, Fort Denison was built to protect Sydney. It was named after Sir William Denison (1804-1871) who was governor of New South Wales from 1855 to 1861.
As Sydney exploded in size many new buildings were erected. Government House was built in 1845. Sydney Observatory was built in 1858. Another famous 19th-century building in Sydney is Vaucluse House, which was once the home of the statesman William Charles Wentworth (1790-1872). St Mary's RC Cathedral was built on the site of a previous church, which burned down in 1865. St Mary's Cathedral was consecrated in 1905. However, the twin spires were not added until 1999.
Meanwhile, St Andrew's Cathedral in Sydney was consecrated in 1868 and the Great Synagogue was consecrated in 1878.
Macquarie lighthouse was built in 1883. Sydney Customs House was built in 1885. It was designed by the architect James Barnet (1827-1904). (The same man designed the Australian Museum Building, which was built in 1864). Centennial Park was laid out in 1888. Sydney Town Hall was built in 1869-1889.n and Strand Arcade in Sydney opened in 1892. (It was named after a street in London). The Queen Victoria Building was erected in 1898.
Meanwhile, in 1855, a railway was built from Sydney to Parramatta and in 1861 horse-drawn trams began running through the streets of Sydney. In the 1880s they were replaced by steam trams and at the beginning of the 20th century by electric trams. However, the tram system began closing in the 1950s and the last tram ran in Sydney in 1961. Meanwhile, Sydney airport was founded in 1920. In 1926 the first part of an underground railway opened in Sydney.
However, Sydney suffered an epidemic of measles in 1867. There was also an epidemic of smallpox in 1881.
20th Century Sydney
During the 20th century, Sydney continued its rapid growth. By 1900 Sydney had a population of 481,000. By 1921 it had reached 981,000 and by 1950 it was almost 1.7 million. By 1975 Sydney had a population of nearly 3 million.
However, there was an epidemic of bubonic plague in the poor parts of Sydney in 1900, which killed 103 people. A man named Robert Sutherland Thompson was put in charge of the situation. In 1898 a Frenchman working in India called Paul-Louis Simond had suggested that bubonic plague was transmitted by fleas that live on rats but his theory gained few supporters. One of them was Thompson. He carried out careful observations of the epidemic in Sydney, which proved the Frenchman's theory was correct.
Afterward slum clearance began in The Rocks, which was then the roughest part of Sydney. (Today it is a district of hotels and expensive restaurants). Then in 1916 Taronga Zoo opened and State Theatre in Sydney was built in 1929.
The Anzac War Memorial in Sydney was designed by Bruce Dellit (1898-1942). It was built in 1934. The sculptor of the monument was Rayner Hoff (1894-1937). The El Alamein Fountain was built in 1961 as a memorial to the Anzacs who fought in North Africa during the Second World War.
The task of building Sydney Harbour Bridge began on 28 July 1923 when the first sod was turned and work began on the approaches. In March 1924 a contract was signed with the building firm Dorman, Long, and Co. By 1930 the arch was in place. Sixteen men were killed building Sydney bridge. Sydney Harbour Bridge opened on 19 March 1932. It was opened by Jack Lang (1875-1975) who was Premier of New South Wales in 1925-27 and 1930-1932. (Although a man called Captain de Groot cut the tape before the Premier could). The new Bridge was 3,770 feet long. The span of the main bridge was 1,650 feet. The clearance for vessels passing underneath was 170 feet. Bridgeclimb (a climbing tour) began in 1998.
Meanwhile, in 1932 Archibald Fountain was erected in Hyde Park.
On 31 May 1942 three Japanese midget submarines entered Sydney Harbour. One of them fired a torpedo that hit HMAS Kuttabul, killing 19 Australians and 2 Britons.
In the late 20th century the number of manufacturing jobs in Sydney declined. However, the service sector boomed and today Sydney is Australia's main commercial and financial center. Sydney is also an important port (although most of the cargo goes through Port Botany).
Today Sydney is, of course, a major tourist destination. Many new museums opened in the late 20th century. Sydney Tram Museum was founded in 1950. It moved to its present site in 1988. The Powerhouse Museum opened in 1988. Sydney Jewish Museum opened in 1992.
Sydney Opera House was opened on 20 October 1973 by Queen Elizabeth II. A Danish architect named Jorn Utzon (1918-2008) won an international competition to design the Opera House in 1957. However, it took 14 years to build, and Utzon himself resigned in 1966. In 1988 a mural called Possum Dreaming was added to the theatre by Michael Nelson Tjakamarra. In 2007 UNESCO made Sydney Opera House a World Heritage Site. Today the Opera House is probably the most famous landmark in Sydney.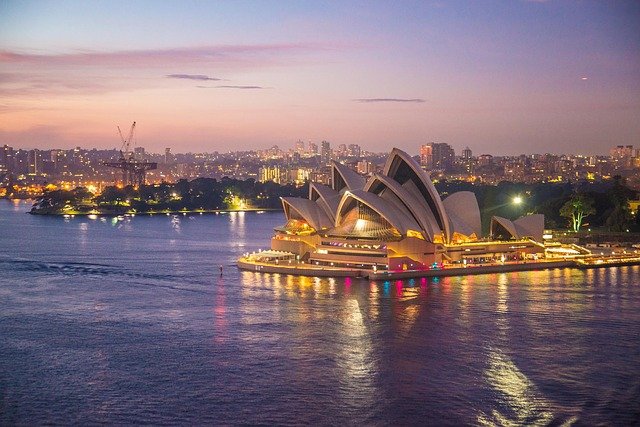 Sydney Tower was built in 1981 and The Wharf Theatre opened in 1984. Meanwhile, Sydney Entertainment Centre opened in 1983. Furthermore, the Chinese Garden of Friendship opened in 1988. The same year, 1988, Bicentennial Park opened. Also in 1988 Sydney Convention and Exhibition Centre opened.
From 1988 the Darling Harbour district was redeveloped and is now known for its shops, restaurants and entertainment. Sydney Harbour Tunnel was built in 1992. In 1994 Governor Phillip and Governor Macquarie Towers opened. The Australian National Maritime Museum opened in Sydney in 1991. The Museum of Contemporary Art also opened in 1991. The Museum of Sydney opened in 1995. The Anzac Bridge opened in 1996 and Broadway Shopping Centre opened in 1998.
Other famous buildings in Sydney include the MLC Centre, built in 1977. Another landmark, the Sydney Tower was built in 1981. Star City Casino Complex opened in 1997. Meanwhile The Strand, the Victorian shopping arcade partly burned down on 25 May 1976. However, it was rebuilt and restored to its original condition.
21st Century Sydney
In the 21st century, Sydney continued to flourish. Aurora Place was built in 2001. The Olympic Games were held in Sydney in 2000 and Ian Thorpe Aquatic Centre opened in 2007. Meanwhile, The Rocks Discovery Museum opened in 2005.
Today Sydney is a multicultural city with many immigrants both from Europe and Asia. It is easily the largest city in Australia. Today the population of Sydney is 4.6 million.

Last revised 2021