By Tim Lambert
The Development of Bournemouth
Until the early 19th century the area where Bournemouth now stands was just heathland where cattle grazed. Then in 1810, a man named Tregonwell visited the beach with his wife. She loved the area and persuaded him to build a house there. He purchased 8 1/2 acres and built a house with cottages for his butler and gardener. Tregonwell can be regarded as the first inhabitant of Bournemouth although his house stood alone.
He later bought more land in the area. He also purchased the Tapps Arms and renamed it the Tregonwell Arms. In 1820 the house was leased to the Marchioness of Exeter. It became known as Exeter House and gave its name to Exeter Street. Landowners planted pines on the heath, but there was no settlement at Bournemouth until 1837.
At the end of the 18th century spending time at the seaside became very popular among the rich and middle classes. Many new resorts were built including, Brighton, Eastbourne, and Bognor Regis, and, of course, Bournemouth.
In 1836 Sir George Tapps-Gervis, the son of the man who bought land in the area in 1805, decided to create a seaside resort at Bournemouth. He appointed an architect from Christchurch called Ben Ferrey to design it. Villas were built for families to hire during the summer. Westover Villas were built in 1837-40 Tapps-Gervis also built the Bath Hotel in 1838. He also laid out Westover Gardens. In 1839 the Tregonwell Arms began to act as the post office for the little community.
By 1840 a little village had been built at Bournemouth. In that year the stagecoach which traveled from Southampton to Weymouth began to call at Bournemouth, a sure sign that the village had arrived. The same year a guidebook for the resort was published.
Tapps-Gervis died in 1842 but the building of the resort at Bournemouth went on. The Church of St. Peter's was consecrated in 1845. By 1851 the first shops had appeared in Commercial Road. There was a wooden bridge over the Bourne at that time. In 1849 it was replaced by a brick one.
In 1851 Bournemouth was still a little village with a population of only 695. But it was growing rapidly. By 1861 Bournemouth had a population of 1,707.
Bournemouth police force was founded in 1856. Local government began in 1856 when an Act of Parliament set up a body of men responsible for paving, cleaning, and lighting the streets. They also had powers to provide sewers and drains.
In 1864 the town gained gas street lighting. In 1866 Bournemouth gained a piped water supply. A volunteer fire brigade was formed in 1870. The Improvement Commissioners were replaced by a mayor and aldermen in 1890.
A little wooden jetty was built in 1855. In 1861 a proper wooden pier was built. In 1880 it was replaced by an iron pier. Meanwhile, in 1859 a dispensary was formed where the poor could obtain free medicines and medical care.
The railway reached Bournemouth in 1870, which made it far easier to reach, and increased the number of visitors. Victorian Bournemouth grew at a phenomenal rate. By 1881 the population of Bournemouth stood at 16,859. St Peter's Church was soon too small for the growing town and so a new church was built in 1880. In 1891 it reached 37,000.
In 1877 Red House was built by the Prince of Wales for Lillie Langtry. Then in 1885, the Mont Dore Hotel was built. It was supposed to be a health resort where guests were given spring water from the Auvergne. In 1921 it was turned into the town hall. The Winter Gardens were laid out in 1874. Also in the 1870s the Pleasure Gardens were drained and laid out. The Theatre Royal was built in 1882. Bournemouth Arcade was built between 1866 and 1872.
In the 1870s and 1880s villages near Bournemouth grew rapidly. In Boscombe, the Boscombe Chine Hotel was built in 1874. St. Clements Church was built in 1873. In 1876 Boscombe was made part of the town of Bournemouth. So was Springbourne.
In 1889 Boscombe pier was built. Then in 1897 Boscombe gained a railway station. In 1884 the boundaries of Bournemouth were extended again to include Westbourne.
In 1870 a doctor bought land west of Bournemouth and called it Southbourne On Sea. It was originally intended to be a rival resort to Bournemouth but it was soon swallowed up by that growing resort. The doctor laid out Belle Vue Road and built South Cliff Hotel in 1874. In the late 1870s houses were built in the area and it soon needed its own church.
St. Katharine's Church was built in 1883 and consecrated in 1886 and St. Katherine's children's home was built in 1892.
Southbourne became part of Bournemouth in 1901 when the boundaries of that town were extended. In 1881 Pokesdown was still a small village with a population of only 838. By 1891 it had grown to 1,871. In 1885 it gained a railway station. In 1894 it was given an urban district council in recognition of its rapidly growing size. By 1900 the population of Pokesdown had grown to 5,500. In 1901 it was made a part of the town of Bournemouth.
Bournemouth Symphony Orchestra was founded in 1893. Wimborne Road Cemetery was laid out in 1877. Bournemouth East Cemetery followed in 1897.
The first library in Bournemouth was opened in 1895 and the Royal Victoria Hospital was opened in 1889.
20th Century Bournemouth
By 1901 the population of Bournemouth had reached 59,000. The Bournemouth Echo started publication in 1900. Bournemouth Municipal College opened in 1913. (It is now called Bournemouth and Poole College). Russell-Cotes Art Gallery and Museum date from 1922 when the Russell-Cotes gave their house and all its furnishings and works of art to the town. The Pavilion was built in 1929.
The first electric trams in Bournemouth ran in 1901. Between 1934 and 1936 they were replaced by trolleybuses (buses that ran on overhead wires). The first motor buses came to Bournemouth in 1904.
In 1931 the boundaries of Bournemouth were extended again to include Kinson, Wallisdown, and Holdenhurst. However, in 1936 Bournemouth was afflicted by a typhoid epidemic.
In 1939 many schoolchildren were evacuated from Portsmouth and Southampton to Bournemouth, where, it was believed, they would be safe. But Bournemouth did not escape bombing entirely. During the Second World War 219 people were killed by German bombing.
Rothesay museum opened in 1963. Until 1972 Bournemouth was part of Hampshire. Bournemouth University was founded in 1992. (It had previously been a polytechnic). Bournemouth International Centre was built in 1984. In the mid-1990s Boscombe Cliff Gardens were refurbished. Streetwise Safety Centre opened in Bournemouth in 1998.
Although tourism remains an important industry in Bournemouth in recent years it has been overshadowed by the rise of other service industries such as finance, building societies, and insurance. This is now the most valuable part of the local economy. Bournemouth is a prosperous town and other industries such as bars and restaurants are booming. The Royal Bournemouth Hospital was opened in 1989. In 1997 Bournemouth was made a unitary authority.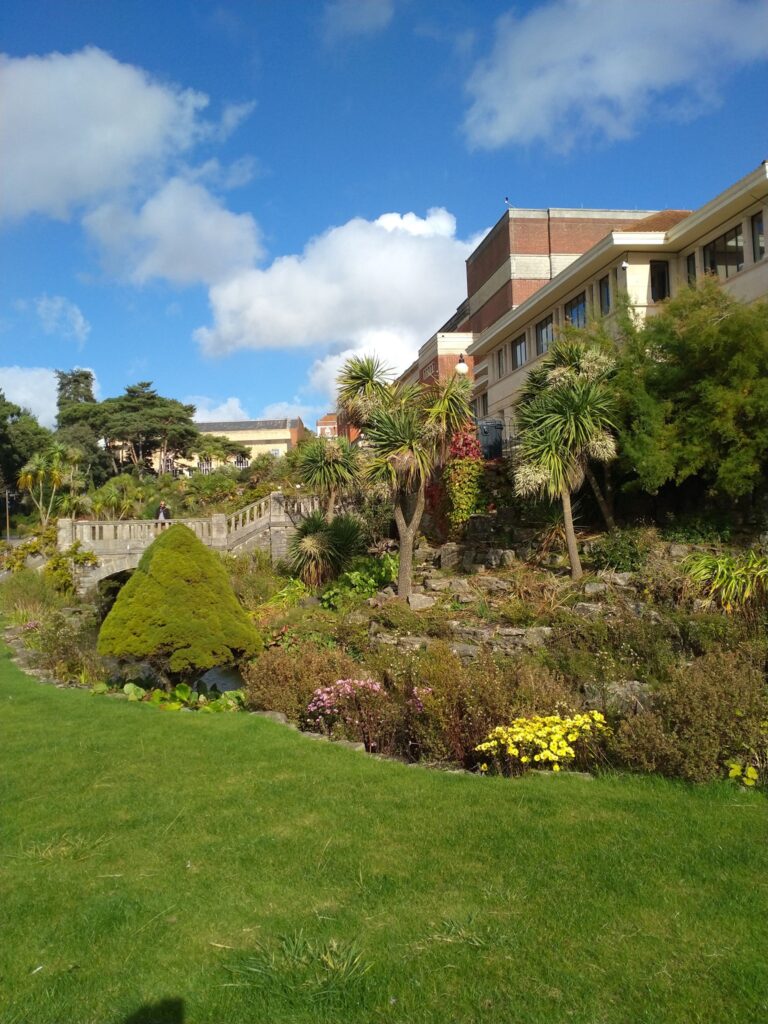 21st Century Bournemouth
In the 21st century, Bournemouth continued to flourish. Castlepoint Shopping Centre opened in 2003. Also in 2003, the new Bournemouth Library opened.
In 2022 the population of Bournemouth was 193,000.