By Tim Lambert
The Foundation of Calgary
For 10,000 years native people lived on the site of Calgary. Then in 1875, the Mounties built a fort there. In 1876 it was named Fort Calgary after Calgary Bay in Scotland. The Scottish name is derived from the Gaelic words Cala-ghearridh meaning pasture by the bay. When a railway station was built near Fort Calgary in 1883 the little settlement grew rapidly.
In 1884 Calgary was incorporated as a town. Calgary suffered a bad fire in 1886 but nobody was killed and the little town soon recovered. It became a city in 1894. By then Calgary had a population of nearly 4,000. Calgary City Hall was built in 1911 and the Calgary stampede began in 1912.
Then in 1914 oil was discovered near Calgary and an oil refinery opened in the city in 1923. More oil was discovered in Alberta in 1947. As a result of oil, Calgary boomed. Meanwhile, Calgary Zoo was founded in 1920.
Modern Calgary
In the late 20th century Calgary continued to thrive. Calgary University was established in 1966 and the Telus Convention Centre opened in 1974. Calgary Transit began in 1981. Industry in Calgary is still dominated by oil and gas.
However, tourism is also important in Calgary. Heritage Park Historical Village opened in 1964. Glenbow Museum was established in 1955. It moved to its present building in 1976. The Calgary Tower was built in 1968.
The Hangar Flight Museum was established in 1975. Devonian Gardens opened in 1977 and Epcor Centre for the Performing Arts opened in 1985.
The Winter Olympic Games were held in Calgary in 1988 and the Military Museums were established in 1990. The Calgary Chinese Cultural Centre was built in 1992. Telus Spark science centre opened in 2011.
Calgary is also a major shopping centre. Chinook Centre opened in 1960. Southcentre Mall opened in 1974. CrossIron Mills Shopping Centre opened in 2009. Today Calgary is a thriving city and it is still expanding rapidly. The famous building called The Bow was built in 2012.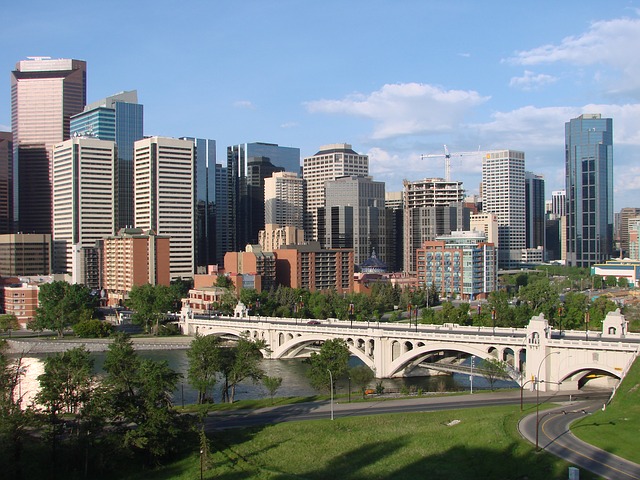 Today the population of Calgary is 1.2 million.