By Tim Lambert
Early Charleston
The city of Charleston, South Carolina was founded in 1670 by English colonists. It was named Charles Town in honor of King Charles II (1660-1685). Soon Charleston was a thriving town and port. The Powder Magazine was built about 1713.
However, Charleston was vulnerable to attack because of its position on the coast. In 1718 the notorious pirate Edward Teach, better known as Blackbeard blockaded Charleston. His men took several prominent citizens prisoner and Blackbeard demanded medical supplies as a ransom.
Nevertheless, Charleston flourished during the 18th century. Drayton Hall was built in 1742 and Middleton Place House was built in 1755. St. Michael's Episcopal Church was built in 1761 and The College of Charleston was founded in 1770. The Old Exchange & Provost Dungeon was built in 1771. Heyward-Washington House was built in 1772 and Charleston Museum was founded in 1773.
Then on 12 May 1780 during the War of Independence, the British captured Charleston. However the British were forced to withdraw from Charleston on 14 December 1782. In 1783 the name of the city was officially changed to Charleston.
Charleston golf club was founded in 1786.
Charleston is known for its many historic churches. Charleston Unitarian Church was started in 1772. It was completed in 1787. However, it was largely altered in the years 1852-1854. Meanwhile, Second Presbyterian Church was dedicated in 1811. The Huguenot (French Protestant) Church was dedicated in 1845 and Grace Church Cathedral was dedicated in 1846.
In 1800 Charleston had a population of over 20,000. By the standards of the time, it was a large city. It was the 5th largest city in the USA. During the early 19th century Charleston continued to thrive. Joseph Manigault House was built in 1803 and Nathaniel Russell House was built in 1808. They were followed by Aiken-Rhett House about 1820 and The Edmondston-Alston House in 1825.
Furthermore, the Medical University of South Carolina opened in Charleston in 1824, and White Point Garden became a public park in 1837. Charleston City Market was built in 1841. The Citadel, The Military College of South Carolina opened in Charleston in 1843.
By 1850 the population of Charleston was just under 43,000. But in 1861 came the Civil War. On 12 April 1861 Confederate forces fired on Fort Sumter, which was held by Union soldiers so beginning the Civil War.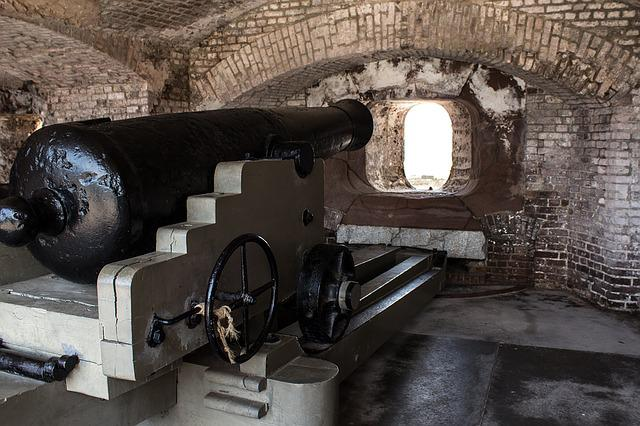 On 11-12 December 1861, a fire devastated much of the city. Finally, on 18 February 1865, the mayor of Charleston surrendered to Union forces.
Modern Charleston
In the late 19th century Charleston was in the doldrums economically although Magnolia Gardens opened to the public in 1870 and Calhoun Mansion was built in 1876. Population growth also slowed. By 1900 Charleston had a population of over 55,000. Relative to other American cities it was much less important.
Charleston also suffered an earthquake in 1886. The Charleston Earthquake struck on 31 August. It caused many deaths and great material damage. Charleston was also affected by the Great Blizzard of 1899.
Charleston Naval Shipyard began in 1901 but it closed in 1996. Meanwhile, Gibbes Museum of Art was founded in 1905. Charleston NAACP was founded in 1917. The present-day Dock Street Theatre opened in 1937 and the Old Slave Mart became a museum in 1938. n However on 29 September 1938 three tornadoes hit Charleston. They killed 32 people and caused great damage to buildings.
Citadel Mall opened in 1981. In 1989 Charleston and the rest of South Carolina were hit by Hurricane Hugo. However, Waterfront Park opened in 1990 and today Charleston is thriving. Tourism is a major industry. In 1995 The H. L. Hunley, a Confederate submarine that sank in 1864 was discovered. It was raised in 2000. South Carolina Aquarium opened in 2000 and Arthur Ravenel Bridge opened in 2005.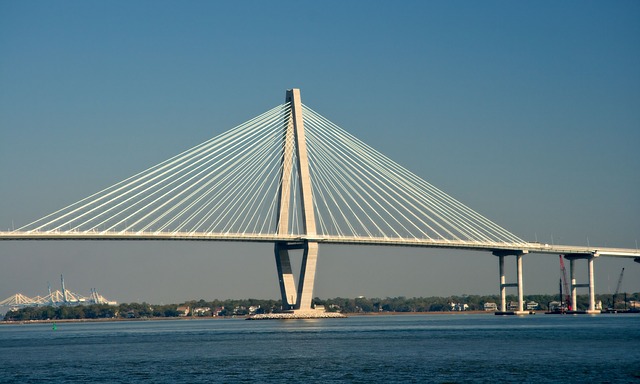 In 2020 the population of Charleston was 154,000.
Timeline of Charleston
1670
Charleston is founded
c. 1713
Powder Magazine is built
1718
The pirate Blackbeard blockades Charleston
1742
Drayton Hall is built
1755
Middleton Place House is built
1761
St. Michael's Episcopal Church is built
1770
The College of Charleston is founded
1771
The Old Exchange & Provost Dungeon is built
1772
Heyward-Washington House is built
1773
Charleston Museum is founded
1780-82
The British occupy Charleston
1786
Charleston golf club is founded
1787
Charleston Unitarian Church is completed
1800
Charleston is a town of about 20,000
1803
Joseph Manigault House is built
1808
Nathaniel Russell House is built
1811
Second Presbyterian Church is dedicated
c. 1820
Aiken-Rhett House is built
1824
Medical University of South Carolina opens
1825
The Edmondston-Alston House is built
1837
Whitepoint Garden becomes a public park
1841
Charleston City Market is built
1843
The Military College of South Carolina opens
1845
The Huguenot Church is dedicated
1846
Grace Church Cathedral is dedicated
1850
The population of Charleston is nearly 50,000
1861
In April Confederate forces fire on Fort Sumter. In December a fire devastates the town.
1865
In February Charleston surrenders to Union forces
1870
Magnolia Gardens opens to the public
1876
Calhoun Mansion is built
1886
Charleston is hit by an earthquake
1900
Charleston has a population of over 55,000
1901
Charleston Naval Shipyard opens
1905
Gibbes Museum of Art is founded
1917
Charleston NAACP is founded
1937
Dock Street Theatre opens
1938
Old Slave Mart becomes a museum. Charleston is hit by 3 tornadoes
1981
Citadel Mall opens
1996
Charleston Naval Shipyard closes
2000
H. L. Hunley submarine is raised. South Carolina Aquarium opens.
2005
Arthur Ravenel Bridge opens