By Tim Lambert
Dedicated to John Harvey
The Roman Fort
Chesterfield began as a Roman fort, which was built around 70 AD. However, by the early 2nd century the area was pacified and the Romans moved on. The old fort was abandoned. However, the Roman fort gave its name to Chesterfield. However, by the 10th century, a village had grown up at Chesterfield. The Saxon word for a Roman fort or town was caester and their word for grazing land was feld. So the village was Caester Feld.
Chesterfield in the Middle Ages
During the 12th century Chesterfield grew from a village into a town. By 1165 Chesterfield had a market. (In those days there were very few shops and if you wished to buy or sell anything you usually had to go to a market).
By 1182 Chesterfield had a fair. In the Middle Ages fairs were like markets but they were held only once a year. People came from all over Derbyshire and South Yorkshire to buy and sell at a Chesterfield fair. Then in 1204 Chesterfield was granted a charter. (A charter was a document granting the townspeople certain rights).
In Medieval Chesterfield workers of one type usually lived in one street. So knife smiths lived in knife smith. Glumangate was where the minstrels lived. (Gluman or gleeman was an old word for minstrel). The street name 'gate' is from the old Danish word 'gata' meaning street. It has nothing to do with gates in a wall. Saltergate was the gata or street where salt was bought from Cheshire.
However, in the Middle Ages, the main industry in Chesterfield was making wool. However, there was also an important leather industry. There were skinners, tanners, glovers, and saddlers.
In the Middle Ages Chesterfield had a leper hostel dedicated to St Leonard. Chesterfield's most famous landmark its bent spire was erected at the beginning of the 15th century. The most likely explanation for its strange shape is that the builders used green, unseasoned wood which warped.
Chesterfield 1500-1800
In the 16th century the wool industry continued in Chesterfield but in the 17th century it declined. However leatherworking continued to prosper throughout this period and in the 18th century, there was an important brewing industry in Chesterfield. However, it remained a quiet market town.
Nevertheless, a grammar school was founded in Chesterfield in 1594, and in 1598 Chesterfield was given a new charter.
However like all Tudor towns Chesterfield suffered outbreaks of plague. There was a severe outbreak in 1586-87. The plague struck again in 1608.
In the 18th century towns like Sheffield, Nottingham, and Derby were transformed by the industrial revolution. However, Chesterfield was largely unaffected and the town continued to quietly grow. Then in 1777, a canal was dug to Chesterfield.
In the early 18th century Daniel Defoe described Chesterfield as 'a handsome, populous town, well built and well inhabited'.
George Stephenson the creator of the famous locomotive, The Rocket, lived at Tapton House from 1838 to 1848. He is buried in Holy Trinity Church.
Modern Chesterfield
Amenities in Chesterfield improved during the 19th century. In 1800 a dispensary opened in Chesterfield where the poor could obtain free medicines and a gas company was formed in 1826. Then in 1881 during a gas strike the streets of Chesterfield were lit by electricity, but it was only a temporary measure.
The first police force in Chesterfield was formed in 1836. A fire brigade was formed in 1839 and the railway reached Chesterfield in 1841. From 1882 horse-drawn trams ran in the streets. A Market Hall was built in Chesterfield in 1857 and Stephenson Memorial Hall was built in 1879. (It is now a theatre). Queens Park opened in 1887.
The nearby settlement of Brampton became industrialized in the 19th century and had metalworking and pottery industries. However, it did not become part of Chesterfield until 1892 when the boundary of the borough was changed.
Chesterfield gained electric street lighting in 1901. In the early 1900s, the trams in Chesterfield were converted to electricity but they stopped running in 1930. Meanwhile, Eastwood Park opened in 1911.
In the early 20th century Chesterfield, at last, became industrialized. A heavy engineering industry grew up and prospered.
During the 1920s and 1930s, the first council houses were built in Chesterfield. (Some of them were built to replace slums). Many more council houses were built after 1945. Furthermore, in 1910 the boundary of Chesterfield was changed to include Hasland. In 1920 it was changed to include Newbold.
A new Town Hall was built in 1938 and the Pomegranate Theatre opened in 1949. Chesterfield and North Derbyshire Royal Hospital opened in a new building in 1984.
In the late 20th century manufacturing industry declined in Chesterfield as it did in other towns and service industries such as tourism and retail became more important. Pavements Shopping Centre opened in 1981 and Vicar Lane Shopping Centre opened in 2000. Meanwhile Chesterfield Museum opened in 1994.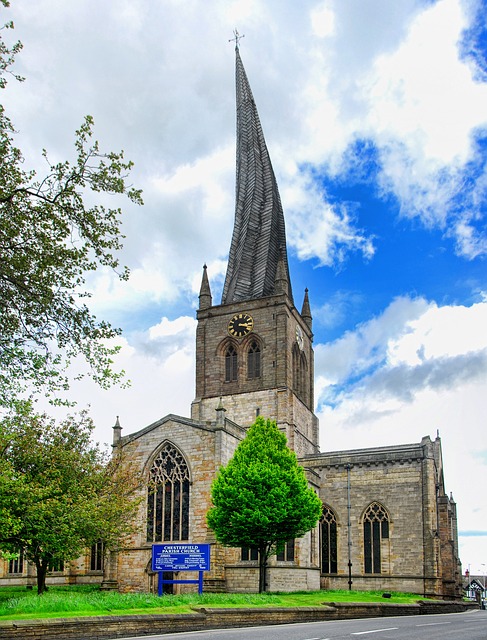 Chesterfield coach station opened in 2005. In 2006 a statue of the great engineer George Stephenson was unveiled outside Chesterfield Railway Station. In 2022 the population of Chesterfield was 103,000.