By Tim Lambert
Dedicated to Lucinda Wilde
Early Clapham
The Roman road called Stane Street, which ran from London to Chichester went through the area where Clapham now stands. However, Clapham began as a Saxon village. Its name was originally clopp ham, which meant the village (ham) by the short hill (clopp).
At the time of the Domesday Book in 1086 a Norman named Geoffrey de Mandeville held Clapham. At that time Clapham was called Clopeham.
To us Medieval Clapham would seem a tiny place with a population of fewer than 100 people. Even by the standards of the time, Clapham was a small village. For centuries Clapham remained a little farming settlement where life followed the rhythm of the seasons.
Clapham began to grow in the late 17th century. Refugees arrived from the Great Plague of London in 1665 and the Great Fire of 1666. By the end of the century, Clapham was quite a large village. In the late 18th century it became a fashionable place for the rich to live as it was close to the amenities of London but was in a rural setting away from the dirt and noise of the city.
Gauden Road is named after Sir Dennis Gauden who was a victualler (supplier of provisions) to the navy and who lived in Clapham in the late 17th century. Meanwhile from 1690 stagecoaches ran between Clapham and London.
St Paul's Church in Rectory Grove was the original parish church of Clapham. However, Holy Trinity Church was built in 1776.
In the 18th century, lavender was grown in fields near Clapham. It was used to make perfume. That is where Lavender Hill got its name.
In the 18th century, a number of distinguished people lived in Clapham. In 1700 the famous diarist Samuel Pepys (1633-1703) retired to Clapham. He lived in a house on the north side of Clapham Common. Furthermore, in the late 18th century and in the 19th century a number of famous figures lived in Clapham.
Among them was Henry Cavendish (1731-1810), who moved to Clapham Common in 1783. When he was 40 Cavendish inherited a fortune. He was then very rich. Cavendish was a very shy and reclusive man but he was also a brilliant scientist. He calculated the density of the earth. Cavendish also conducted experiments on gases.
Furthermore, the American scientist Benjamin Franklin stayed in Clapham for a while in the 18th century and he experimented by pouring oil on the water of a pond on Clapham Common. (It is believed the ponds on the Common began as gravel pits. Cock Pond is named after an inn called the Cock, which is now the Frog and Forget-me-not. Eagle Pond may be named after a building called Eagle House, which was built nearby about 1820. (It got its name from decorative eagles on its gate pillars). Mount Pond probably got its name from a mound of earth that once stood nearby).
Captain Cook's widow Elizabeth Cook lived in Clapham from 1788 to 1835. Elizabeth Cook was 94 when she died. She outlived her 6 children as well as her husband.
At the end of the 18th century and in the early 19th century the village of Clapham in Surrey (as it was then) was the focus of a group of Evangelical Christians. In the mid-19th century, they became known as the Clapham Sect because so many of its members lived in Clapham. (They were also nicknamed 'The Saints' by their enemies).
Members of the Clapham Sect campaigned for an end to slavery and cruel 'sports'. However, the Clapham Sect did not believe in radical social reform and wished to preserve the existing class system. Generally, the Clapham Sect appealed to the wealthy while the Methodists appealed to the poor.
Among their leading lights were John Thornton (1720-1790) a merchant and his son Henry Thornton (1760-1815). After 1792 Henry Thornton lived in a house called Battersea Rise House on Clapham Common South Side. He is buried in St Pauls Church. John Venn (1759-1813) was another member of the Clapham Sect. He became vicar of Clapham in 1792. Others were James Stephen (1758-1832) a lawyer who moved to Clapham in 1797, Zachary Macaulay (1768-1838) who moved to Clapham in 1802, and John Shore, Baron Teignmouth (1751-1834) who also moved to Clapham in 1802.
William Wilberforce (1759-1833) who campaigned against the slave trade was also a member of the Clapham Sect. He lived in Clapham for a time but poor health forced him to move in order to be closer to parliament.
John Walter (1739-1812) who founded The Times newspaper also lived in Clapham.
Clapham in the 19th Century
In the 19th century Charles Barry (1795-1860) the architect who designed the Houses of Parliament lived in Clapham. So did John Francis Bentley (1839-1902) who designed Westminster Cathedral.
In 1801 at the time of the first census Clapham was ceasing to be a village outside London and it was becoming a suburb. At that time it had a population of 3,864. It would seem small to us but at the time Clapham was quite a large place – it was larger than many provincial market towns.
Transport improved in the 19th century. In the 1830s horse-drawn buses began running in Clapham. In 1871 horse-drawn trams began running to and from Clapham. In 1903 they were converted to electricity. Furthermore, in the 19th century, Clapham and the surrounding area were transformed by railways. The railway made it possible for commuters to live in Clapham and travel to work in London. Once railways were built Clapham and the surrounding areas quickly became suburbs of the metropolis.
The first railway in the Clapham area was the London to Southampton railway, which was built in 1838 and terminated at Nine Elms. Clapham High Street Railway Station was built in 1862. Clapham Junction Railway Station opened in 1863. Then in 1900 tube trains reached Clapham. Clapham North Station and Clapham Common Station both opened that year.
In the mid-19th century, Cedars Estate was built by the architect Sir James Knowles (1831-1908). Also in the mid-19th century Thomas Cubitt (1788-1855) built the Clapham Park Estate. He began by buying 229 acres of land in 1825 and he built many grand houses there. However, in the 1920s council houses were built nearby and after the Second World World War, most of Cubitt's houses were destroyed and replaced by council housing. Shaftesbury Estate was built in the years 1872-77.
Meanwhile, in 1855 the Metropolitan Board of Works was formed in London. In 1877 they purchased Clapham Common. The Board turned the Common into a formal recreation ground for games like cricket, football, and golf. The bandstand on Clapham Common was built in 1890.
Meanwhile, Clapham Library was built in 1889. Trinity Hospice was founded in 1891. Clapham Grand opened in 1900.
Until 1889 Clapham was in the county of Surrey. However, in that year the county of London was formed and Clapham was made part of it.
The Norwegian composer Edvard Grieg stayed at a house in Clapham, 47 North Side when was visiting London. In 2004 a blue plaque was unveiled on the house where he stayed.
Clapham in the 20th Century
The Japanese poet Natsume Soseki lived in Clapham from 1900-1902. There is now a Soseki museum in Clapham. Furthermore, the house where Soseki lived now has a blue plaque.
Two other famous Japanese people lived in Clapham, the writer Yukichi Fukuzawa (1835-1901) and the economist Shinzo Koizumi (1888-1966).
Clapham Clock Tower was erected in 1906. William Bonney Estate was built in the 1930s. The estate was named after William Bonney who was mayor of Wandsworth from 1938-1944.
During the Second World War Clapham, like the rest of London suffered from German bombing. The novelist Graham Greene lived in a house in North Side but his house was bombed in 1940. Then in April 1941, the tram depot in Clapham High Street was bombed. In 1942 the govt built deep shelters under tube stations in London. Three of them were built in Clapham, at Clapham North, Clapham Common, and Clapham South. Each shelter consisted of 2 parallel tubes both 365 metres long. The shelters still exist.
During the later stages of World War II Clapham was hit by several V1 flying bombs and a V2 missile hit Clapham Common. (One of the people killed in 1944 was the famous chess player Vera Menchik. She was killed when a V1 hit Gauden Road).
The actor Dennis Waterman was born in Clapham in 1948.
The British Transport Museum opened in Clapham in 1963 but in 1973 it moved. The fire station in Clapham was built in 1964. Then in 1985 St Francis Xavier College opened. South London Natural Health Centre was opened by Clapham Common in 1988. Clapham Picture House opened in 1992 and Clapham Art Gallery opened in 1998.
The actor Jeremy Brett, who was known for playing Sherlock Holmes lived in Clapham for some years until his death in 1995. In 2007 a memorial tree was planted on Clapham Common.
Clapham in the 21st Century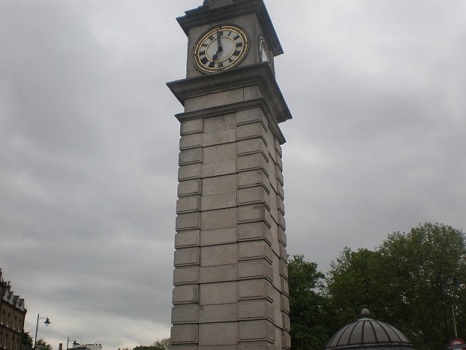 Clapham Clock Tower
Lambeth Academy opened in 2004. Today Clapham is a thriving district of London. Today the population of Clapham and Stockwell is 65,000.