By Tim Lambert
Early Cosham
Cosham started as a Saxon village in the 6th century. It was called Cossa's ham, which meant Cossa's village or estate. However, until the 19th century, Cosham was only a small village.
At the time of the Domesday Book in 1086 England was divided into areas called manors. Cosham was part of the manor of Wymering. At that time Wymering was a larger village than Cosham, which was a hamlet with a population of probably less than 100.
For centuries Cosham remained a little village and it was overshadowed by Wymering. In 1801 the population of Wymering and Cosham was only 556. By 1901 it had risen to over 1,200.
Nevertheless, Cosham was still a small village, known for its inns.
In 1847 a railway was built to Portsmouth and a railway station was built at Cosham. For the first time, it was possible to travel quickly and easily from Cosham and Portsmouth.
In 1881 a horse-drawn tram began to operate on rails between Portsmouth and the village of Cosham. Nevertheless, Cosham did not really grow until the early 20th century.
In 1903 a tram called the Horndean Light Railway began running between Portsmouth and Horndean running through Cosham then over Portsdown Hill. The trams were called green cars because they were emerald green and cream. For many Portsmouth people traveling to Horndean for a day in the summer was a big treat. However, the light railway closed in 1935 and was replaced by buses.
Modern Cosham
In 1920 the boundaries of Portsmouth were extended to include the village of Cosham north of Portsea Island and in 1932 to include Drayton and Farlington to the northeast. This area was growing rapidly and soon all these villages became suburbs of the growing city.
In 1934-36 Highbury estate was built south of Cosham. In the 1920's council houses were built at Wymering, west of Cosham. In the 1930's many more council houses were built at Wymering.
Meanwhile, Queen Alexandra hospital opened on the slopes of Portsdown hill in 1908. Cosham Library
Modern Cosham
The Carlton Cinema was built in Cosham in 1934. It closed in 2007. In 1937 another cinema called the Ambassador was built in Cosham. It was renamed the Odeon in 1945 and it closed in 1976.
Meanwhile, St Philip's Church in Cosham was built in 1937 by the famous architect Sir Ninian Comper (1864-1860).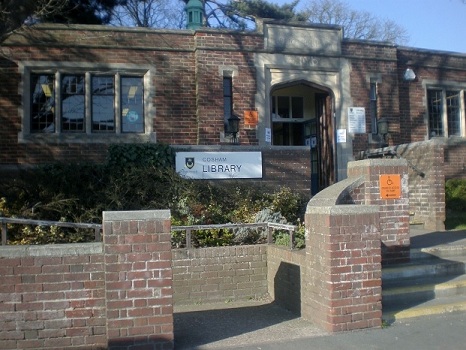 After the Second World War, there was a desperate need for new houses. At first, the council erected prefabs (houses made in sections in factories that could be fitted together in a few days). Some were erected on bombsites. Others were erected on Portsdown hill above Cosham. More than 700 prefab houses were built in 1945-47.
Several new council estates were built in Portsmouth in the early 1970s. Among these was Portsdown Park, a mixture of flats and houses built on Portsdown Hill above Cosham. But Portsdown Park soon began to suffer damp. Efforts to cure the damp failed and in 1987 the estate was demolished. It was replaced by private housing. Carlton Cinema was demolished in 2011.
Today Cosham is a flourishing community on the outskirts of Portsmouth.
Timeline of Cosham
1,000 BC Bronze Age farmers live on top of Portsdown Hill
500 BC Iron Age farmers (Celts) live on top of Portsdown Hill
c. 285 AD The Romans build Portchester Castle
501 AD According to the Anglo-Saxon Chronicle a Saxon named Port landed at Portsmouth
C. 550 Around this time a Saxon named Cossa founded a ham (village) at Cosham
1086 The Domesday Book is written. Cosham is a little village with a population of about 120.
1509-1547 Henry VIII is king. During his reign Wymering Manor is built.
1801 Cosham and Wymering have a population of 556. Both are still little villages.
1847 Cosham Railway Station is built
1863 The first school opens in Cosham, in Albert Road
1870 Fort Widley is built
1881 Horse drawn trams begin running between Portsmouth and the nearby village of Cosham
1901 Trams in Portsmouth and Cosham are converted to electricity. Wymering and Cosham have a population of 1,200. Cosham is growing rapidly.
1903 Trams known as the Green Cars begin running between Cosham and Horndean. The proper name of the Tramway is the Horndean Light Railway.
1908 A military hospital is built on the slopes of Portsdown Hill. (Its now part of QA Hospital).
1920 The boundaries of Portsmouth are extended and Cosham becomes part of the city. Cosham is a rapidly growing suburb.
1922-24 The council begins building Wymering estate. First, Second and Third Avenues are built.
1934 The Carlton Cinema near the Railway Station opens
1934-1936 Highbury Estate is built
1935 The Horndean Light Railway stops running
1937 A Cinema called the Ambassador opens. In 1945 it is renamed the Odeon. St Phillips Church is built.
1940 Court Lane School opens. Cosham is bombed.
1951 The hospital is transferred to the NHS
1954 Highbury Primary School opens
1968-74 Portsdown Park housing estate is built above Cosham
1970s The hospital is rebuilt
1976 The Odeon Cinema closes
1980 The new Queen Alexandra Hospital is officially reopened
1987 Portsdown Park is demolished and replaced by luxury housing
1989 Part of Cosham High Street is pedestrianised
2007 The Carlton Cinema closes
My Youtube video about the history of Cosham