By Tim Lambert
The First Council Houses
In the late 19th century housing for the poor was often terrible. In some cases, whole families lived in one room. The first council houses in Portsmouth were built in 1911 in Portsea in Curzon Howe Road on the site of Whites Row, a notorious slum. The new road was named after an admiral.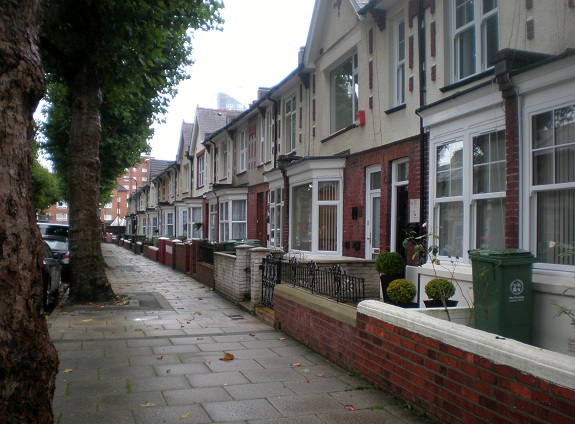 In the early 1920's more council houses were built at Wymering, west of Cosham. Other council houses were built at Hilsea Crescent Hilsea and at Henderson Road Eastney.
In 1920 the council decided to build a little estate at Wymering. It was planned to build 300 houses there. The first 100 were built in 1922-24 and the new streets were named First, Second, and Third Avenues and were called Wymering Garden Village. Another 200 houses were built at Wymering in 1927-29.
In 1923 a woman was murdered in Blossom Alley (on the site of Blossom Square). People were shocked not just by the murder but by the terrible conditions the woman was living in. She lived in a 'house' consisting of two tiny rooms, one above the other, joined by a ladder. There was no hall, the front door (the only door) opened onto a little courtyard. Five houses shared three outside toilets. Taps were also shared. At about the same time a family of mum, dad, and 6 children was found living in 1 room in Eastney.
Wymering and Paulsgrove
In the 1920s and 1930s dreadful slums in Portsea were demolished and some were replaced by council flats in Cumberland Street. Furthermore, in 1931 the council decided to build 410 new houses at Wymering. Many were built north of Southampton Road. In 1931-33 the roads between Sevenoaks Road and Wymering Lane and as far north as Maidstone Crescent were built. In the years 1935-39 more houses were built between Wymering Lane and Washbrook Road. Houses were also built in Cheltenham Road and the closes leading off it. Also in the 1930s the Isle Of Wight estate was built (where the streets are named after places on the Island).
During World War II the council realised it would have to build large numbers of council houses to replace all those destroyed by German bombing. They purchased land at Paulsgrove and began building in 1945. Most of the new houses were 'pre-fabs' or prefabricated houses. They were made in sections in factories and they could just be fitted together on site. Prefabs could be erected in as little as 4 days. Some had steel frames to which concrete or metal panels were added.
Most of the new streets were named after places but a few were named after people. Allaway Avenue was named after the mayor of Portsmouth. In 1950 the British Legion asked for a new street to be named Artillery Close.
At first, there were no shops in Paulsgrove and people had to rely on mobile shops. Temporary shops opened in Nissan (army) huts in 1949. There were no permanent shops until 1953. The first public library in Paulsgrove opened in 1954. (It moved to the present building in 1985).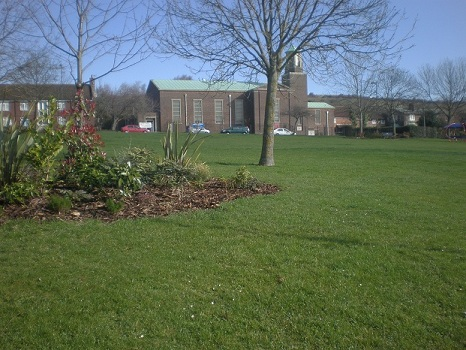 Leigh Park
Meanwhile, in 1944 Portsmouth City Council bought the Leigh Park Estate near Havant. They planned to build a new overspill community there. Altogether the council bought 1,670 acres. Work on building Leigh Park began in 1947 when the mayor of Portsmouth operated a digger and dug the first sod. In 1949 the first residents moved into houses in and around Bramdean Drive. By 1951 there were about 3,500 people living in Leigh Park in about 1,000 houses.
However, the new estate at Leigh Park lacked amenities. In 1951 there was no doctor, no post office, and no shop. Furthermore fares to go shopping in nearby Havant were expensive. The first shops in Leigh Park, in Stone Square, did not open till 1952. The first shops in Park Parade opened in the autumn of 1955. More shops opened in Park Parade in 1956. Greywell Precinct opened in 1966.
Nevertheless, in the 1950s many people were glad to get away from the crowded city of Portsmouth and to live near fields.
The new estate at Leigh Park continued to grow and in 1951 a plan for 1,500 more houses was approved. New streets were named after Hampshire villages or after local farms. By 1956 Middle Park Way had been built. By 1961 the population of Leigh Park was almost 30,000.
In the 1960s Leigh Park was extended further when an estate was built at West Leigh. Warren Park was built in 1968-1972. By then Leigh Park had a population of over 40,000.
Apart from wartime bombing, another reason for building new houses was slum clearance. In 1955 a survey showed that 7,000 houses in Portsmouth were unfit for human habitation.
In the 1960s and early 1970s, a whole section of central Portsmouth was rebuilt including Landport, Somerstown, and Buckland.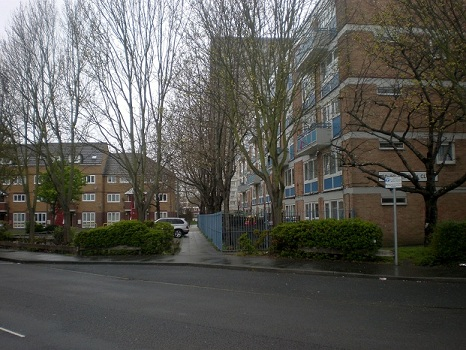 Several new council estates were built in the early 1970s. Portsdown Park was a mixture of flats and houses built on Portsdown Hill above Cosham. But Portsdown Park soon began to suffer damp. Efforts to cure the damp failed and in 1987 the estate was demolished. It was replaced by private housing. Other council houses were built some miles north of the city at Crookhorn and Wecock Farm.
However, after 1979, the situation changed again as the Conservative government encouraged council tenants to buy their homes. Many people did.