By Tim Lambert
In the 6th century AD, the Saxons landed in Hampshire and they founded a number of villages. One of them was called Dray tun. The Saxon word tun meant farm or settlement and dray meant drag.
It is not certain what they dragged. Perhaps boats were dragged onto the shore. Farlington was Fern leah inga tun, which meant the estate or village belonging to the people of Fern clearing.
There has been a church in Farlington since at least the 13th century and probably earlier. The present Church of St Andrew was built in 1872-75 by the architect George Edmund Street.
At the time of the first census in 1801, the parish of Farlington had a population of 305. By 1871 it had risen to 1,218 and by 1901 it was 1,403. Most of the population lived in Farlington and Drayton was just a little hamlet. However, in the early 20th century Drayton began to grow rapidly.
In 1870 Farlington Redoubt was built as part of the fortifications on Portsdown Hill. However, it was gradually demolished in the 20th century.
In 1891 a racecourse opened at Farlington but it closed in 1915. The land was then used by the Ministry of Defence but in 1929 the City Council bought it for 65 pounds an acre. The racecourse at Farlington was served by a small railway station. However, Farlington railway station closed in 1937.
Meanwhile, Solent Road School was built in 1925. (An architect suggested to me that the school's design may have been influenced by the architect Charles Voysey).
Furthermore in 1920 the boundaries of Portsmouth were extended to include the village of Cosham north of Portsea Island and in 1932 to include Drayton and Farlington to the northeast. This area was growing rapidly and soon all these villages became suburbs of the growing city.
Farlington industrial estate was first built in the late 1950s.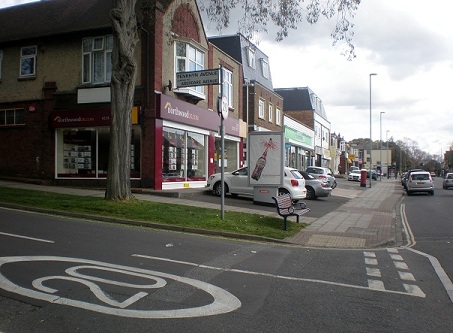 Today Farlington is an affluent suburb of Portsmouth.
My Youtube video about the history of Drayton and Farlington