By Tim Lambert
The Foundation of Juneau
Juneau was founded by two men named Joseph Juneau (1833-1899) and Richard Harris (1833-1907). They discovered gold in 1880 and prospectors flocked to the area. At first, the new town was called Harrisburg but it was soon renamed Rockwell then Juneau. Within a year it had a population of several hundred and it grew rapidly.
Evergreen Cemetery was created in 1887. St Nicholas Russian Orthodox Church was built in 1894. Alaska State Museum was established in 1900. The same year, 1900 Juneau was incorporated.
In 1906 the district government of Alaska was moved from Sitka to Juneau. In 1912 Alaska was made a territory. Governor's mansion was built the same year. By 1920 Juneau was the largest town in Alaska. In that year Juneau had a population of over 3,000. Its principal industry was gold.
Modern Juneau
Alaska state capitol was built in 1931. Gold mining and milling ended in Juneau in 1944 but the town continued to thrive. By 1950 the population of Juneau was almost 6,000 (but Anchorage overtook it as the largest town in Alaska). The Juneau-Douglas City Museum was established in 1976. It moved to the Veterans Memorial Building in 1989.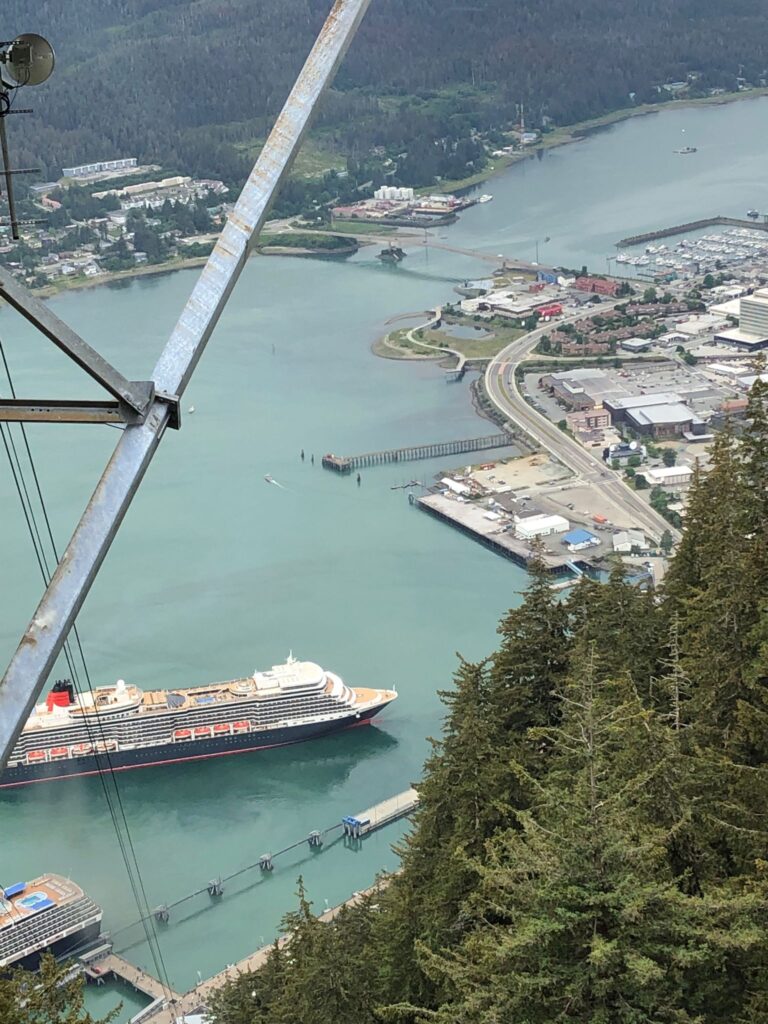 A view of Juneau
The modern Juneau-Douglas Bridge was built in 1980. In the late 20th century the population of Juneau increased rapidly. In 1980 it was almost 20,000. By 2000 it had reached 30,000. In 2020 the population of Juneau was 32,000.
Juneau is a popular destination for tourists and it is visited by many passenger cruise ships.