By Tim Lambert
Early Montreal
In 1635 the French explorer Jacques Cartier reached the island of Montreal. Then in 1642, a group of French settlers led by Paul de Chomedey de Maisonneuve went to Montreal. The new settlement flourished on the fur trade. However, the early settlers met with hostility from the Iroquois until 1701 when a treaty was made.
Then in 1760, the British captured Montreal. By then it was a town of about 5,000 people. It would seem very small to us but by 18th century standards, it was a respectably sized town. Then in November 1775, the Americans captured Montreal but they retreated after 7 months.
Meanwhile, Montreal flourished under British rule. The Bank of Montreal was founded in 1817 and in 1825 the Lachine Canal opened. It bypassed rapids in the river. In 1832 Montreal was incorporated. However the same year, 1832 Montreal suffered an epidemic of cholera. In 1847 there was an epidemic of typhus in the city.
However during the 19th century amenities in Montreal gradually improved. From 1836 Montreal was lit by gas. Montreal Police Department was formed in 1843. Then in 1847, Montreal was linked to Lachine by railway. Then in 1852, Montreal suffered a disastrous fire.
However, the city soon recovered. In 1852 the population of Montreal was about 58,000 and it continued to grow rapidly. By 1914 it had risen to about half a million. Christ Church Cathedral was built in 1859 and Victoria Bridge opened in 1860. Meanwhile, the port of Montreal continued to thrive.
Modern Montreal
In the 1920s during Prohibition in the USA, many Americans visited Montreal for a good time and the city flourished. Jacques Cartier Bridge opened in 1930 and Montreal Botanical Gardens was founded in 1931.
However, like the rest of the world, Montreal suffered during the Depression of the 1930s. Nevertheless, Sun Life Building was completed in 1931, and Atwater Market opened in 1933. Furthermore, prosperity returned to Montreal with the Second World War. By 1951 the population of Montreal was over 1 million.
In the 1960s several notable buildings were erected in Montreal including Place Bonaventure. Meanwhile, Place Versailles Shopping Mall opened in 1963 and Musée d'art contemporain de Montréal opened in 1965.
Montreal metro system opened in 1966. The International World Exposition was held in Montreal in 1967.
Then in 1976, the Olympic Games were held in Montreal. The Palais des Congres de Montreal was built in 1983 and the World Trade Centre opened in 1992. Pointe-à-Callière also opened in 1992.
Montreal Science Centre opened in 2000.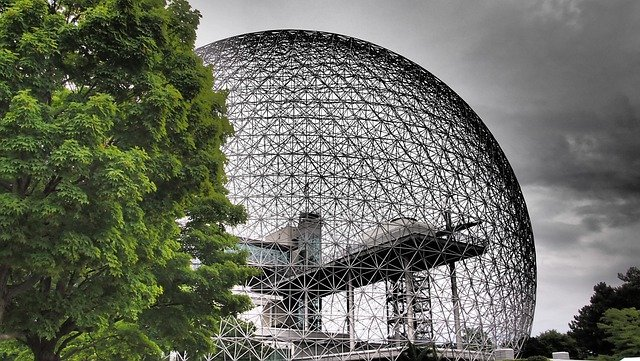 Today Montreal is a thriving city and a major port. In 2017 the population of Montreal was 1.7 million.