By Tim Lambert
Before Europeans arrived two groups of Native Americans lived in the San Francisco area, the Ohlone and the Miwok. They were hunter-gatherers and they lived by hunting animals, fishing, and collecting shellfish and nuts and fruit. Francis Drake anchored his ship off Point Reyes in 1579 yet he failed to discover San Francisco Bay.
Early San Francisco
Much later, in 1769 Gaspar de Portola led a Spanish expedition overland and he found the bay. Then in 1776 Juan de Anza led a group of settlers to San Francisco Bay and they built a fort called a presidio. In 1797 a mission was founded.
In the early 19th-century whaling ships and traders came to the bay. Then in 1821 Mexico (which included California) broke away from Spain and became a republic. Then in 1828, Jedediah Smith crossed the Sierra Nevada mountains to reach San Francisco Bay. An Englishman called William Richardson founded a settlement by San Francisco bay in 1835. He called it Yerba Buena. During the 1830s and early 1840s, many Americans came to live in the new settlement.
Then in 1846, the USA annexed California. On 9 July 1846 USS Portsmouth sailed into San Francisco Bay and sailors and marines went ashore and raised the US flag. The little settlement of Yerba Buena was renamed San Francisco (after the bay) on 30 January 1847. At that time San Francisco only had a population of about 800.
However, in 1848 a man named James Marshall discovered gold. News of the find reached New York in December 1848. As a result, people went to San Francisco in their thousands and the population boomed. In 1849 the population of San Francisco reached 25,000.
However, on 4 May 1851, San Francisco was devastated by a fire. However, the town was soon rebuilt. San Francisco waterworks began in 1857.
However, by 1853 the gold boom was ending. Then, in 1859 Henry Comstock discovered silver. Unlike gold, the silver required expensive equipment to extract so a number of 'silver barons' were the main beneficiaries. Meanwhile, businessmen dreamed of a transcontinental railroad. It was completed in 1869.
During the late 19th century San Francisco continued to develop. The first cable car service began in Clay Street in 1873. Meanwhile in 1870 San Francisco had a population of almost 150,000. By 1900 San Francisco had a population of over 300,000.
However, on 18 April 1906 at about 5.15 a.m. an earthquake struck San Francisco. It measured 8.25 on the Richter scale and it caused widespread devastation. Yet the fires that followed caused even more destruction. They raged for 3 days. Afterward about 28,000 buildings were destroyed and 250,000 people were made homeless. The exact number of dead is not known. Yet after the earthquake, San Francisco was rebuilt.
Meanwhile, San Francisco suffered an outbreak of bubonic plague in the years between 1900 and 1904. It killed 113 people. San Francisco suffered an outbreak of bubonic plague between 1907 and 1909. This time 190 people died.
Modern San Francisco
Many grand new buildings were erected in the early 20th century. Hallidie Building was erected in 1917. Saints Peter and Paul Church was built in 1924. Coit Tower was built in 1933. Work on the Golden Gate Bridge began in 1934 and it opened on 27 May 1937. (Tragically shortly before it opened 11 construction workers were killed).
In May 1934 longshoremen in San Francisco went on strike. On 5 July 1934 known as Bloody Thursday, fighting began between police and strikers. Two of the strikers, Nick Bordoise and Howard Sperry were killed.
A military prison was built on Alcatraz Island in 1912. In 1934 it was made into a civilian prison for 'incorrigible' prisoners. Alcatraz prison closed in 1963. In November 1969 Native Americans took over the island as a protest. They left in 1971. Alcatraz is now a popular tourist destination.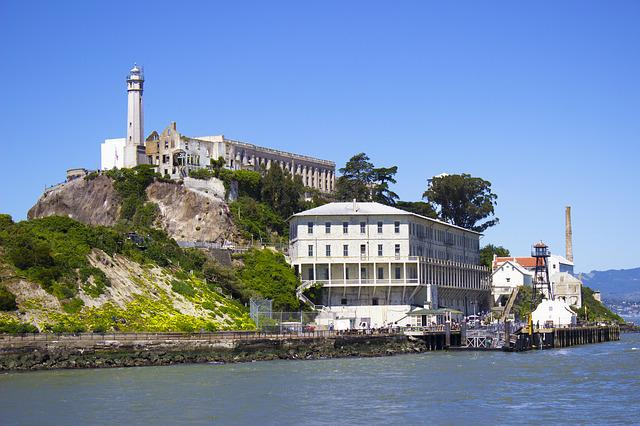 During the 1950s San Francisco was known for Beatniks. In the 1960s it was known for hippies.
In October 1989 an earthquake that measured 7.1 on the Richter scale hit San Francisco and killed 9 people. Then in 1992 fire swept the Oakland Hills and destroyed 3,000 homes.
However today San Francisco is a flourishing city. The exploratorium opened in San Francisco in 1969 and the Cable Car Museum opened in 1974. San Francisco Maritime National Historical Park was founded in 1988. San Francisco Museum of Modern Art opened in 1995.
San Francisco is also a multicultural city. Among its people are Hispanics, Chinese, Japanese, and Filipinos.
In 2017 the population of San Francisco was 884,000.