By Tim Lambert
Early Seattle
The great city of Seattle was founded in 1851. At first, Seattle was very small but the little settlement was incorporated in 1869. However, in 1870 Seattle only had a population of a little over 1,000. Nevertheless, the population of Seattle grew rapidly in the late 19th century. By 1890 Seattle was a bustling city with a population of over 42,000. Meanwhile, a hospital opened in 1878.
On 6 June 1889, a pot of glue in a workshop caught fire and fell on some wood shavings, and began a fire that devastated much of Seattle. Fortunately, nobody was killed and Seattle soon recovered. Seattle University was founded in 1891. The Pioneer Building was built in 1892. It was designed by the architect Elmer Fisher after the fire of 1889.
The Klondike Gold Rush of 1897 brought prosperity to Seattle and its population soared. By 1900 Seattle had a population of over 80,000. At that time lumber and shipbuilding were major industries in Seattle. Meanwhile, Woodland Park Zoo opened in 1899.
Modern Seattle
Seattle continued to grow rapidly in the early 20th century. By 1920 it had passed 315,000. Pike Place Market was established in 1907 and in 1916 William Boeing founded an aircraft manufacturing company. n Meanwhile Smith Tower opened in 1914. It's named after the industrialist Lyman C Smith (1850-1910). Fairmont Olympic Hotel was built in 1924. Seattle Art Museum opened in 1933. Meanwhile, Bertha Knight Landes became the first woman mayor of Seattle in 1926.
Seattle suffered severely in the Depression of the 1930s but its industries flourished again during the Second World War. A huge number of aircraft were made in Seattle. After the coming of peace in 1945, Seattle suffered an economic downturn. However, in 1962 Seattle hosted a World's Fair. The Seattle Center was built for the fair. Today Seattle is still famous for the Space Needle, which was built at that time.
Seattle suffered again in the mid-1970s when Boeing cut its workforce. However, at the end of the 20th century information technology brought new prosperity to Seattle.
Meanwhile, by 1950 the population of Seattle had risen to over 467,000. Seattle Museum of Flight opened in 1965 and Occidental Park was laid out in 1971. Gas Works Park opened in 1975. Klondike Gold Rush National Historical Park opened in 1976. Freeway Park also opened in 1976. Seattle Aquarium opened in 1977. It was extended in 2007.
Seattle grew rapidly in the late 20th century. The Columbia Center was built in 1985 and Westlake Center opened in 1988. The Odyssey Maritime Discovery Center opened in 1998. Benaroya Hall also opened in 1998. So did Pacific Place Shopping Center.
The Museum of Pop Culture was founded in 2000. Central Library was built in 2004. It was designed by the Dutch architect Rem Koolhaas. The Olympic Sculpture Park opened in 2007. Today Seattle is a flourishing city.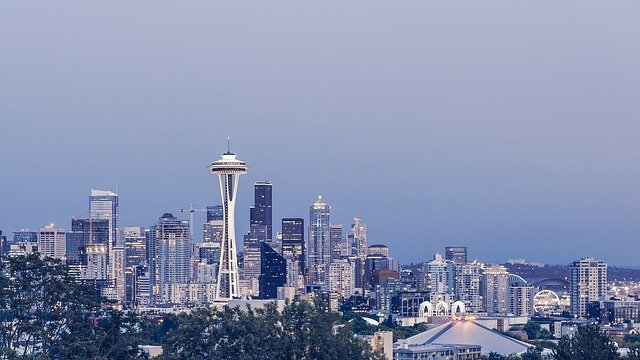 In 2018 the population of Seattle was 730,000.