By Tim Lambert
Early Wolverhampton
The story of Wolverhampton begins in 985 when a Saxon lady named Wulfruna was given land at Heanton. In 994 she founded a minster church (a church with a monastery attached). The settlement by the monastery grew larger and in time its name changed to Wulfruna's Heanton and later to Wolverhampton.
In 1258 Wolverhampton was granted the right to hold markets and fairs. In the Middle Ages, there were few shops so if you wanted to buy or sell anything you usually went to a market. Fairs were like markets but they were held only once a year and they attracted buyers and sellers from far and wide. From that time Wolverhampton was a small market town. In Medieval and Tudor Wolverhampton the main industry was weaving wool.
Through the centuries little changed in Wolverhampton. It was a small market town although it suffered a severe fire in 1590 which destroyed many buildings. Wolverhampton suffered another disastrous fire in 1696, which again destroyed many houses.
Wolverhampton in the 18th century
In the 18th century, Wolverhampton was on the main road from London to Holyhead from where people traveled to Ireland. As a result, many stagecoaches passed through the town and it grew larger and busier. Then from the late 18th century, the industrial revolution transformed Wolverhampton. It grew from a market town into an important city.
As early as the late 17th century Wolverhampton was noted for making steel buckles and sword hilts as well as steel jewelry. The industry expanded rapidly during the 18th century. Other important industries in Wolverhampton in the 18th century were lock making and from the late 18th century japanning (making enamel for knick-knacks such as snuff boxes).
The first canal to Wolverhampton opened in 1772. Canals helped the industrial development of Wolverhampton by making it easier to move goods and raw materials to and from the town.
By 1750 Wolverhampton had a population of about 7,500 and it was growing rapidly. By 1801 it was over 12,000. By the standards of the time, Wolverhampton was a large and important town.
Wolverhampton in the 19th century
During the 19th century, Wolverhampton's economy boomed and the town grew rapidly. It was famous for locks and iron goods of all kinds. In 1859 the Great Western Railway opened a factory in Wolverhampton for making and repairing locomotives. It soon became a major employer in the town. From the late 19th century there was an important industry making bicycles in Wolverhampton.
Life in 19th century Wolverhampton gradually improved. Wolverhampton gained gas light in 1821. From 1895 it had an electricity supply. The railway reached Wolverhampton in 1837. Railways made it even easier to transport goods to and from the town.
The first public library in Wolverhampton opened in 1869 and the first public park opened in 1881. In 1884 Wolverhampton gained an art gallery.
In 1821 a dispensary opened where the poor could obtain free medicines. In 1849 a hospital opened in Wolverhampton.
However, like all 19th century towns, Wolverhampton suffered from epidemics. There were epidemics of cholera in Wolverhampton in 1832 and 1849 but conditions improved later in the century when sewers were dug.
In 1848 local government was reformed and Wolverhampton gained a mayor and corporation in recognition of its growing size and importance.
Wolverhampton in the 20th century
In the early 20th century Wolverhampton continued to grow and in 1938 a Civic Hall was built.
Wolverhampton suffered some bombing raids in 1941-42 but it was bombed far less heavily than neighboring towns.
The 1950s and 1960s were years of prosperity for Wolverhampton as they were for the rest of Britain. However in the 1970s manufacturing industry in Wolverhampton declined rapidly and the decline continued through the 1980s and 1990s. However, there was one hopeful sign when a science park opened in Wolverhampton in 1995.
Meanwhile, Wolverhampton continued to grow rapidly in the 20th century. In 1901 the population was nearly 95,000. By 1951 the population of Wolverhampton was 162,000. (The rise in population was partly due to boundary extensions in 1927 and 1933).
Today Wolverhampton is an important shopping centre. The Mander Shopping Centre opened in 1968. The Wulfrun Shopping Centre also opened in 1968.
Wolverhampton in the 21st century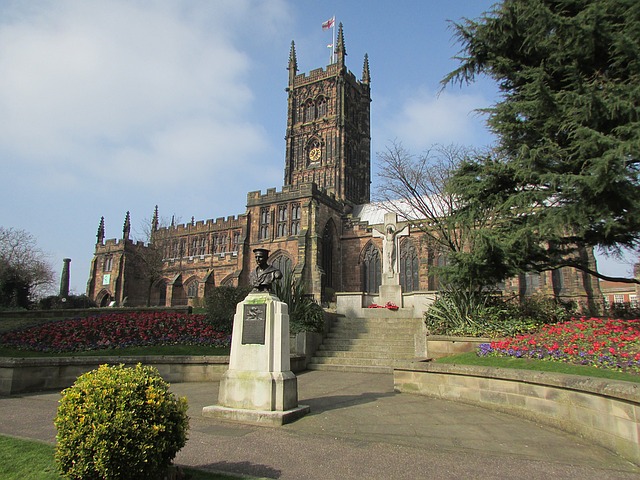 Wolverhampton
In 2001 Wolverhampton was made a city and at the beginning of the 21st century parts of it were refurbished. The Mander Shopping Centre was refurbished in 2003. Market Square, a mix of flats and shops opened in 2004. In 2020 the population of Wolverhampton was 256,000.