By Tim Lambert
1491
Henry VIII is born
1492
Columbus sails across the Atlantic
1493
The great surgeon Paracelsus is born
1494
On his second voyage, Columbus discovers Jamaica
1495
Portsmouth Dockyard is founded
1497
John Cabot sails to Newfoundland
1498
The Portuguese reach India
On his third voyage, Columbus discovers Trinidad
1500
The Portuguese discover Brazil
1509
Henry VIII becomes king of England
Henry VIII marries Catherine of Aragon, his brother's widow
Work begins on building the Mary Rose
Wallpaper is first printed in England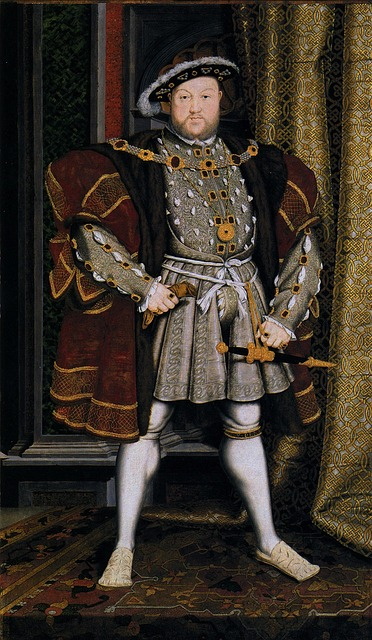 1511
The Mary Rose is launched
The Portuguese reach Thailand
1513
The English win the battle of Flodden against the Scots (who were allies of the French)
The Spanish land in Florida
1514
The ship Henry Grace a Dieu is launched
The Portuguese reach China
1515
Anne of Cleves is born
1516
The Portuguese reach Vietnam
1517
Martin Luther begins the Protestant Reformation
The Ottoman Turks conquer Egypt
1519
Havana, Cuba is founded
Ferdinand Magellan sets sail on a voyage to circumnavigate the world. He is killed on the voyage but some of his men make it.
1521
Cortes conquers the Aztecs in Mexico
1522
England is at war with France again
The Ottoman Turks capture Belgrade
1524
Italian explorer Giovanni Da Verrazzano discovers New York Harbor
1525
Turkeys are first eaten in England
The mathematical symbol for squared is invented
1526
The war between England and France ends
In India Babur founds the Mughal Empire
The Turks defeat the Hungarians at the battle of Mohacs
1527
Henry VIII extends Portsmouth Dockyard
1528
The Spanish reach Texas
1529
The Turks besiege Vienna but fail to capture it
1530
Ivan the Terrible, Tsar of Russia is born
1533
Henry divorces Catherine of Aragon. He marries Anne Boleyn.
Pizarro conquers the Incas
1534
Henry VIII makes himself head of the Church of England
Jacques Cartier discovers the St Lawrence River in Canada
In Ecuador, the city of Quito is founded
1535
Thomas More is executed
In Peru, the city of Lima is founded
1536
The Pilgrimage of Grace (An uprising in the North of England)
Anne Boleyn is beheaded
Henry marries Jane Seymour
An Act of Union unites Wales with England
Catherine of Aragon dies
1536-1540
Henry VIII closes the monasteries and confiscates their property, including the Domus Dei in Portsmouth (now the Garrison Church)
1537
Jane Seymour dies
Thomas Elyot invents the word encyclopedia
1538
In Colombia, the city of Bogota is founded
1540
Henry marries Anne of Cleves but quickly divorces her
Henry marries Katherine Howard
1541
The Irish parliament agrees to recognise Henry VIII as King of Ireland rather than Lord of Ireland
The Turks conquer Hungary
The Spanish discover the Mississippi River
1542
The battle of Solway Moss. The English defeat the Scots.
Kathryn Howard is beheaded
The Spanish reach California
1543
Henry marries Catherine Parr
Copernicus publishes his theory that the Earth orbits the Sun
Portuguese sailors reach Japan
Andreas Vesalius publishes The Fabric of the Human Body, which contains accurate diagrams of the human body
1544
Southsea Castle is built
The English capture Boulogne. They hold it until 1550.
1545
The Mary Rose sinks
1547
Henry VIII dies