There have been many famous women all the way through history. Below is a list of some of them.
Famous Women in The Ancient World
Kubaba
Kubaba is the first recorded female ruler in history. She was queen of Sumer, in what is now Iraq about 2,400 BC.
Enheduanna 2285-2250 BC
Enheduanna lived in what is now Iraq. She was a priestess and writer.
Sobekneferu
Sobekneferu was ruler of Egypt around 1800 BC
Hatshepsut c. 1508 BC-c. 1458 BC
Hatshepsut was the ruler of Egypt from 1479 BC. Under her rule Egypt was prosperous and it traded with northwest Africa. Hatshepsut also built many great buildings in Egypt.
Nefertiti c. 1370 BC-c. 1330 BC
Nefertiti was a famous queen of Egypt. She was married to Pharaoh Akhenaten and she was a powerful and influential woman.
Twosret
Twosret was female ruler of Egypt. She reigned around 1191-1189 BC
Sappho c. 615 BC-c. 570 BC
Sappho was a famous woman poet
Theano of Crotona born 546 BC
Theano of Crotona was a great woman mathematician
Arete of Cyrene c. 400 BC
Arete was a famous philosopher
Aglaonike
Aglaonike was a famous Greek woman astronomer. She lived in the 2nd century BC but the exact dates of her birth and death are not known.
Teuta
Teuta was queen regent of the Ardiaean kingdom in the west of the Balkan Peninsula from 231 to 227 BC. She fought the Romans.
Hortensia
Hortensia was a famous Roman woman orator. She lived in the 1st century BC.
Cleopatra 70 BC-30 BC
Cleopatra was the ruler of Egypt
Boudicca
In 61 AD she led the Iceni tribe of what is now East Anglia in a rebellion against the Romans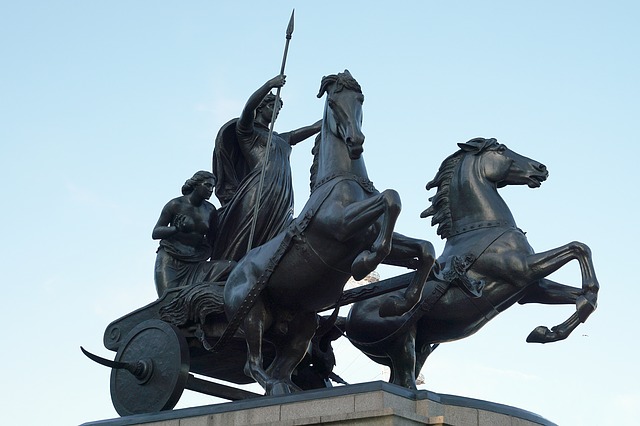 The Trung Sisters
In 39 AD two Vietnamese sisters, Trung Trac and Trung Nhi led a rebellion against the Chinese overlords and proclaimed themselves queens of an independent state. However, they were eventually defeated by the Chinese and they both committed suicide in 43.
Julia Balbilla She was a Roman poet early in the 2nd century AD
Blandina
Blandina was a Christian slave. She lived in what is now France in the 2nd century AD. She was martyred in Lyons in 177 AD.
Julia Domna died 217 AD
Julia Domna was a philosopher
Faltonia Betitia Proba c 320-c 370 AD
Faltonia Betitia Proba was a famous Christian poet
Zenobia 268-272 AD
Zenobia was the queen of Palmyra in what is now Syria. She fought the Romans and conquered Egypt. However, Zenobia was eventually defeated and captured.
Hypatia
Hypatia was was a mathematician, philosopher, and astronomer. She lived and taught in the city of Alexandria in Egypt. Hypatia was killed in 415 AD.
Famous Women in The Middle Ages
Clotilde 475-545
Clotilde married Clovis, the king of the Franks who ruled northern France. She helped to convert her husband to Christianity.
Theodora c. 497-548 She was the empress of the Byzantine Empire
Berta or Bertha 539-612
In the 6th century AD England was divided into small kingdoms and the English were pagans. However, Berta was a Christian and she married the king of Kent. It was partly due to her influence that Kent was converted to Christianity.
Hilda was an influential woman in the Saxon church who founded Whitby Abbey. In 664 she hosted the Synod of Whitby.
Wu Zetian Wu Zetian was the empress of China 690-705
Murasaki Shikibu c 973-1014 She was a famous Japanese writer. She is famous for her work The Tale of Genji.
Ende 10th century
In the Middle Ages books were often beautifully decorated. This art was called illumination. Ende was a famous illuminator.
Gruoch 1007-1060 She was the real Lady Macbeth
Matilda of Tuscany c 1046-1115 Matilda was a powerful woman ruler
Aethelflaed c. 868-918 Aethelflaed ruled Mercia (central England) from 911 to 918. She was known as the lady of Mercians.
Comnena 1083-1153 She was a princess of the Byzantine Empire. She was also a noted historian.
Hildegard was a theologian and writer. She also wrote about medicine. And she wrote music and a play.
Trota of Salerno c. 1100 Trota of Salerno was a famous doctor. (Salerno in Italy was famous for its medical school. Women were allowed to study there).
Matilda 1102-1167 She claimed to be the queen of England 1135-1154 but she fought a long civil war throughout those years
Marie de France (12th century) Marie was a famous French poet. Unfortunately, nothing is known about her life although she was highly regarded.
Eleanor of Aquitaine c 1122-1204 She was an influential woman in 12th century Europe
Teresa of Portugal 1181-1250 She was a devout woman who founded a monastery
Clare of Assisi 1194-1253 She was a follower of Francis of Assisi Clare founded the order known as the poor Clares
Guda 12th century Guda was a famous book illuminator
Rebecca de Guarna c 1200 Rebecca was a famous woman doctor
Isabella of England 1214-1241 She was empress of Germany 1235-1241
Marguerite de Provence 1221-1295 She was queen of France
Eleanor of Castile 1241-1290 She was queen of England 1254-1290
Claricia 13th Century Claricia was another famous book illuminator
Lady Agnes Randolph aka Black Agnes 1312-1369 She defended a castle
Alice Perrers 1340-1400 She was the mistress of the English King Edward III
Despite the masculine name Julian was a woman. She was a famous mystic and writer. Julian wrote about the 'motherhood' of God.
Margaret of Denmark 1353-1412 She was queen of Denmark
Dorotea Bucca 1360-1436 She was a famous physician. Dorotea was a professor of Medicine at the University of Bologna.
Christine de Pisan 1364-1432 Christine was another famous writer
Margery was an English mystic. The story of her life became a famous book The Book of Margery Kempe.
Joan of Arc 1412-1431 Joan inspired French soldiers to fight against the English
Jane Shore c. 1445-1527 She was the mistress of the English King Edward IV
Isabella of Castile 1451-1504
She married Ferdinand of Aragon in 1469 and when his father died in 1479 the two kingdoms were united
Laura Cereta 1469-1499
She was a great Italian writer
Anne Neville 1456-1485 She was the wife of Richard III and Queen of England 1483-1485
Famous Women of the 16th Century
Beatriz Galindo (c 1465-1523) Beatriz was a great scholar and writer
Catherine of Aragon 1485-1536 She was a famous queen
Vittoria Colonna 1490-1549 She was a poet
Katharine Zell 1497-1562 She was a German Protestant
Katharina von Bora 1499-1552 She was a German Protestant
Anne Boleyn 1501-1536 She was an English Queen
Tullia d'Aragona 1510-1556 She was a poet
Levina Teerlinc 1510-1576 She was a painter
Catherine Parr 1512-1548 She was an English queen
Mary Tudor 1516-1558 She was queen of England
Catherine de Medici 1519-1589 She was a French queen
Anne Askew 1521-1546 She was an important English Protestant
Louise Labe 1524-1566 She was a poet
Plautilla Nelli 1524-1588 She was a famous artist
Bess of Hardwick 1527-1608 She was a very rich woman in England
Jeanne d'Albret 1528-1572 She was queen of Navarre
Caterina van Hemessen 1528-1587 She was an artist
Elizabeth I 1533-1603 She was queen of England
Sofonisba Anguissola 1535-1625 She was an artist
Maddalena Casulana 1540-1583 She was a composer
Diana Scultori 1547-1612 She was an engraver
Lavinia Fontana 1552-1614 She was an artist
Barbara Longhi 1552-1638 She was an artist
Sophia Brahe 1556-1643 Sophia was a horticulturist and astronomer
Marietta Robusti 1560-1590 She was an artist
Isabella Andreini 1562-1604 She was an actress and writer
Marie Le Jars de Gournay 1565-1645 She was a famous French writer
Vittoria Aleotti 1574-1646 She was a famous composer
Elizabeth Jane Weston 1582-1612 She was a noted English poet
Famous Women in The 17th Century
Amye Everard Ball In 1637 she became the first woman in England to be granted a patent
Marie Cunitz 1610-1644 She was an astronomer
Anne Bradstreet 1612-1672 Anne was a poet of the 17th Century. She was born in England but in 1630 she emigrated to North America.
Margaret Fell 1614-1702 She helped to found the Quakers
Elena Piscopia 1646-1684 Elena was a famous philosopher
Sor Juana Ines de la Cruz 1651-1695 She was a famous scholar
Margaret Hughes c. 1660-1719 She was the first professional woman actress in England
Mary Astell 1666-1711 She was a famous philosopher
Famous Women in The 18th Century
Maria Kirch 1670-1720 Maria was a famous astronomer
Queen Anne 1665-1714 Anne was queen of Britain
Emilie du Chatelet 1706-1749 She was a woman physicist and mathematician
Hannah Glasse 1708-1770 She was famous for writing cookery books
Maria Agnesi 1718-1799 Maria was a famous mathematician
Laura Bassi 1711-1778 She was a physicist
Anne Seymour Damer 1749-1828 She was a famous woman sculptor
Catherine the Great 1729-1796 Catherine ruled Russia
Catharine Macaulay 1731-1791 She was an English historian
Elisabeth Thible She became the first woman to travel in an untethered balloon in 1784
Caroline Herschel 1750-1848 Caroline was a famous astronomer
Mary Wollstonecraft 1759-1797 She is famous for her book A Vindication of the Rights of Women
Famous Women in The 19th Century
Elizabeth Fry 1780-1845 She was a great prison reformer
Jane Austen 1775-1817 She was a great writer
Mary Kies 1752-1837 Mary Kies was the first American woman to be granted a patent
Mary Shelley 1797-1851 Mary was a writer. She is famous for her novel Frankenstein
Sojourner Truth c 1797-1883 Abolitionist and women's right activist
Mary Anning 1799-1847 She was a paleontologist
Harriet Beecher Stowe 1811-1891 She is famous for her book Uncle Tom's Cabin
Elizabeth Cady Stanton 1815-1902 She was an American campaigner for women's rights
Ada Lovelace 1815-1852 Ada was a famous mathematician
Grace Darling 1815-1842 In Britain Grace Darling rowed a little boat 1 mile through a storm to rescue 5 people from a steamship that had struck rocks. She became a heroine.
Charlotte Bronte 1816-1855 She was also a writer
Emily Bronte 1818-1848 She was another writer
Maria Mitchell 1818-1889 She was an astronomer. In 1847 she became the first American woman to discover a comet.
Queen Victoria 1819-1901 She was queen of Britain
Susan B Anthony 1820-1906 She was an American campaigner for women's rights
Clara Barton 1821-1912 She founded the American Red Cross in 1881
Grace Greenwood 1837-1904 She was a famous poet and journalist. (Her real name was Sara Jane Lippincott).
Josephine Cochrane 1829-1913 In 1886 she invented the first successful dishwasher
Catherine Booth 1829-1890 Catherine helped to found the Salvation Army
Louisa May Alcott 1832-1888 She is famous for her book Little Women
Sarah Chauncey Woolsey 1835-1905 She was a famous writer
Gertrude Jekyll 1843-1932 She was a famous gardener
Edmonia Lewis 1844-1911 She was a famous sculptor
Clara Shortridge Foltz 1849-1934 She was the first woman admitted to the bar in California
Susanna Salter 1860-1961 She was the first woman mayor in the USA
Mary Kingsley 1862-1900 She was a woman explorer
Madam C. J. Walker (1867-1919) She was a self made millionaire
Famous Women in the 20th Century
Beatrix Potter 1866-1943 She was a famous author
Laura Ingalls Wilder 1867-1957 She was a famous writer
Marie Curie 1867-1934 She was a famous woman scientist. She was the first woman to win a Nobel prize.
Margaret Bondfield 1873-1953 In 1929 she became the first woman cabinet minister in Britain
Karen Blixen 1885-1962 She was a Danish writer
Karen Horney 1885-1952 She was a psychoanalyst
Freya Stark 1893-1993 She was a woman explorer
Jeanette Rankin 1880-1973 In 1916 she became the first woman elected to the US Congress
Coco Chanel 1883-1971 She was a famous fashion designer
Georgia O'Keeffe 1887-1986 She was a famous artist
Agatha Christie 1890-1976 She was a famous writer
Enid Blyton 1897-1968 She was a children's writer
Rebecca Latimer Felton 1835-1930 In 1922 she became the first woman US senator
Nellie Tayloe Ross 1876-1977 In 1925 she became the first woman governor of a US state (Wyoming)
Amelia Earhart 1897-1937 She was a famous woman pilot
Ruth Nichols 1901-1960 She was another famous pilot
Amy Johnson 1903-1941 She was also a famous woman pilot
Louise Thaden 1905-1979 She was a famous pilot
Ayn Rand 1905-1982 She was a famous novelist and philosopher
Jacqueline Cochran 1906-1980 She was the first woman to fly faster than sound
Rosa Parks 1913-2005 She was a civil rights campaigner
Doris Lessing 1919-2013 She was a famous novelist
Geraldine Mock 1925-2014 She was the first woman to fly around the world solo
Valentina Tereshkova 1937- She was the first woman in space
Indira Gandhi 1917-1984 She was prime minister of India
Golda Meir 1898-1978 She was prime minister of Israel
Margaret Thatcher 1925-2013 She was the first woman prime minister of Britain
Corazon Aquino 1933-2009 She was president of the Philippines
Gro Harlem Brundtland 1939- She was prime minister of Norway
Aung San Suu Kyi 1945- She won the Nobel Peace Prize in 1991
Benazir Bhutto 1953-2007 She was prime minister of Pakistan
Sally Ride 1961-2012 She was the first American woman in space
Helen Sharman 1963- She was the first British woman in space