By Tim Lambert
Early Arundel
Arundel began as a Saxon village. It has been suggested that its name is derived from the Norman-French word for swallow, Arondel. A more likely explanation is that is a corruption of Saxon words harhune dell meaning horehound (a type of plant) valley.
At any rate by the time of the Domesday Book in 1086 Arundel had become a flourishing market town. However, it would seem tiny to us. It only had a population of a few hundred but towns were very small in those days.
About 1067-68 Arundel Castle was built by the Norman Lord, Roger de Montgomery. At first, it was of wood but later Arundel castle was rebuilt in stone. The castle was meant to guard the town and also to make sure the citizens of Arundel behaved themselves!
However, Roger's son Hugh rebelled against the king. In 1102 Henry I laid siege to Arundel Castle. It took three months to capture it.
When Henry I died in 1135 civil war began between his daughter Matilda and Stephen. In 1139 Matilda stayed in Arundel castle. In 1243 Arundel Castle came to be owned by the Fitzalan family. At the end of the 16th century, it passed to the Dukes of Norfolk. The Dukes dominated Arundel for centuries. At that time Arundel was a busy little port. Ships sailed to and from Arundel along the river Arun to the sea 5 miles away.
Arundel was also an important market town for the area. In 1285 Arundel was also granted an annual fair. In the Middle Ages fairs were like markets but they were held only once a year. The Arundel fair attracted buyers and sellers from a wide area.
In the mid 13th century Dominican friars came to Arundel. The friars were like monks but instead of withdrawing from the world, they went out to preach. Dominican friars were called blackfriars because of the colour of their costumes. The parish church of St Nicholas in Arundel was built in the late 14th century.
During the English Civil War Arundel Castle changed hands three times. First, in December 1642 a small force of parliamentary soldiers easily captured the castle. However, in December 1643 the royalists recaptured Arundel castle after a short siege. However parliamentary troops soon arrived and laid siege again. The royalist defenders surrendered the castle on 6 January 1644.
Following the civil war, Arundel Castle lay in ruins until the end of the 18th century when it was rebuilt. Meanwhile, in 1785 a body of men called the Improvement Commissioners was formed with powers to pave and clean the streets of Arundel.
Modern Arundel
In 1801 Arundel was a flourishing small market town with a population of a little under 1,900. During the 19th century, Arundel grew considerably and by 1901 it had a population of over 3,000. However, during the 20th century, the population of Arundel grew only slowly.
During the 19th century, Arundel remained a busy little market town and a small port. Furthermore, Arundel had a brewing industry and flourishing timber trade. From 1838 Arundel had gaslight. From the 1930s Arundel had an electricity supply.
Although the railway never actually passed through Arundel a railway station was first built nearby in 1846. A relief road was built in 1973.
A new Catholic church was built in Arundel in 1873. It was designed by Joseph Hansom, the same man who invented the hansom cab and it was dedicated to Our Lady and St Philip Neri. In 1965 it was made a cathedral and was renamed The Cathedral of Our Lady and St Philip (Howard).
Arundel Castle was extensively rebuilt in the years 1890-1903.
The port of Arundel finally came to an end in the early 20th century. Furthermore, Arundel's markets and fairs came ended in the early 20th century.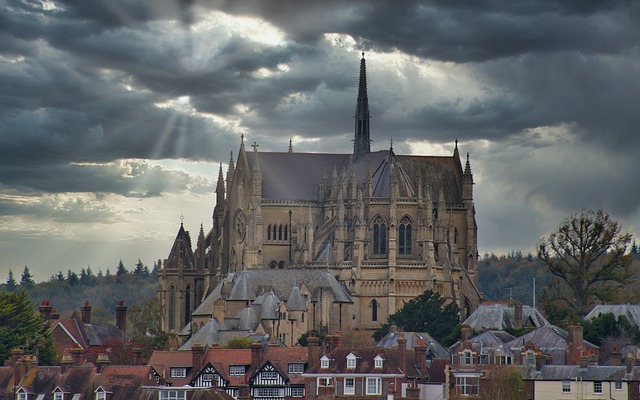 Today Arundel is a popular tourist destination famous for its Georgian buildings. Today the population of Arundel is 3,400.